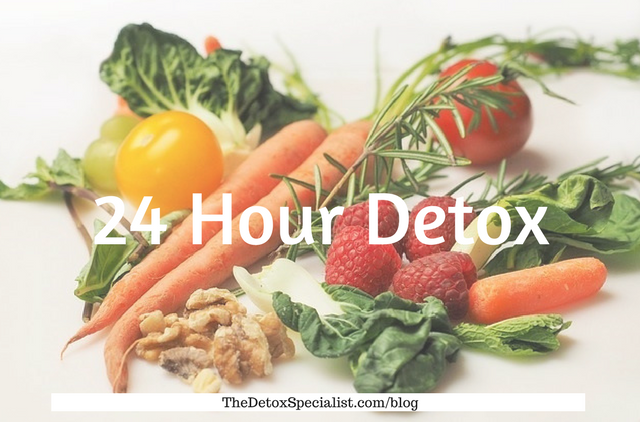 If you've been feeling bloated and rundown after a bout of overindulging then you know more than anyone that you need to do a quick detox to reboot your body. I call it a detox because that't the term people search for but you can't detox your body in a day. That's simply nonsense. It's simply a day of eating light, healthy food that helps to put you back on the path of healthy eating – a reboot if you like.
It's not always easy choosing which path to take to detox your body for the results you want, but, I've made it super easy with my 24 Hour Detox Reboot .
It's not one of those starvation diets so don't worry.  It's designed to take the pressure off your digestion system and your liver and supply the nutrients that are needed by the detox system to work efficiently.
It will help if you can do some gentle exercise like brisk walking or some rebounding, brush your skin to help move the lymph and take some time to relax in a detox bath and perhaps do a little yoga to stretch out your muscles and don't forget to do some deep breathing.
Here's my Reboot 24 Hour Detox
You can drink filtered water or detox water, green tea or herbal tea throughout the day. It's important to drink at least 8 x 8 oz glasses or mugs of these liquids to help re-hydrate your body.
Upon Waking Drink:
Morning Lemon Elixir
1 cup warm or room temp, filtered water
Juice from ½  organic lemon
Pinch of cinnamon
1 teaspoon raw honey OR a couple of drops of stevia
Just mix all the ingredients in a glass with a fork then sip slowly.
Breakfast:
Blueberry Superfood Smoothie Bliss
1 cup unsweetened almond, coconut, hemp or rice milk
½ cup frozen or fresh, organic wild blueberries
½ cup baby organic spinach
1 tablespoon liquid coconut oil
1 tablespoon flax meal or chia seeds
Pinch of cinnamon
Few drops of stevia or raw honey to sweeten
Put all ingredients into your blender and whizz up until very smooth.
Drink slowly and savor the flavors.
Mid-Morning Snack:
1 mug green tea
10 almonds and 1 organic apple
Lunch:
Mixed Detox Salad
2 cups mixed greens or salad leaves,  chopped
½ cup carrot, chopped or spiralized
½ cup cucumber, diced
1 cup artichokes (BPA free, canned in water), sliced
1 ripe avocado, cubed
¼ cup pumpkin seeds of your choice
Handful parsley, chopped
Handful basil, chopped
Chop vegetables and mix in a large bowl. Top your salad with avocado and hemp seeds. Drizzle with healthy dressing of choice or this one:
Healthy Dressing:
1/4 cup apple cider vinegar
2 tablespoons sugar free Dijon mustard
1/2 cup extra virgin olive oil
Zest of 1 small organic lemon
4 tablespoons lemon juice (juice of 1 lemon)
1 clove garlic, finely minced
1/2 teaspoon Himalayan salt
1/4 teaspoon freshly ground black pepper
1 tablespoon fresh oregano, finely chopped
OR 2 tablespoons dried oregano
A few drops Stevia liquid to sweeten if necessary
Put all ingredients into a jar with lid and shake up until well mixed.
Keep remaining dressing in a cool place.
Related reading: Winter Detox Salads To Prevent The Festive Season Pudge
Mid-Afternoon Snack:
I mug green tea
½ avocado with a large sliced tomato & Celtic or Himalayan salt
Dinner
Carrot Ginger Detox Soup
4 cups chopped carrots
6 cups bone broth or organic vegetable stock
1 medium onion, chopped
2-inch nub ginger root, peeled and grated
Celtic or Himalayan salt to taste
Dash nutmeg
Chopped fresh parsley, dill, or cilantro (coriander)
Put carrots, ginger, and onion in a pot with broth. Bring to boil then cover and reduce heat and simmer 20-25 minutes. Remove from heat, cool a little then put everything into a blender or food processor and blend until smooth. Serve hot topped with fresh herbs. Sip slowly.
Related reading:  Detox Soups for Winter Cleansing
Evening:
Early Evening Immune Boosting Ginger Elixir
1 cup warm or room temp filtered water
Juice from ½ organic lemon
1 teaspoon freshly grated ginger or 1 tablespoon if tolerated
1 teaspoon raw honey or stevia
Bring the water and ginger to a boil, and then lower flame. Add the lemon and keep at a low simmer for a few minutes.
Then pour into a mug & sip slowly.
Well, that's it! Not bad was it?
Related reading: Easy 1 Day Detox
The reality is, no matter how good our diet is, we live in a very toxic world. Before we even open our mouths to take a bite of food, we are exposed to a lot of pollution from all that traffic on the roads not to mention industrial pollution. Add to that the toxins in our homes from furniture, floor coverings, wall paint, household cleaning products and the toxins we in the personal care products and cosmetics we use.
Then there's the toll we inflict on our bodies with our stressful and hectic lifestyles. So, the question is not 'am I toxic?' but rather 'how toxic am I?'
A one day detox cannot begin to eliminate the toxins that get stored in our bodies but as well as rebooting your body this 24 hour detox can pave the way for a longer detox like my 14 Day Recharge and Energize Detox that can help to eliminate those toxins that cause weight gain, brain fog, loss of sleep, loss of mental clarity, and fatigue.
So what did you think? Will you try this 24 hour detox reboot?