Something a bit different today.  If you are one of my detox & health newsletter subscribers you will know that I have been in Spain for the past 3 weeks. So, today for a change, I thought I would  post some pictures from my vacation near Javea on the Costa Blanca, Spain.
This olive tree is growing in the tiny front garden of where we are staying. There are olives on the tree but you can't eat them straight from the tree. They are far too bitter and have to go through quite a long process to make them edible.  More's the pity as I love olives, especially the black ones. I managed to find some marinated ones which are soooo yummy I have a hard time not eating the whole pot in one go!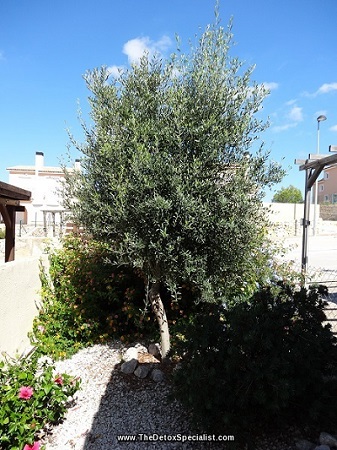 Here is a close up of the olives. One is still green while the other has turned black. They are really a sort of purple color. If you see ones that are black they have been dyed with an iron solution. They sometimes dye the green ones too but you can easily spot those because they do not look at all natural. You want to avoid those of course.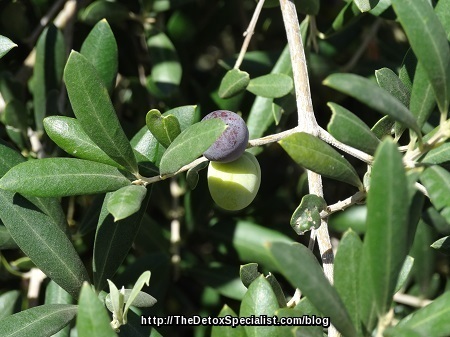 This is the organic stand at the Denia indoor market where I get some of my organic fruit & veg. Unfortunately he's only there on a Friday and Saturday.  They don't have any organic produce in the supermarkets here.  Can you believe that they say there is no demand for it here from the Spanish people?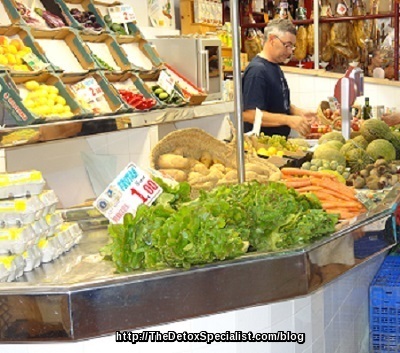 There's nothing quite like freshly picked produce. On Wednesdays and Saturdays I can get organic fruit and vegetables straight from  Oscar's farm in Javea. Thank goodness there are some people in Spain who believe in growing organic.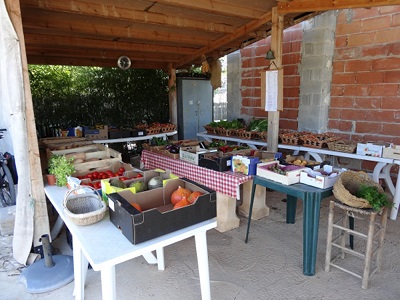 The fruit and veg from Javea Street Market is high quality and much cheaper than the supermarket produce although it's not organic.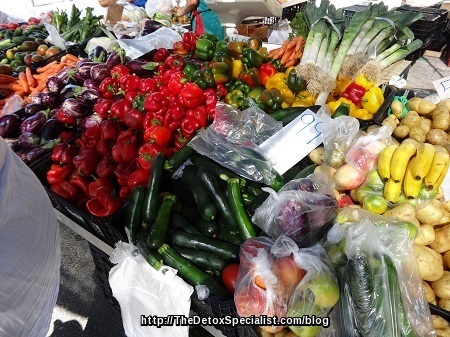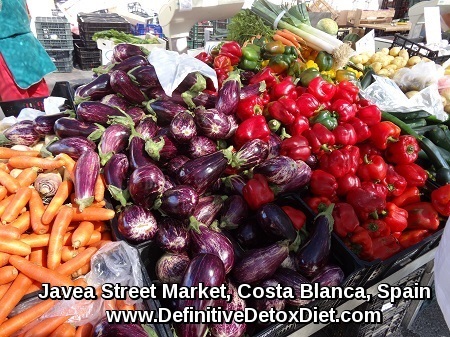 These Sapia Melons, also known as Santa Claus or Christmas melons,  were delicious. The stallholder had cut up one for tasting and it was ripe and very juicy. Ideal for my morning green smoothie!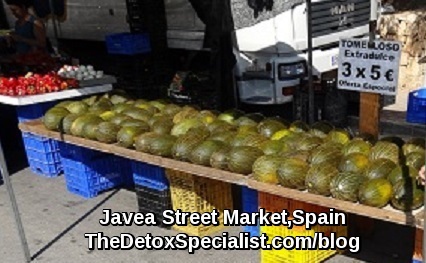 This is one of two health shops I have discovered in Javea but this one sells organic goods.  George, who runs this shop, speaks English which is an advantage as my Spanish is very limited.  I know the names of most  fruit and vegetables and can read most things on a menu but that's my limit. Lol!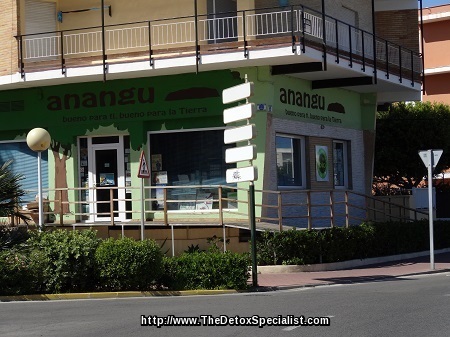 I discovered this wonderful tea shop in Calpe. They have a huge variety of loose leaf black, herbal and green teas. Not a bag in sight! They have a lot of organic green teas that I am gradually working my way through, buying  different one each time we come here.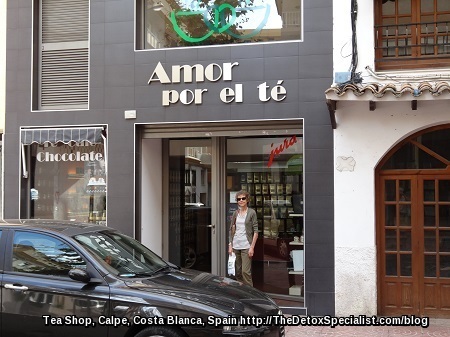 I love the taste of this organic green gunpowder tea and I have just discovered this Lung Ching tea, also known as Longjing or by it's literal translation, Dragonwell tea. You can apparently eat the leaves after infusing them but I have never tried that! Have you ever eaten green tea leaves?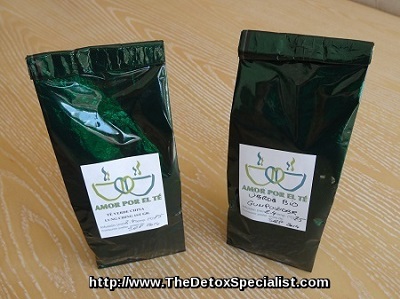 Here's my pot of Gunpowder Green Tea.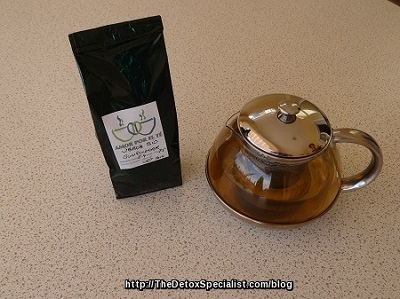 This is me with a pot of Jasmine Tea at Noray Café in Javea. Most of the the green tea that they serve  in the cafés here is made from a teabag and is tasteless. It made a nice change to find this place that serve Jasmine tea made from loose leaves.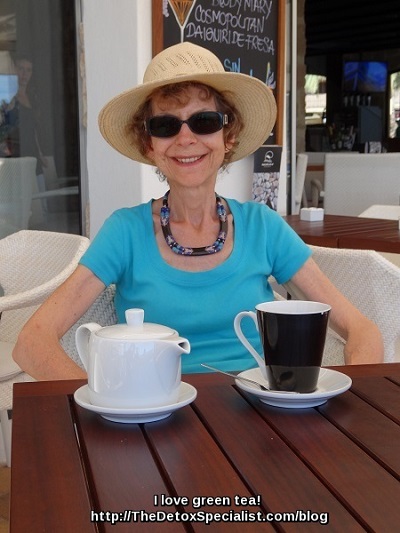 My husband is more of  a coffee lover so we had to visit the first micro roasting coffee  shop to open in Spain in Albir, which was about a 45 minute drive from us.  It only opened last week. We were lucky enough to be greeted by the owner Michael Ulig who spent some time with us telling us about  coffee growing and roasting which I found very interesting.  He had a few varieties of organic coffee too. Did you know that coffee beans are one of the most pesticide sprayed crops in the world?
If you think you have a caffeine addiction you might like to read my post about how to quit coffee. It is one of the things that you should avoid when you are detoxing.
I haven't drunk any coffee for years and luckily he had a range of loose leaf teas as well.  I tried an organic white tea for a change but I really prefer green tea. White tea is too subtle for my taste. Have you ever tried white tea? How did you like it?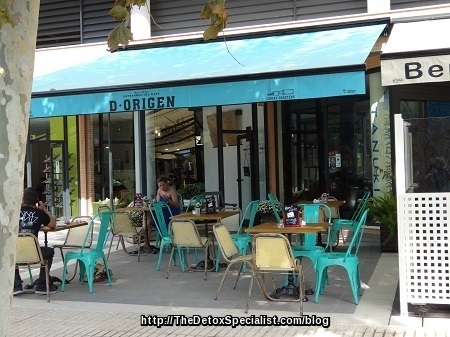 Here is a picture of the micro coffee roaster at the back of the shop. Michael explained that you get a much better flavor when you roast the beans in small amounts rather than in the huge amounts that they do for the commercial coffee brands.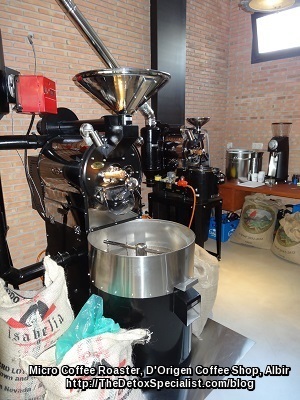 If you're bored  with all this talk of tea and coffee how about this restful waterfall?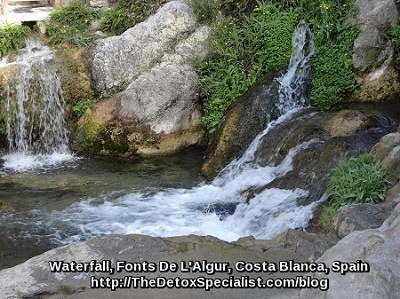 We had a pleasant walk around these falls one morning.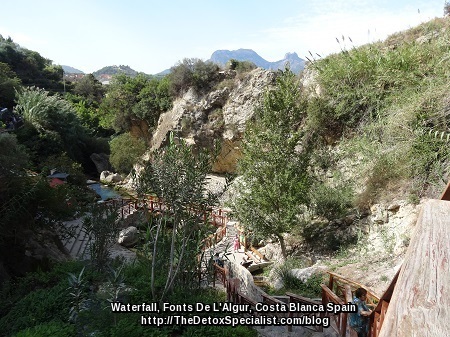 We were surprised to find this avocado tree growing here. We saw a lot of these trees covered in nets in the area and wondered what they were. I had never seen an avocado tree before. Have you?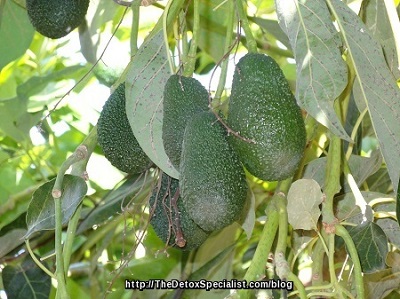 We also saw this carob tree. Carob is often used as alternative to cocoa powder.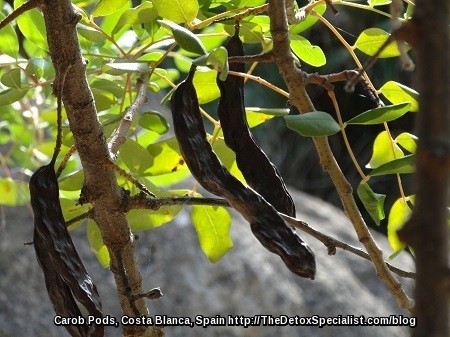 We spent one Saturday morning at the Altea Ecofair that's held every year. It wasn't advertised well this year and there weren't as many intresting stalls as when we have been before. A sign of the economic times they said. This is a picture of the woman who with her husband grows some organic produce which she sells in her shop in Benissa. It's a bit further afield for us or I would go there more often.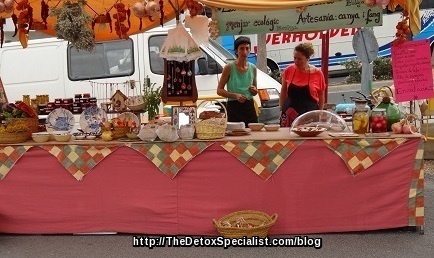 Natural products stall at the Eco Fair.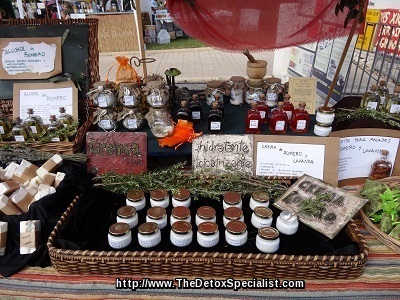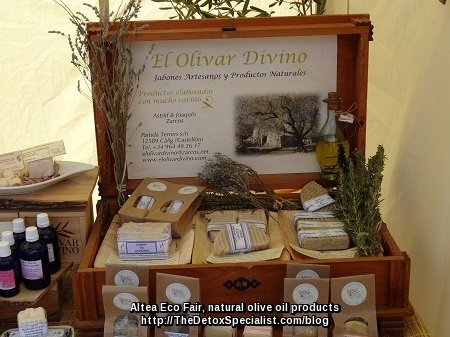 I spotted this Stevia plant for sale on this stall. Stevia is a good natural sweetener and an alternative to sugar, which is not good for your health, and should be avoided when you are on a detox diet. Here's how to detox sugar if you eat a lof of it.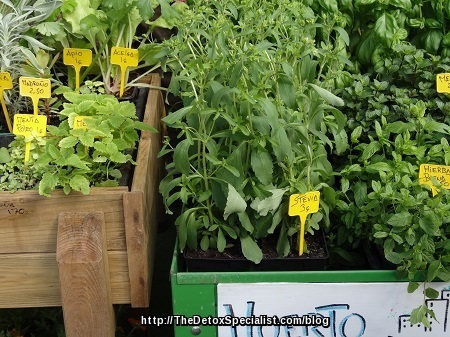 Now for some pictures of the local area. Here is the recently upgraded promenade in the Javea Port area. The beach here is pebbled but there is a sandy  beach in the Arenal area of Javea.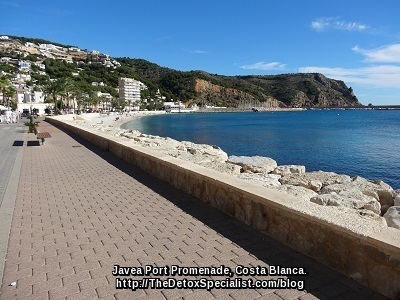 This is one my husband took of the calm sea  one evening while we were out having dinner in Javea Port.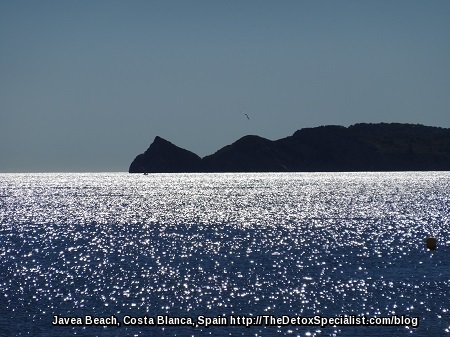 Finally, here is one of Grenadella Beach which was recently voted the best in Spain. It's located not too far from us on the very outskirts of the Javea District. We had a plesant drive through an area of pine trees to find it. It's very picturesque and unspoiled but is a pebbled beach so I am not sure why it was voted the best beach. Give me a sandy beach any day. What sort of beaches do you like?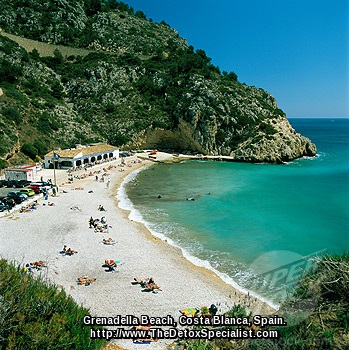 I've plenty more pictures but I think you will have had enough by now and I am worried that the page will take ages to load.
Have you ever been to Spain? What parts have you been to? I would love to hear so let me know in the comments below.  If you like some of these pictures don't forget to share them using the share buttons below or pin them to your Pinterest boards.