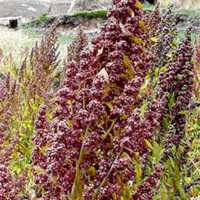 In the last 10 years the superfood quinoa has gone from a detox food used by A-list celebrities and the very health conscious to a food that is served up in big high street outlets in the USA, UK and Australia.
The demand for this ancient South American grain-like food, that is really a seed, is so great that it is even now being cultivated in the UK where they have found a variety that will withstand the poor weather conditions.
The good thing about using quinoa as a detox food is that it is:
gluten free
contains all the essential amino acids,
full of vitamins, minerals, fatty acids and fiber
has a high protein to carbohydrate ratio
has a low glycemic load.
can be grown without pesticides
quick and easy to prepare
easy to digest
filling and satisfying
can be used hot or cold
can be used in many ways and many different recipes
Detox diets have come in for a lot of criticism from mainstream doctors and dieticians because they say they cut out major food groups so lack nutrients. Good detox diets do not cut out food groups without replacing them with other foods that will supply a good range of nutrients. You don't have to starve to detox!  You need foods that will supply the nutrients that are needed by the detox system.
Quinoa is a very nutritious and tasty food and can be used in place of gluten grains that are usually best avoided when you detox.  The fiber helps to keep you regular, a must when you detox. It supplies the vitamins, minerals and amino acids needed by the detox pathways.
It makes a good breakfast dish but can be used in salads, stews, baked goods, desserts and even smoothies. It can be sprouted too.
Although there are hundreds of types of quinoa white or ivory quinoa is the variety that is usually seen in the supermarkets but there are red and black varieties as well. Red holds its shape better so is good to use for salads. It is also said to taste a little sweeter than the black or white varieties. Black quinoa tastes more earthy.
Quinoa has a naturally bitter coating called saponin that keeps insects away without having to use pesticides. The saponin has already been removed from most packaged quinoa but as it's easily removed by rinsing it's a good idea to always rinse it well before using.

Now for some tasty recipes for using quinoa as a detox food to get you started.
Banana Bread Quinoa Detox Breakfast
Serves 1
Ingredients
1 ripe organic banana, mashed
¼ cup uncooked quinoa, well washed
¼ cup unsweetened almond milk
2 Tbsp organic walnuts, chpped
½ tsp pure vanilla extract
¼ tsp cinnamon
handful organic blueberries (optional)
Directions
Cook the quinoa according to package instructions.
Reduce heat and stir in the almond milk, mashed banana, vanilla, and cinnamon.
Pour into a serving bowl and sprinkle with walnuts and blueberries if using.
Enjoy!
Quinoa Banana Berry Detox Smoothie
It may seem unusual to use quinoa in a smoothie especially as it's cooked but this recipe is worth a try.  Let me know what you think if you try it.
Ingredients
1/2 cup cooked and chilled red Quinoa
1 sliced banana, fresh or frozen
1 cup frozen raspberries
1/2 – 1 cup cold, strong plain green tea
a few ice cubes (optional)
Directions
Place all ingredients into your blender and blend until very smooth.
Adjust amount of green tea to get consistency you prefer.
You can use any color quinoa for this but red quinoa has a slightly sweeter taste.
You won't feel at all deprived when you detox if you make these tasty quinoa flour pancakes. The blueberries give them just enough sweetness but you can add a few drops of Stevia if you really have to.
2 servings
Ingredients
1 medium egg, lightly beaten
1/2 cup unsweetened coconut milk
1 tablespoon coconut oil or butter, melted, plus extra for frying
1/3 cup quinoa flour
1 teaspoon gluten free baking powder.
pinch Celtic or Himalayan salt
1/4 cup shredded coconut (optional)
1/4 cup blueberries, fresh or frozen
Bio natural yogurt, to serve.
extra shredded coconut, to serve.
Directions
Mix together egg, coconut milk and melted oil or butter in a large bowl.
Gently stir in flour, baking powder, salt and coconut until well combined. Add blueberries and stir gently.
Heat some oil in a frying pan over medium heat. Ladle in some batter and cook until bubbles appear on the surface then turn carefully and cook on the other side until lightly browned.
Repeat, until all the batter is used.
Quinoa Stuffed Peppers
Serves 4
Ingredients
1 cup organic quinoa, well rinsed
5 tablespoons avocado oil
3 cloves of garlic, minced
1 medium jalapeno, deseeded and chopped
1/2 red onion, chopped
1 teaspoon cumin
1/2 cup organic, sugar-free tomato sauce
1 3/4 cups vegetable stock
4 organic, red bell peppers
1 ripe avocado, sliced (optional)
1 cup shredded cheddar cheese (optional)
Directions
Gently heat 1-2 tablespoons avocado oil over medium heat in a medium pan.
Sauté the onion, garlic and jalapeno for about 2 minutes or until onions begin to soften.
Rinse the quinoa well and add to the pan with onions. Cook for another minute.
Add the vegetable stock and tomato sauce.
Add the cumin. Reduce heat, cover pan and simmer for about 15 minutes.
Preheat the oven to 400°F (200C)
Cut the peppers in half and remove the seeds.
Rub the peppers with 3 tablespoons avocado oil and bake for 10-12 minutes until softened.
Once the quinoa is cooked and the peppers have softened fill each pepper half with the quinoa mixture.
Reduce oven temperature to 375F (190C).
Carefully place peppers into a 9 x 13 greased baking dish and bake for 10-12 minutes or until hot through.
Add some sliced avocado to the top before serving if you like.
For the rest of the family you can add some grated cheese to the tops of the peppers during the last two minutes of cooking if you want.
More tasty detox food recipes including Gwyneth Paltrow's recipe for left over Quinoa in my post here.
Want to ease into detox? Take my FREE detox smoothie challenge. Click here to download the guide.
Have you tried quinoa yet? How do you like it? How do you use it?
Quinoa Image by Whole Grains Council