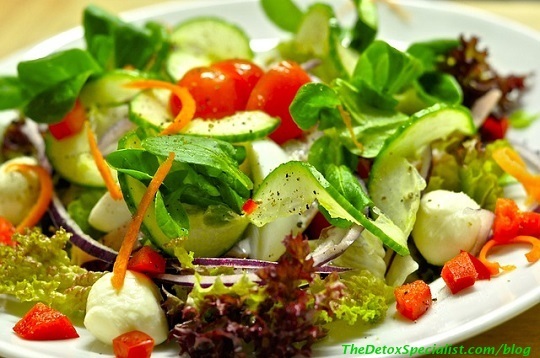 I love salads especially when the weather is hot. These 5 healthy but delicious summer detox salads are the perfect way to help cleanse and detox your body. They are especially good if you've had a spell of eating junk or processed food or want to jump start healthy eating.  They are full of ingredients which contain nutrients needed by the detox system for optimal function.
We are surrounded with chemicals and poisons that are new to our immune systems that we are not adapted to deal with all. We must try to minimize our exposures and make sure our detox system is working optimally by giving it the right nutrients to do it's job.
Beet Salad with Peas, Broad Beans and Dukkah
Beets (beetroot) contain betalains, phytonutrients that support Phase 2 liver detoxification. Dukkah is an Egyptian condiment consisting of a mixture of herbs, nuts, and spices. Spices contain antioxidants and also have anti inflammatory properties. Broccoli sprouts are wonderful for detoxing environmental pollutants. Find out more about them, what they do and get some smoothie recipes using them at this link >>
Detox Your Body From Environmental Pollutants With Broccoli Sprouts
Serves 2 as a main or 4 as a starter or side
Ingredients
2 medium beets
1 tsp Himalayan salt
Juice from 1 oganic lemon
1 tsp raw honey
½ garlic clove, crushed
¼ tsp ground turmeric
4 tbsp natural bio-yogurt
2 tbsp extra virgin olive oil
150g podded baby broad beans
150g podded peas
Large handful baby salad leaves
Golfball size broccoli sprouts
1½ tbsp good quality, no additives, dukkah spice mix
Directions
1. Using a mandoline (or very sharp knife) slice the beets very thinly.
2. Fill a medium sized bowl with filtered water, salt and all but 1 tbsp of the lemon juice. Add beet slices. Leave for 15-30 minutes.
3. Make the dressing by combining the remaining 1 tbsp lemon juice with the honey, garlic, turmeric, yogurt, olive oil and 1 tbsp filtered water.
3. Bring some water to the boil in a medium sized pan and blanch the broad beans and peas for 3 minutes. Tip into a colander and refresh under cold filtered water. Allow to drain well.
4. Drain the beet slices well and pat dry with kitchen paper. Arrange on a serving platter with the broad beans and peas, baby salad leaves. Spoon the dressing over and scatter with the dukkah and broccoli sprouts.
Quinoa With Mexican Mole
Quinoa is a seed that is also known as pseudo-grain.  It's gluten free and high in protein. It contains all eight of the essential amino acids so is good for detox because the liver uses certain amino acids in the detox pathways. It has been called a superfood as it's recognized by the United Nations as a supercrop for its health benefits. It's packed with dietary fiber, phosphorus, magnesium and iron.
Radishes are  cruciferous vegetables which contain flavanoids and carbinols that can induce the activity of Phase 2 detoxification enzymes. Sprouts are rich in nutrients, beneficial plant compounds and enzymes.
Ingredients
Serves: 4-6
200g quinoa
Himalayan salt
½ tsp coconut sugar
3 tbsp extra virgin olive oil
1½ tbsp organic lemon juice
250g green beans, halved
Bunch of breakfast radishes, finely sliced
1 cucumber, cut into 1cm cubes
120g mixed sprouts
40g pumpkin seeds
Mexican Mole
40g fresh tarragon, stalks removed
70ml organic lemon juice
2 garlic cloves
20g tahini
½ fresh green Thai chilli (optional)
135ml extra virgin olive oil
Himalayan salt
Directions
1. Cover the quinoa with cold water by approx 1″. Season with salt. Simmer for about 15-20 minutes until the grains still have a bit of a bite to them. Drain well.
2. Mix the sugar, oil and lemon juice together and dress hot quinoa with it when cooked, Mix in gently.
3. While quinoa is cooking blanch the beans in a separate pan of lightly salted boiling water for 3-4 minutes until they have lost their crunch. Drain and refresh in very cold water. Drain well again
4. To make the mole, put the tarragon leaves in a small blender with the lemon juice, garlic, tahini, chilli (if using) and 1 tbsp oil. Blend until it becomes a paste. Gradually drizzle in the rest of the olive oil, blending as you go. Don't worry if the sauce splits. Season to taste.
5. Mix the quinoa with the drained beans and the remaining salad ingredients. Drizzle with ½ the mole and serve the rest in a small bowl.
You can get some more quinoa recipes at this link: Quinoa : Another Detox Diet Superfood
Avocado, Orange and Sea Vegetable Salad with Sprouts
Sea vegetables contain chlorophyll, a blood cleanser, many trace minerals, and small amounts of calcium, magnesium, and potassium. Sea veg can contain toxic metals so it's important to buy them from reputable company who regularly test for heavy metals and pesticides.
Avocado is loaded healthy monounsaturated fatty acids and fiber which helps keep the bowels moving, a must when you detox.  The fat stimulates the release of bile from the gallbladder. This is very important because the liver eliminated toxins that have been processed through the bile.
Serves 2
Ingredients
30g mixed dried sea vegetables (high quality and toxic metal tested)
2 large handfuls arugula leaves (rocket)
1 avocado flesh, thinly sliced
1 organic orange, peeled
1/2 red onion, thinly sliced
1 handful sprouted seeds
Miso and Ginger Dressing
1 tbsp white miso paste
1/2 tsp ginger root, peeled and grated
1 tbsp xylitol
3 tbsp mirin (rice wine)
Juice 1 organic lemon
1 tbsp sesame oil
2 tbsp extra virgin olive oil
Himalayan salt and freshly ground black pepper to taste
Directions
1. Place all the dressing ingredients in a jar with lid. Season to taste. Place lid on jar and shake well to mix.
2. Soak sea vegetables in filtered water for 5 minutes or according to packet directions. Drain well.
3. Place arugula in large bowl with sea vegetables. Add a little of the dressing and toss gently. Divide between 2 serving plates and top with avocado slices.
4. Cut orange into thin slices and cut into thirds. Scatter the orange, red onion and seeds over the salad. Drizzle with some more of the dressing just before serving.
Green Bean, Zucchini and Mimosa Salad
While some detox experts exclude eggs because some people may be intolerant to them others include them because they contain all essential amino acids and sulfur which are involved in the detoxification pathways. Sulfur can bind to toxic metals like mercury and help to eliminate it from the body.
Ingredients
2 Zucchini (courgettes)
200g runner beans, halved width wise and thinly sliced
200g snow peas (mange tout), thinly sliced
2 organic eggs, hard boiled
Dressing
2 tsp Dijon mustard
2 tbsp red wine vinegar
3 tbsp extra virgin olive oil
1 shallot, very finely chopped
Himalayan salt
Freshly ground black pepper
Directions
1. Spiralize the zucchini, or slice using a mandoline or julienne peeler.
2. Steam the runner beans over a large pan of water for 2 minutes. Add the snow peas and zucchini and cook for 1 minute more. If you don't have a way of steaming you can boil them in a pan of filtered water.
Plunge into a bowl of very cold water so they retain their bright green color and dry with kitchen paper or on a clean tea towel.
Arrange on a serving plate.
3. Whisk the oil, vinegar and mustard together in a small bowl and season to taste and stir in the shallot.
4. Peel and finely chop the eggs and scatter over the salad then drizzle with the dressing before serving. This salad can be served warm or cold.
Garbanzo (Chickpea) Detox Salad
Makes 3 servings approx
Garbanzo beans contain high amounts of protein, fiber, folate, and iron and are packed with a beneficial combination of insoluble and soluble fiber that promotes healthy blood lipids, blood sugar regulation, and cardiovascular health. Fiber is essential for healthy bowel movements which is particularly important when you detox so toxins are eliminated from the body.
Broccoli is an important cruciferous veg which induces Phase 2 detox enzymes.
Ingredients
2 cups, or 1 can garbanzo beans (chick peas)
1-2 heads of broccoli, lightly steamed
3 organic carrots, shredded
2 cups sliced cherry tomatoes
10 basil leaves chopped
1/4 cup chopped fresh parsley
2 Tbs extra virgin olive oil
1 clove garlic, minced
Juice from 1/2 an organic  lemon
Himalayan salt to taste
Directions
1. If using canned garbanzo beans drain and rinse well
2. Place everything in a large bowl. and mix well.
3. Place in a cool place for at least 30 minutes to allow flavors to develop.
4. Serve and enjoy!
I hope you now feel inspired to try some of these summer detox salads. They are ultra healthy and will do you good even if you are not on a detox diet!