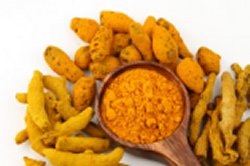 Turmeric is a spice that has been a vital part of Chinese herbal and Ayurvedic Medicine for centuries. It is the spice that gives curry powder its distinctive golden yellow color and is also known as Indian saffron. It has recently become popular in the Western world due to it's multiple health benefits from its anti-inflammatory, antioxidant and antibacterial properties but it has a
particularly interesting effect on the liver detox pathways.
The liver is the main organ that detoxifies substances that we produce daily in our own bodies as well as toxic substances that we ingest or absorb from the outside world. Curcumin is the principal chemical component of turmeric which inhibits Phase 1 and stimulates Phase 2 liver detoxification.
Phase 1 & Phase 2 Liver Detox
Phase 1 detox pathway neutralizes some chemical toxins but converts others to forms that can then be processed by Phase 2. If Phase 2 detox is slow due to certain drugs, genetic factors or nutrient deficiency then these intermediary forms can build up and cause damage in your body. Curcumin helps to prevents alcohol and other toxins from being converted into compounds that may be harmful to the liver.
The fact that curcumin can inhibit Phase 1 and stimulate Phase 2 is useful for preventing cancer as it inhibits the activity of cancer causing chemicals while increasing their detoxification. Several studies have found that it can inhibit chemicals such as benzopyrene, found in charcoal-broiled meat, from inducing cancer. Curcumin increases glutathione production which is a powerful Phase 2 detoxifier and acts as antioxidant in the liver.
Antioxidant and anti-inflammatory effects
Turmeric's powerful anti-inflammatory effect makes it a great natural remedy for joint pain relief but it can also help calm liver inflammation. It's antioxidant properties help mop up free radical damage in the liver during detox.
Anti-Cancer effects
Turmeric can help prevent the cancer-causing effects of tobacco. You would almost certainly benefit from using the spice if you are exposed to smoke and other environmental carcinogens. Some preliminary research at the University or Texas found that turmeric can block the growth of some cancer cells including breast, colon and melanoma. It can even help to slow the spread if breast cancer cells in animal studies. Some oncologists are very excited about curcumin's anti-inflammatory effect.
Bile Stimulant
The liver eliminates toxins through the bile that it makes and turmeric helps to increase bile flow helping it detox.  German researchers found that when turmeric was taken with Milk Thistle and Celandine, it increased bile flow about six times more than when the herbs were used without it. It has traditionally been used for liver ailments and as a digestive aid by herbalists. Turmeric is a natural antibiotic and can relieve intestinal gas by lowering the numbers of gas forming bacteria.
Cooking with Turmeric
Apart from it's mild earthy flavor turmeric, also known as Haldi, is used in Indian cookery for its digestive and antiseptic effects. Fresh turmeric looks like the smaller cousin of fresh ginger root but is often only seen as the dried variety and as ground spice.
You can add some turmeric to rice, bean and lentil dishes. Add a little to stir fried vegetables.
Here is a detox spice mix for vegetables
1 part turmeric
2 parts ground cumin
3 parts ground coriander
4 parts ground fennel
Mix these spices together in bulk and store in a jar.
When you are cooking a meal, place a small amount of ghee (clarified butter) or a little olive oil  in a frying pan and heat gently on low to medium.
Add detoxifying spice mixture, measuring out one teaspoon of spice mixture per serving of vegetables. Sauté spices until the aroma is released but be careful not to burn.
Add steamed vegetables, mix lightly and sauté together for one minute. Add salt and black pepper to taste. Or you can sauté the spice mixture in ghee and drizzle on vegetables or grains.
Try to get creative and test using turmeric  on various foods so you can benefit as much as possible from this potent super-spice.
Turmeric & Curcumin Extract supplements
You can add turmeric or curcumin to your diet in capsule form .  Cucumin is often found with Bioperine which helps absorption. Look for standardized extracts for the best effects. The usual dose is 500 mg three times a day.
There were some warnings last year about several brands of turmeric containing high lead levels so make sure you buy a reputable brand and check that it has been analyzed for impurities.
Don't take turmeric or curcumin if you have painful gallstones, obstructive
jaundice, acute bilious colic, or extremely toxic liver disorders unless guided by a herbalist or practitioner who is experienced in it's use.  A nano form of turmeric which improves it's absorption has been used to reverse cirrhosis in animals.
Spice up your life with turmeric and improve your liver detox.