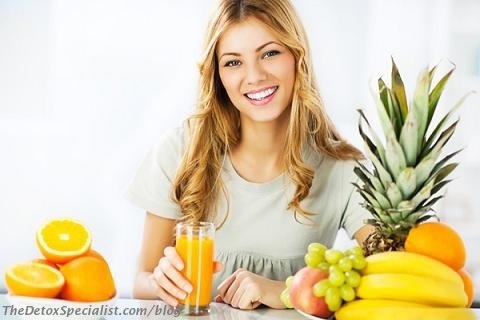 As the year draws to a close, many of us begin to reflect on areas of our lives that have room for improvement. Many of us would like to be healthier, happier, and more energetic. Doing a detox to rid your body of negative substances can help you start the new year on the right foot. There are several different ways to go about doing this.
Green Smoothies
Loading up on green veggies is a great way to give your body the antioxidants and fuel it needs. Not everyone loves eating kale and spinach, but anyone can make a delicious smoothie with those ingredients. Just be sure to keep the sugary fruits, such as bananas and strawberries, to a minimum. Green tea is a great smoothie ingredient.
So why are green smoothies so useful in the detox process? The chlorophyll from the plants used in them helps to "shake up the cells." This helps to release any toxins that have been lurking in the body. These leafy greens are also high in fiber, which helps you feel full if your detox involves food restrictions.
Activated Charcoal Lemonade
This one may seem a bit odd, but it can do wonders for your energy and health. Activated charcoal is believed by many to help boost stamina, clear up and brighten skin, and even cure a hangover. This works by absorbing all of the toxins directly from the GI tract. Activated charcoal by itself would be a bit hard to stomach, but when mixed with fruit juices or lemonade it can be quite tasty.
There are many options out there, so do your research and make sure you are buying from a reputable brand. This can be a pricey option, it can cost up to $10 a serving. That being said, a week of detoxing this way may help you shed a few pounds and wake up in the morning feeling more energized.
Cleanse for Arthritis
If you suffer from joint pain, you may be surprised to learn that a detoxifying cleanse can help. Toxins can build up in the joints, contributing to pain. On top of taking joint supplements, try adding bromelain to your daily diet. You can either eat pineapple or take it as a supplement.
A detox for arthritis involves eating more essential fatty acids, increasing exercise, doing yoga, losing weight, drinking water that has been distilled, and eating more fruits and veggies.
Change Your Diet
One way to detox yourself is to eat healthier. This way, fewer toxins are introduced into your body, giving it a chance to eliminate the ones that have built up. If you really want to get healthy, consider giving up all processed and prepared foods. This means cutting out any food that comes in a bag, box, jar, or can. You will also want to seriously cut back on your sugar intake. After a while of no sugary snacks or drinks, your body will begin to enjoy the sweetness of fruit more.
While changing your eating habits, be sure to stay well hydrated. Drinking enough water helps make sure that the salt levels in your body are where they should be. Water also aids your body in every single metabolic process, meaning you will burn fat and eliminate toxins more efficiently. Alcohol should be avoided. Even though there is some evidence that certain drinks can have health benefits, they are not worth it if you are trying to detox. An alcoholic drink can dehydrate you while also increasing the likelihood that you'll eat something you shouldn't.
Image by TipsTimesAdmin