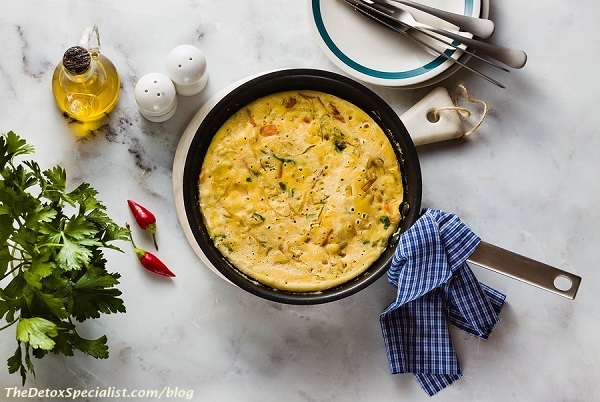 It's not often that I come across vegan recipes that can double as detox recipes but I was in luck last weekend. In the Saturday magazine that comes with a British newspaper the food section carried some recipes from a new cookbook called Green: Veggie & Vegan Meals
All the recipes are meat free and many are dairy-free but Elly Pear, the creator of the recipes and author of the book, says she has created them with the whole spectrum of diets in mind.  Plant based diets are in the news these days more and more because of the enormous health benefits they bring.
I was disappointed to see that the dessert they included contained "golden" sugar which, although is not refined, is no better really than white sugar. I don't suppose she had a detox diet in mind!
Egg-free Frittata
A couple of the recipes did catch my eye though and one is quite unusual because she calls it a frittata but it does not contain eggs. It's made with gram flour (garbanzo/besan/chickpea flour) which makes it protein rich for vegans and makes an ideal detox recipe.
The liver uses some amino acids for detox and garbanzo beans contain almost all the essential amino acids, except for methionine. Vegans can be low in this amino acid which is needed for liver function and liver detox but eating some spinach with the dish would help to supply it. Other vegan foods rich in methionine are brazil nuts, hemp seeds, sesame seeds and oats.
I have made a few tweaks to the recipe to make it even healthier as I have a habit of doing. I have suggested Himalayan salt instead of flaked sea salt in the original recipe because regular sea salt unfortunately contains plastic fibers these days.
No one knows what these fibers will do to you yet but researchers have discovered that they can pass from the gut into the bloodstream and potentially into your organs.
In a rat study microplastics were shown to accumulate in the liver, kidneys and intestines, and increased the level of a molecule that may be toxic to the brain.
Although we still get plastic fibers in other foods and even breath them in I think it's better to avoid regular sea salt. The alternative is to use salt from ancient sea beds such as Himalayan salt (pink salt) or Real Salt.
Organic vegetables are better for detoxing if you can get them. And make sure that the turmeric you buy has been tested for lead and other heavy metals. Some brands were found to contain lead a few years ago.
Detox Recipes
Here's the first detox recipe which makes about 8 slices.
Vegan Frittata
Ingredients
For the batter
250g gram (chickpea, garbanzo, besan) flour
1 tsp garlic powder
1 tsp gluten free, aluminium free baking powder
1 tsp ground turmeric (lead free)
2 tsp Himalayan salt
freshly ground black pepper

For the filling
275g organic carrots, grated
4 spring onions, 
thinly sliced
2 tbsp nigella seeds
Coconut or avocado oil, for frying
To serve
Good quality hummus, salsa, vegan pesto, or kimchi
Nigella seeds, toasted pine nuts
Sliced avocado, organic cherry tomato halves
Fresh dill, coriander, or basil leaves
Sweet paprika or pul biber (mild Turkish chilli flakes)
Directions 
Preheat the oven to 200C/180C fan/400F/gas mark 6
Add all the batter ingredients to a food processor or blender with 500 ml filtered water and process until nice and smooth.
Add the carrot, spring onions and nigella seeds to the batter and stir to mix well.
Add a generous amount of avocado or coconut oil to a non-toxic non-stick, ovenproof 25 cm frying pan and heat over a medium-high heat and pour in the batter.
Quickly spread it evenly over the base of the pan. As soon as the mixture starts to set around the outside edge drag the set mixture into the middle using a rubber spatula and allow the unset batter to flood into the gap. Continue working around the frittata in this way, letting the loose batter flow to the outer edge; tipping the pan will help with this.
When the frittata becomes set at the outer edge and mixture stops moving freely put the pan into the hot oven and bake for 30-40 minutes, or until the frittata feels firm to the touch and is set.
Leave to cool in the pan before sliding out on to a board. Serve either at room temperature or cold. Top with good quality hummus, salsa, dairy free pesto or kimchi, some seeds or pine nuts, sliced avocado or organic cherry tomatoes, a good handful of fresh herbs and a sprinkle of either paprika or pul biber.
Eggplant, Tomato & Garbanzo Traybake   (Aubergine, Tomato & Chickpea)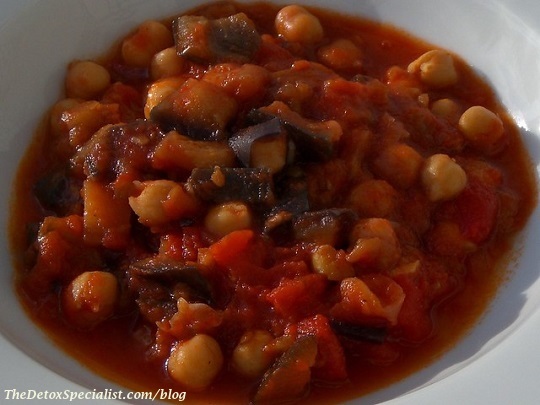 This is a spicy dish which can be made in advance and frozen. It's quick and easy to make too.
Harissa is a fiery and garlicky North African spice. Rose Harissa is made from chilli peppers and a mix of over 40 herbs and spices with the  addition of rose petals which give it a sweetness and softens the chilli kick. You can of course leave it out  if you don't like or don't tolerate spicy food or use a less hot sauce.  If you can't find rose harissa then ordinary harissa is fine.
Ingredients
Serves 4
3 tbsp avocado or coconut oil
2 medium eggplants, cut into 2cm cubes
Himalayan salt and freshly ground black pepper
3 tbsp rose harissa (look for the Belazu brand), diluted with 1 tbsp water
300g cherry tomatoes
1 x 400g can (BPA free) garbanzos (chickpeas), drained and rinsed
Zest of 1 organic lemon, 
finely grated
3 tbsp tahini, thinned with warm filtered water to make a dressing the consistency of single cream
1 small handful fresh mint leaves, thinly sliced
Gluten free flatbreads  to serve
Directions 
Preheat the oven to 220C/200C fan/400F/gas mark 7.
Heat the chosen oil in a large roasting tray or ovenproof dish for 5-10 minutes. Carefully add the eggplant cubes to the hot oil and season well with salt and pepper. Add the diluted rose harissa and mix everything together well.Put the dish or tray back into the hot oven and cook for 15 minutes then stir to make sure all sides of the aubergine cubes are roasting..
After cooking for another 15 minutes  add the cherry tomatoes. Return the tray to the hot oven for 20 minutes, then add the drained garbanzos and stir well. Return the tray to the oven and roast for a final 10 minutes.
Remove the tray from the oven, stir in the grated lemon zest and leave to cool for 15 minutes. Check the seasoning and adjust as necessary.
Drizzle with a generous amount of the tahini dressing and scatter over the mint leaves. Serve immediately or leave to cool before freezing.
You can keep any leftovers in a covered container in the fridge for up to 3 days. Reheat in a covered dish at 200C/180fan/400F/Gas mark 6 until heated through.
Vegan recipes can be just as tasty as those that include meat and dairy! Try them and let me know how you like them.
Eggplant, tomato & garbanzo image by Seelensturm