This will probably come as a surprise, but most people do NOT plan their day around meals.
They plan their day around work.
The result: meal times, meal nutrition and meal quality tends to suffer.
This article explores another interesting question: do irregular meal times affect the body's capacity to digest?
Asked differently, would your body do a better job of digesting lunch if you had it at the same time, daily?
What's the science?
Your body has a natural, daily rhythm called a circadian rhythm. Think of it as a clock that resets every 24 hours or so.
Your sleep patterns, brain activity and liver function are all linked to your unique circadian rhythm.
Your digestive system is linked as well.
Based on certain environmental factors like time or light, the body begins to prepare the digestive tract.
Some research indicates this includes secretion of digestive enzymes, hormones and peristalsis (the process by which certain muscles flex to push food forward). Interestingly, even your gut bacteria seems to operate in line with your circadian rhythm.
Disciplined eating i.e. eating at the same time daily helps condition the circadian rhythm, so that your body can absorb maximum nutrition from the food you eat.
There are a couple of other tricks you can use to condition the same.
First, you could set a pre-meal ritual, like a prayer. This would not only indicate to your body that food is on its way, but would also activate your parasympathetic system i.e. calm down your system and put it into a state where it is ready to digest at its best.
Second, you could try a pre-meal drink. If you use something like digestive bitters or a shot of lemon juice, you would stimulate enzyme production and condition your circadian rhythm.
This sounds good in theory, and has been validated several times in lab level experiments.
Does this apply in practice, too?
Results from a recently conducted gut health survey from gethugg.com gives us an idea.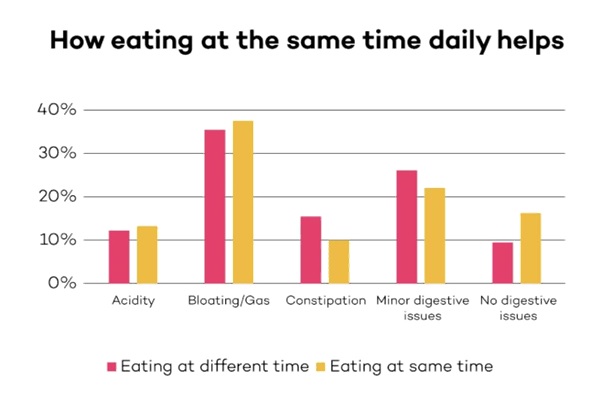 More than 50% of respondents who reported no major digestive issues maintained the same meal times, daily.
While it may seem like acidity and bloating show little to no relief, it's important to note that there are several other factors like belly fat, medication and stress which may cause chronic digestive trouble.
The time you eat your meals is just one albeit a rather important factor to control for when preparing your digestive system to do what it does, best.
Another interesting observation from this data: meal times seem to make a significance difference when it comes to constipation.
A regular body gets two waves daily that pushes the bowels closer to the rectum for evacuation. Could meal times have anything to do with this?
We'll need more research to confirm the same.
In either case, both theory and anecdotal evidence clearly suggests that you are better off keeping a fixed meal time, daily.
There is another small yet unanswered question. Is there a best time for breakfast, lunch and dinner?
The ancient Indians, Chinese and Japanese like to eat in accordance with sunrise and sunset. They would have their first meal of the day after sunrise, and their last meal of the day before sunset.
They would typically have their largest meal of the day during lunch.
Our circadian rhythms are definitely unique, so there may not be a fixed answer to 'what is the best mealtime?"
Set a constant one first. Then tweak around the edges to see how you feel.
Author bio: Written by Harsh Doshi in collaboration with the team at Health and Beauty Stuff. Harsh Doshi is the founder of Hugg, a gut health beverage brand in India.