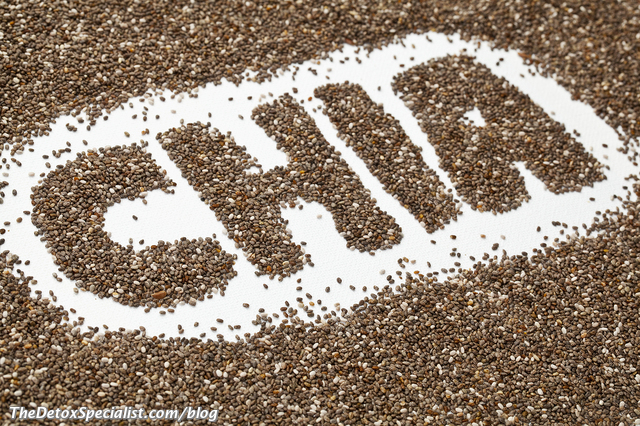 Thanks to all the buzz online about all the immense multiple health benefits of chia seeds, more people than ever are including them in their weekly shop but do they really stand up to the hype? Are there any proven health benefits? And are they good for detoxing your gut? Read on to find out to all the answers!
What Are Chia Seeds?
Chia seeds are small back seeds that come from the flowering plant Salvia Hispanica which is native to Mexico and Guatemala. The name "chia" is said by some to originate from the Mexicano word "chian", meaning oily while others say it comes from the Mayan word for "strength" and Salvia means to save. Whatever the case these tiny oil seeds contain both omega 3 and omega 6 fats and can provide "strength" from the range of nutrients they contain and "save" you from ill health.
The seeds have been eaten for over 500 years and were a common part of both Aztec and Mayan diets. They were considered to be a sacred food and medicine and were used in religious ceremonies.
They are small, flat and ovular and vary in color from white right through to brown and black. Like other similar seeds, their texture is smooth and shiny. They are grown without pesticides or chemical fertilizers and are not genetically modified.
Related reading: The Secrets of Using Healthy Seeds on a Detox Diet
Chia seeds are very versatile and people use them in a variety of different ways. They can be consumed raw, ground, sprouted, cooked or as a gel. Some people soak them and add them to their breakfast cereals, others prefer to bake with them or make puddings with them. Other uses they are put to include garnishing salads, topping deserts or smoothies or including them in low carb breads.  (See below for some recipes).
What Do Chia Seeds Taste Like?
Chia seeds have a mild, almost nutty flavor. The flavor is very subtle and that makes them an ideal compliment to both sweet and savory dishes, hence the reason for their many and varied uses.
As for the texture, like most seeds they are dense and crunchy unless you have soaked them overnight in which case they take on a kind of gel form and have a similar texture to tapioca.
Health Benefits of Chia Seeds
Chia seeds are like little micro-parcels of nutrients that can have important benefits for your overall health, body and brain. In fact, they are not only a superfood, they are one of the healthiest foods on the planet – and that is supported by science!
The seeds contain 25% terrific fiber, 20 -23% protein, 34% high quality Omega-3 oil, vitamins B1, B2 and B3, zinc, calcium, phosphorus, magnesium, manganese and potassium. They are said to be higher in quality and have the broadest scientific benefits of any other food. Not bad for a tiny little seed a few millimeters long.
So, clearly, they are very healthy and nutritious but can they also be used for detoxing the gut?
Detoxing the Gut with Chia Seeds
Chia's super high levels of insoluble fiber helps to sweeps the digestive tract clean and smaller amount of insoluble fiber acts as a prebiotic to feed the beneficial gut bacteria. The insoluble fiber absorbs water and swells up making the stools easier to pass but only if you have enough fluid with the seeds. A clean gut with a healthy, diverse microbiome is recognized as the cornerstone of health.
A diet high in fiber helps your gut stay nice and healthy by crowding out a lot of the bad bacteria as it works through your digestive system. Foods high in fiber also cleanse your insides by collecting toxins along the way and exiting the body with them!
Related reading: The Return of the Fiber Trend is Good for Bowel Cleansing
It is also commonly accepted that eating plenty of fiber helps lower your risk of heart disease, diabetes and bowel cancer not to mention that it also helps you to lose weight by leaving you feeling fuller for longer.
Many people find them a great gentle relief for constipation. The liver processes toxins which are incorporated into bile to be excreted from the body via your stools. The longer the waste stays in your gut the more toxins are reabsorbed into your blood stream. From there they are taken back to the liver to go through the process all over again. So you see it's most important to keep your bowels moving regularly.
Adding a tablespoon to your morning smoothie can work like a charm if your transit time through the bowel is slow. Chia seeds are a great smoothie thickener too keeping you fuller for longer. Here's a couple of recipes to get you started:
Blueberry & Chia Detox Smoothie
1 cup organic blueberries, fresh or frozen
1 organic red skinned apple, cored and sliced
3 teaspoons chia seeds
1/2 organic frozen sliced banana
1 cup unsweetened coconut milk
1 handful of organic baby spinach or romaine lettuce
1/4 teaspoon cinnamon
Instructions

Place all the ingredients into your blender with enough liquid to allow the blades to turn easily. Blend until very smooth adding more liquid as necessary to achieve the consistency you prefer. Pour into your serving glass and sip slowly. Enjoy!
Chia Seed Detox Water Recipe
If you don't have time to prepare a smoothie in the morning you could simply make a chia detox drink. There are various recipes for it so you can try out the various versions until you find one that suits your taste.
Ingredients
12oz filtered water
1 Tablespoon chia seeds
Juice of 1 organic lemon or lime
Optional Extras
Natural sweetener such as liquid stevia, raw clear (runny) honey, lacanto (monk fruit) , high grade maple syrup, zero carb Sukrin syrup.
1 tablespoon apple cider vinegar
Instructions
Place water in a glass jar with a lid
Add chia seeds and juice, put lid on tightly and shake well.
Allow to stand for 10 minutes or until seeds have formed a gel
Add chosen sweetener if using
Add 1 tablespoon apple cider vinegar if using
Stir well or shake up again
Sip slowly.
Gluten Free
Unlike grain sources of fiber chia seeds contain no gluten. They are ideal if you have gluten intolerance, carbohydrate intolerance, hypoglycemia, Crohn's Disease or Celiac Disease or you simply want to avoid grains like corn, rice, wheat or oats.  They are ideal for anyone with food allergies or intolerance as it's rare to develop an intolerance to them.
The Antioxidant Health Benefits  of Chia Seeds
Chia seeds also contain high levels of polyphenols, antioxidants which protect the sensitive fats in the seed from turning rancid. Antioxidants help fight free radicals, unstable atoms that can damage your body's cells and contribute to aging and certain so-called lifestyle diseases.
Eating a diet rich in antioxidants will therefore help your body to reduce and even repair damage caused by free radicals including in the gut. In other words, you can start the process of detoxing the gut simply by introducing chia seeds into your diet. No need for any special fasts. Just start eating them!
Mix them with your morning smoothie bowl or gluten free cereal, add them to your gluten free breads and sugar free cakes, top your salads with them, just go with whatever you prefer. The important thing is not how you consume them, it is that you do. Here's a recipe for you to try.
Related reading: Have you Tried Tasty and Filling Detox Smoothie Bowls?
Chia Seed Breakfast Pudding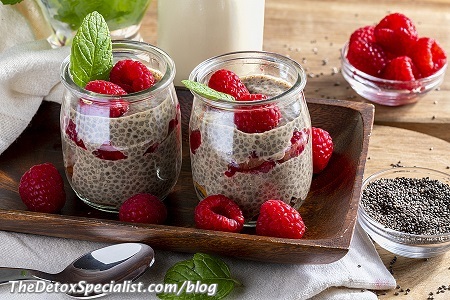 1. Place 1/2 cup nut milk and 2 tablespoons chia seeds in a jar or serving bowl.
2. Stir in a little sweetener such as a good quality maple syrup, liquid stevia, lakanto (monk fruit sweetener) or a zero carb natural sweetener like Sukrin syrup.
3. Add desired flavorings such as natural vanilla extract or cinnamon. Stir well
4: Allow to stand for a couple of hours or overnight, then stir again before serving.
5. Top with fresh fruit and chopped nuts
6. Can also be layered with pureed fruit like strawberries or blueberries.
If It Was Good Enough For Warriors . . .
Legend has it that a single handful of seeds was enough to sustain Aztec and Mayan warriors for a whole day. Whilst that might be a little bit exaggerated, the health benefits of chia seeds are not. The health benefits are clear and indisputable as you have read above.
Chia seeds are not a fad or a trendy superfood.
They are an essential part of a healthy and balanced diet and a great way to start detoxing your gut by doing little more than introducing them into your diet and eating a handful or so every day.