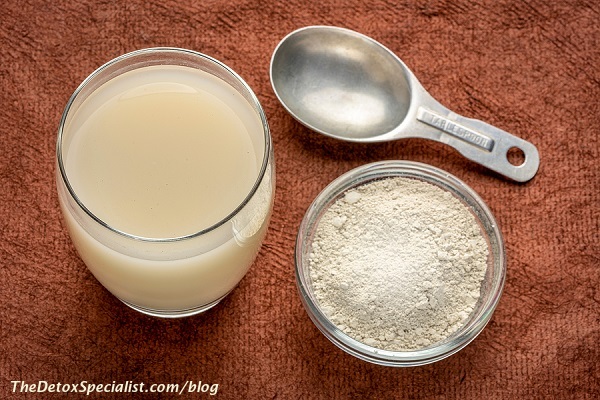 Eating a healthy balanced diet, taking regular exercise, reducing stress and taking selected nutritional supplements are believed to be some of the best ways to stay healthy. One of the wellness products that some people rave about for boosting their health is food grade diatomaceous earth (or DE).
Diatomaceous earth is an all-natural product made from tiny fossilized water plants. Oceans and lakes are rich in diatoms, the microscopic plants diatomaceous earth is made of.  After being removed from the vast ocean floor it is cleaned and ground into a fine powder which can can be used for many purposes.
This mineral-based compound contains silicon, magnesium, calcium, sodium, iron and other trace minerals that the body needs to stay healthy. These minerals can help to improve bodily functions and provide better over-all health.
DE is said to help with weight control and boosting energy levels by cleaning out toxic waste, chemical toxins, heavy metals and excess mucous build up from the gut.
It has strong negative charge which attracts positively charged ions like viruses, harmful bacteria, parasites, heavy metals, pesticides, toxic and chemicals detoxing your body of them.
So you see diatomaceous earth has the ability to function both as a digestive aid and as a colon cleanser. When food grade diatomaceous earth is taken in adequate daily amounts, it can eliminate most intestinal worms and parasites. This helps to promote proper absorption of nutrients derived from food, which improves existing indigestion problems while producing regular bowel movements.
Related reading: Easy 4 Week Digestive System Cleanse
Although the research was done on animals food grade diatomaceous earth has been reported in scientific literature to absorb mercury, e-coli, endotoxins, viruses (including polio virus), pesticide residues, drug residues, and perhaps even the toxins produced by some intestinal infections.  In other words it can help to detoxify toxins found in the body.
Small amounts are said to be absorbed across the gut wall into the blood stream where it can lower bad cholesterol while raising the good cholesterol. It also regulates blood pressure. Hypertension, predominantly present in old age, can be minimized if food grade diatomaceous earth is taken regularly.
Due to the normal wear and tear or lack of calcium absorption in the bones, people experience bone diseases, but with the help of diatomaceous earth, it can reduce sore joints and prevent other symptoms associated with osteoporosis.
How to take DE. 
The usual dose is a half teaspoon in a glass of filtered water twice a day for a week initially then slowly increasing to one teaspoon twice a
day. Take it first thing in the morning and last thing at night.  You can take it in capsules if you prefer them to the powder.
It can have a constipating effect so remember to drink plenty of filtered water with it and during the day. If you use the powder take care not to inhale any of the dust as it can be irritating to the lungs.
DE should be taken for at least a month for the best detoxing effect but no more than three months.
Benefits for skin and hair
Aside from these primary health benefits, diatomaceous earth may even replace some of the basic hair products and skin creams. Due to it's negative charge it can get deep into the pores helping to remove microscopic deposits of dirt, oils, and dead skin cells.
It gives skin a youthful glow, revitalizes hair, stimulates its growth, and restores the shine. It is known to be safe for ingestion by pregnant or lactating women as there have never been any reported cases of withdrawal or side effects.
As food grade diatomaceous earth works its way through the body, it will start to clean out your insides, enabling you to enjoy a healthier lifestyle.
Note: You might want to take a look at this extensive report on both food grade and non food grade DE for more information.  If pest control is your main concern then read this up to date report for all you need to know.