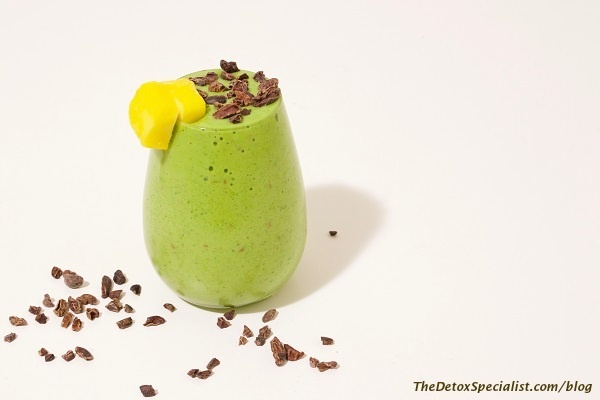 You've probably heard the buzz about detox smoothies. They can taste delicious but you have to make them right.
Smoothies are delicious drinks made up from a cocktail of different fruits and vegetables, often with a liquid and some other ingredients like superfoods, seeds or nut butters thrown in for good measures.
Detox smoothies contain a ton of goodness in the form of vitamins, minerals, antioxidants and phytochemicals that are missing from our diets too often these days.
They help to supply the nutrients that many people are deficient in and that your body needs for the optimum function of the detox system.
By simply adding a delicious detox smoothie to your diet once a day, you can massively increase your overall health, your body composition, your immunity and energy! Don't expect it to happen overnight though. Of course it helps if you eat a healthy diet as well.
How I got started drinking green smoothies
I started drinking a green smoothie every morning about 15 years ago when I had a very superficial melanoma removed from my ankle.
The consultant dermatologist said it was undoubtedly caused but all the sunbathing I did in my teenage years and into my twenties and the sunbed treatments I had before I got married. Even though I was a nurse back then I didn't know the dangers.
I was introduced to detox smoothies by a medical doctor turned Naturopath who was known for his natural treatment of cancer. He started me on a detox program as a precaution and to make my body as cancer unfriendly as possible.  You can read more about it in this article.
Prior to the smoothies I had done green and other fresh vegetable juices for years. I started out on 6 fresh juices and 1 coffee enema a day, and the Less Intensive Gerson Therapy diet for 6 months which cured my chronic fatigue.  I stayed with the juicing after that gradually reducing them to one or two a day.
How do you make Detox Smoothies?
Your Weapon of Choice
The first thing you will need of course is a powerful blender. This is what you are going to use to blitz your ingredients into a tasty, quickly absorbed drink.  You need something powerful to ensure that any seeds or nuts you use get blended quickly and easily.
Think too about how easy the container will be to clean afterwards and how small you have to chop the ingredients.
Some more recent blenders known as vacuum blenders use technology to exclude air so there is no oxidation of the ingredients. Some testers say smoothies made with these blenders is smoother but could add an extra layer of complication in the mornings.
Your Liquid
Next, you need to choose a liquid. This is of course what will make your smoothie become a delicious drink. The more liquid you add, the runnier your smoothie will be of course and this comes down to personal preference.
I like mine quite thick so I never add as much liquid as they give in most recipes. I think I add about ¼ cup but the norm is usually 1 cup or more. I often use just washed Romaine lettuce leaves so the water clinging to them plus the water in them adds liquid.
I don't add any avocado or ingredients that would make it stay in my stomach longer because I want it to digest quickly so I can eat a smoothie bowl for my breakfast about 30 – 40 minutes afterwards.
Of course if you add avocado,  a banana or chia seeds for example which tends to thicken the mixture you will need more liquid. You can always just start with enough liquid to allow the blades of your blender to turn easily then add more liquid as you go until you get the consistency you prefer.
Good examples of liquids include filtered water, unsweetened plant milks, coconut water and even green tea. There are different benefits of each, so have a long hard think about which you want to try and how this will go with the other ingredients you have planned.
The Green Leaves
Love them or hate them green smoothies are probably the best types of smoothies for detoxing. You can use spinach, kale, collard greens, lettuce, Swiss chard, arugula, dandelion leaves, bok choi, mixed green leaves or a combination.
They supply the detoxifying chlorophyll as well as many nutrients. You can also include some green sprouted seeds like broccoli and herbs like parsley, mint and cilantro for flavor.
The trick to making green smoothies that taste good is to start with 60% fruit and only about 40% leafy greens until you get used to the taste. After a while you can start to reduce the amount of fruit and increase the green leaves until you are having them in a ratio of 60% or more of greens and 40% of fruit.
You can always add a few drops of a good quality stevia or monk fruit if you want to add a bit of sweetness.

The Base
The next part is the base. This is the 'main ingredient' and is what is going to provide the consistency of your smoothie – i.e. what will make it smooth!
You need to choose something that has the right creaminess while also offering a good flavor (as this will likely be the most overriding flavor in the drink) and also lots of health benefits.
Popular choices include an organic banana, mango, papaya, peach, avocado, kefir, bio yogurt or coconut yogurt.
The Fruits
From there, it's then a matter of picking your fruits.  Simply think about what is likely to work and what isn't that likely to work against the base and liquid you've chosen.
As well as the fruit mentioned above berries such as blueberries, strawberries or raspberries are a popular choice. Orange can be included Cucumber is botanically a fruit so you can add a chunk or two.
You can experiment with your own concoction or try turning to a recipe instead. There are plenty on the internet, so you shouldn't be stuck for inspiration for too long!
Just remember that not all the smoothie recipes you find on the internet are healthy. Some contain the most awful indigestible mix of ingredients.
Others are loaded with ingredients that are high in calories so if you are trying to lose weight with the smoothies or a detox plan then you may find you will be putting on weight!
The aim of a detox smoothie is to get the nutrients into your body as quickly and effortlessly as possible. Less is more!
Vegetables
Some people like to make smoothies with vegetables such as beets, carrots, broccoli florets, cauliflower or zucchini (courgettes). These should not be included in a green smoothie.
The only things that should go into a green smoothie are liquid, green leaves, fruit (including avocado which is technically a fruit) and perhaps a small amount of seeds and a little nut butters.  Purist would say just green leaves and fruit and nothing else.
Extras

Finally, consider a few different extras like super food powders, mesonutrients, seeds, nut butters, tahini, flax oil, MCT oil, protein powder, collagen powder, gogi berries, or cacao powder.
You could also add a little fresh root ginger or turmeric to give your smoothie that extra kick.  Some superfood powders you can try are things like maca, acai berry, baobab, camu camu, moringa, spirulina, wheat grass powder or ashwagandha. The list is endless.
Some seeds like flax seeds need grinding before using in a smoothie or they will not get digested.
Low Carb and Keto Smoothies
Many people have got the message about refined carbs being bad for you so are even steering away from the higher sugar fruits in smoothies. It's perfectly possible to make tasty low carb and Keto smoothies and I've written a recipe guide full of delicious and healthy low carb smoothies.
40 Healthy Low Carb and Keto Smoothie Recipes 
The directions are the same for all the smoothies.
Directions for making all Smoothies
Place your fruit into the blender first with the green leaves on top, Add enough liquid to allow the blades to turn easily. Start blending at a low speed and gradually increase as the ingredients are drawn down into the liquid adding more liquid until you achieve the consistency you prefer.
I prefer not to add ice as the smoothies are ideally drunk at room temperature. Ice cold drinks are not good for you because it makes your body work harder to warm the mixture up to body temperature. We are trying to make these easy on the digestion.
Detox Smoothie Recipes
Mango Detox Smoothie
3 cups mango
5-6 sprigs of parsley
5-6 sprigs of cilantro
1 cup organic baby spinach
½ organic lemon, peeled
1 cup raw coconut water
Optional: 1 tbsp maca
Harvest Detox Smoothie
1 organic apple, cored and chopped
1 organic orange, peeled
1 thumb sized piece ginger root, grated
2 cups organic baby spinach, packed
1 cup organic almond milk
1/2 organic lime, peeled
1 cup ice (optional)
Green Avocado Smoothie
1/2 cup pineapple chunks
1/2 avocado, diced
1 cup (2 handfuls) fresh organic spinach
1/2 cup coconut water
1 tablespoon hemp seeds (hemp hearts)
1 frozen, sliced organic banana
Kool Kiwi Spinach Smoothie
1 cup organic spinach or baby kale
1 cup organic strawberries
1 cup organic cucumber
1 tsp hemp seeds (optional)
1 sliced, frozen organic banana
1 cup kiwi fruit
1 cup filtered water
Tropical Smoothie Dream
1/2 cup parsley
1/2 cup organic cucumber
1/2 organic banana sliced & frozen
1 stalk organic celery
1 cup pineapple chunks
1/2 cup peaches
1/2 tsp grated ginger
1 cup raw coconut water
Liver Detox Smoothie
1 inch of fresh turmeric, chopped
½ cup raw organic beets, shredded
1 packed cup organic spinach leaves
½ organic apple, chopped
1 cup frozen cherries
2 tablespoons chia seeds
Juice of half an organic lemon
1 cup unsweetened almond milk, or coconut water
Cacao Berry Smoothie
1/2 cup mixed frozen berries
1 scoop chocolate plant protein powder
1 heaped tbsp organic cacao powder
1 large handful baby organic spinach leaves
1 tsp organic almond butter
1 cup unsweetened almond milk
You can find a recipe for a Blue Velvet Breakfast Detox Smoothie in my article Green Smoothies Make a Perfect Detox Diet Breakfast  and some recipes for anti-stress green smoothies in this article.
Give these detox smoothies a try and see the difference they make.