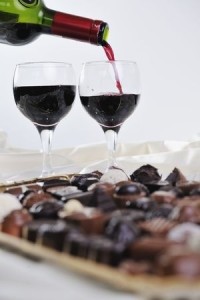 Unlike other some detox diet plans which are so restrictive that you feel deprived and hungry the Sirtfood Diet is perfect if you want to detox your body, boost your immune system, reboot your health and lose weight after the great Christmas binge.
You may not have heard of sirtfoods yet but the revolutionary Sirtfood Diet is predicted to become the the most popular diet for 2016.
The diet that is said to be "a non-faddy diet that offers incredible health benefits and weight loss" already has a growing number of celebrity fans, including Jodie Kidd, Anthony Ogogo, Lorraine Pascale and Sir Ben Ainslie.
What are Sirtfoods?
Sirtfoods are certain foods that activate sirtuins, a family of age related proteins which are said to switch on the so-called "skinny gene" that helps the body burn fat, increase muscle and improve health.
Studies on sirtuins show that they are involved in metabolic regulation. Sirtuins, first obeserved in yeasts, seem to change the chemistry in laboratory experiments on fruit flies to mammals to help neutralize aging but their ability to do this in humans is hotly debated.
It's thought that resveratrol, the antioxidant found in certain plants and in red wine, works by activating sirtuins.
Foods highest in sirtuin activators are:
Green tea (ideally matcha powder)
Dark chocolate
Turmeric
Kale
Lovage
Medjool Dates
Parsley
Capers
Red wine
Extra Virgin Olive oil
Red onion
Arugula (Rocket)
Coffee
Buckwheat
Celery
Red Chicory
Chilli
Strawberries
Walnuts
Soy
Apples
Blueberries
Citrus Fruits
When I first saw this list I recognised that apart from coffee, chocolate and red wine all these foods figure high on a good detox diet although I do know of some detox diets that include them.
The Sirtfood Diet encourages the consumption of fruits and vegetables which detox your body so can't be bad. The fact that you can eat chocolate and drink red wine on the diet appeals to a lot of people too!
These top 23 Sirtfoods form the the basis of the Mediterranean diet and the Japanese diet where inhabitants have the lowest rates of obesity and disease. The Japanese eat 5 times more sirtfoods than we do in the West.
Can you lose weight with sirtfoods?
Although the two nutritionists who devised the The SIRT Food Diet
did not set out to write a weight loss diet plan their clients who trialled the diet reported that not only did they feel amazing but the weight was falling off them.
It's hardly surprising because the trial participants were, for the first 3 days, drinking 3 sirtfood juices with one meal of sirtfoods and two sirtfood juices with 2 meals a day for the next four days.
Because the sirtfoods were stimulating the sirtuins making them the mainstay of the diet had the same effect as cutting calories but without the hunger.
Sirtfoods not only fill you up but suppress your appetite too.
A few months ago one popular UK newspaper carried a story of a woman who lost an impressive 6lbs of fat and gained 2lbs of lean muscle in just one week by eating a diet high in Sirtfoods.
The diet consisted of eating 1,000 calories a day for three days and 1,500 for the next four but due to the sirtfoods she actually felt satisfied on the low calorie intake.
One advantage of eating a diet packed with sirtfoods is that it's far more flexible than other diets. And the difference with this diet is that the weight tends to stay off.
Once you've started including the sirtuin activators in your diet, it make sense to make them a regular part of it.
Here's recipe for the Sirtfood Green Detox Juice
Sirtfood Green Detox Juice                                                                                                                           
Makes 1 serving
Ingredients
2 handfuls (75g) kale
Handful (30g) arugula (rocket)
5g parsley
150g green celery (2-3 stalks), plus leaves
½ green apple
Juice of ½ organic lemon
½ level tsp matcha (added to the first 2 juices of the day only)
Directions
Juice the greens then juice the celery and apple and add to the green juice.
Add lemon juice.
Stir matcha powder into a small amount of juice and mix well.
Add to rest of juice. Stirr well.
Add pure water to taste.
Sip slowly.
If you don't have a juicer try this smoothie instead.
Sirtfood Wonder Smoothie
Ingredients
1 handful of Kale
1 handful of Arugula (Rocket)
2 handfuls of organic Strawberries, blueberries or blackcurrants
½ handful of Watercress
3 sprigs of Parsley
Juice of ½ an organic lemon or lime
175ml filtered water
½ a teaspoon of matcha green tea
Directions
Add all the ingredients except matcha to a blender and whizz up until very smooth. Add the matcha green tea powder and give it a final blitz until well mixed.
Sirtfood meals
Examples of sirtfood meals are:
Salmon fillet with caramellised Chicory and celery leaf salad
Chicken breast with kale, red onions and tomato and chilli salsa
Turkey escalope with sage, capers, parsley and spiced caulifower "rice".
Prawn stir-fry with buckwheat noodles
Waldorf Salad
Strawberry Buckwheat Tabbouleh
Here's the recipe for Strawberry Buckwheat Tabbouleh
Ingredients
50g buckwheat
1 tsp turmeric
80g avocado
20g red onion
25g pitted dates
1 tbsp capers
30g parsley
65g tomatoes
100g organic strawberries
1 tbsp extra virgin olive oil
Juice 1/2 organic lemon
30g arugula ( rocket)
Directions
Cook the buckwheat in boiling water with 1 tsp turmeric for 3 minutes. Drain and cool
Finely chop the avocado, onion, dates, capers, parsley and tomato.
Slice strawberries and mix with buckwheat, oil and lemon juice.
Serve on a bed of arugula.
Sirt Muesli recipe
Ingredients
100g strawberries, sliced
20g buckwheat flakes
10g buckwheat puffs
15g unsweetened coconut flakes
40g dates, chopped
100g Greek style natural yogurt ( or dairy free alternative)
15g walnuts, chopped
10g cocoa nibs
Directions
Place all ingredients except yogurt in a large bowl and mix well.
Top with yogurt.
Get more recipes in The Sirtfood Diet Recipe Book
According to Glen Matten, a pharmacist with a masters in Nutritional Medicine and one of the authors of the book, the second week is more relaxed with 3 sirtfood meals a day. He says "that's when the real wellness derives".
So what do you think of the Sirtfood Diet? Are you more motivated to detox your body with sirtfoods because you can drink coffee and red wine and eat chocolate? Let me know in the comments.