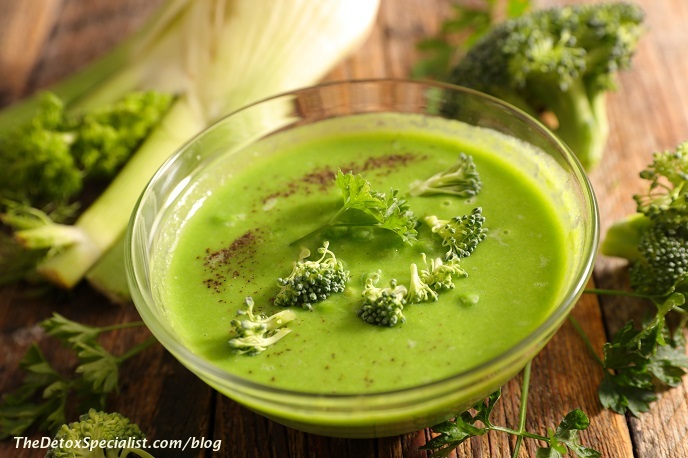 You are probably aware now, especially since the coronavirus pandemic, that it's vitally important to eat a healthy diet for good health and to fight off infections. Eating the right foods can go a long way in helping to balance your immune system. This immune boosting soup contains ingredients that supply nutrients needed for the good function of the immune system and is also anti-inflammatory.
Related reading: Anti-Inflammatory Diet for Weight Loss & Detoxing
Your immune system has a key role to play in your body, keeping you safe from the micro-organisms that can cause diseases. If germs successfully invade your body, you can become sick. So, finding ways to intervene in this process and give your immunity a boost couldn't be more important.
We shouldn't talk about boosting our immune systems though. It's really about keeping it in balance. Your immune system reacts to invading germs and making it generally more active could be extremely unpleasant. Allergies occur when overzealous immune cells start to treat innocuous substance such as pollen as though they are harmful.
Your immune system isn't a single entity – it's an entire system that requires harmony and balance to function effectively.
Inflammation is a natural response by the immune system, as a way to promote healing in the body. In some cases, especially when the immune system is out of balance, the inflammation becomes chronic.
Chronic inflammation is now thought to be the underlying cause of many health problems such as cardiovascular disease, arthritis, fibromyalgia, inflammatory bowel syndrome and cancer.
Related reading: How A Detox Diet Can Drive Inflammation Out Of Your Body
This immune boosting soup is one of my favorite recipes for both balancing the immune system and calming the inflammation that can take place.
Broccoli contains a number of potent antioxidants that help support healthy cells and tissues. Sulforaphane, a natural antioxidant compound, in broccoli inhibits the inflammatory responses of the immune system's T-Cells. Broccoli sprouts are particularly high in sulforaphane
Red pepper and lemon are high in Vitamin C which is well known for good immune system function.
Related reading: 5 Foods That Help The Immune System 
Walnuts and flaxseeds are rich in anti-inflammatory omega-3 fats. The zucchini, onion, garlic, ginger and turmeric contain phytonutrients which are antioxidants as well as anti-inflammatory. Celery has an alkalizing effect and is also anti-inflammatory.
Related reading: Will Daily Celery Juice Cleanse Your Body?
Cordyceps, an adaptogen mushroom, is said to help fight inflammation in the body. Researchers have shown that when human cells are exposed to cordyceps, special proteins that increase inflammation in the body become suppressed.
Related reading: How To Use Adaptogens In Your Detox Diet
You can have this immune boosting soup warm or cold whichever you prefer. Simply heat it gently once blended. Either way it will do you a power of good.
Immune Boosting Soup: Anti-Inflammatory Recipe
Ingredients:
5 organic broccoli heads, chopped
3 medium organic celery stalks, sliced
1 organic onion, chopped
1/2 ripe avocado
1 medium sized organic zucchini, sliced
1″ piece fresh ginger, grated
1/2″ piece fresh turmeric, chopped
1/4 cup organic walnuts, ground
1/4 cup organic flaxseeds, ground
1/4 cup organic lemon juice
1 organic red bell pepper, chopped
1 tablespoon dried shitake, lightly ground
2 teaspoon cordyceps mushroom powder
1/4 teaspoon Redmond Real Sea Salt
1/2 teaspoon garlic powder
Directions
Place all ingredients into your blender and blend until the mixture becomes creamy. You may have to do it in batches depending on the size of your blender jug.  Pour into your serving bowls. Eat this tasty immune boosting soup slowly and mindfully and enjoy while thinking of the benefits to your immune system.