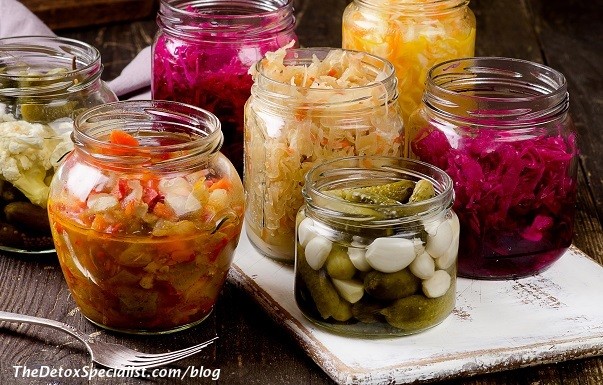 Health conscious people are looking for ways of boosting the immune system to help prevent them getting infected with the Covid-19 virus that's now pandemic.
You probably know that a large percentage of your immune system is in your gut and having a good diverse microbiome is essential for its good function.
Many things like an unhealthy diet, certain lifestyle factors, poor sleep, medications and antibiotics deplete the good bacteria in your gut and alter the fine balance of the microbiome.
One way of restoring it to boost your immune system is to introduce some good bacteria through fermented foods.
Some health practitioners say that they believe the death rate from Covid-19 in Germany may have been so low because the Germans eat a lot of sauerkraut which contains immune boosting probiotics.
Related reading: Immune Boosting Foods that Fight off Infections
Boosting the Immune System
Sauerkraut
Sauerkraut is fermented cabbage and the word literally means sour cabbage. The lactic acid bacteria found in it can help improve the balance of bacteria in your gut.
Lactic acid bacteria are some of the most studied bacteria and they have been shown to boost immune function and prevent illness and infection.
There can be other bacteria in sauerkraut depending on the method of fermentation although no starter is usually used. It's made by an entirely natural process with the bacteria coming from the cabbage, your hands when making it and the air.
Some researchers found that eating two tablespoons of unpasteurized sauerkraut was enough to give you all the probiotics that you need for the day.
Most of the sauerkraut you find on supermarket shelves has been pasteurized so the bacteria are killed. People eat it for the taste and not for the probiotics. If you want it for the probiotics then make sure that you make it yourself or look for some that has not been pasteurized.
Kimchi
Kimchi, another fermented food, is the national food of Korea and has more probiotics than sauerkraut. It's made with cabbage and other vegetables such as onions, peppers, chilies, ginger, garlic and salt and is spicier than sauerkraut.
Other vegetables including radish, celery, carrot, cucumber, eggplant, spinach, scallions, beets, and bamboo shoots are sometimes used.
Related reading: Beet Detox : Health Benefits of Beet and Beet Juice
Cabbage and onions contain prebiotics, substances found naturally in some foods which support the growth of the beneficial bacteria.
The probiotic Lactobacillus plantarum was isolated from Kimchi by some researchers and was shown to have immune-enhancing effects.
Active compounds found in Kimchi may also have anti-inflammatory effects which is good if you have any infection.
You can eat it as it is or add to salads or any dish for that matter. It should not be heated or the beneficial bacteria will be destroyed.
Yogurt
Yogurt is probably the best known probiotic food. It's usually made by fermenting cow's milk with a bacterial culture but can also be made with goat's or sheep's milk.
Its exact origins is unknown but it's certainly an ancient food dating from around 6000 – 5000 BC according to most accounts.
The action of live yogurt on the immune system has been well studied. In one study the researchers concluded that the consumption of yogurt fermented with L. bulgaricus OLL1073R-1 could enhance natural killer cell activity.
Note that this study was done with live yogurt. Unfortunately these days many commercial brands of yogurt have been adulterated with sugar and unhealthy additives and may contain traces of GMO corn or soy.
It's also dubious whether they contain enough probiotics to make any difference to your health. Some manufacturers heat treat the milk before adding the culture while others heat process their product after fermentation but then add some bacteria afterwards.
In America yogurts that have a Live & Active Cultures seal are supposed to contain a certain number of bacteria at manufacture but this is no guarantee that the product contains that number once it has been stored due to their short survival time.
It's best to look for organic live yogurt or make your own at home.
Related reading: Yogurt : A Powerful Ally for your Detox Diet
Kefir
Kefir is a fermented milk drink that contains even more probiotics than yogurt. It is a staple of the Caucasus region of Central Asia where people live to over 100 years of age.
Kefir is made with cow's or goat's milk and fermented with what is known as kefir grains, a mixture of bacteria and yeasts. These "grains" may contain up to 61 strains of bacteria and yeasts.
Kefir modulates the immune system by its effect on the innate immunity, the body's first line of defense against infections. It stimulates the activity of macrophages which are white cells of the immune system that seek out, engulf and destroy bacteria and viruses.
People with lactose intolerance can often drink kefir without any reactions because the lactose content is low having already been already pre-digested by the lactic acid bacteria.
If you want to be entirely dairy free you can make or buy kefir made from plant milks or coconut water. Coconut kefir is reputed to contain more beneficial bacteria and yeasts than dairy kefir.
Coconut water kefir is good to add to your smoothies, smoothie bowls or overnight chia pots. Delicious!
Kombucha
Kombucha is a refreshing, effervescent fermented drink that is thought to have originated in China although the name which means "kelp tea" is Japanese.
It is usually made from black tea cultured with bacteria and yeasts, known as a scoby, (symbiotic colony of bacteria and yeast) and some sugar to feed the yeasts.  It can also be made with green tea, white tea or oolong tea.
Research from the Linus Pauling Institute found that the polyphenols in green tea have a powerful ability to increase the number of T cells that play a key role in immune function. Black tea also contains polyphenols but a much lower amount than green tea.
Each cup of kombucha can have billions of good bacteria such as Gluconobacter, Acetobacter and Saccharomyces yeasts.
Much of the research into Kombucha centers around the bacteria and yeast it contains for gut health. As it contains bacteria and yeast that can improve gut health it is assumed that it will help with immune function although there is not definitive research on it.
Researchers have discovered that glucuronic acid is one of the main components of Kombucha. This plays a role in liver detoxification of chemical toxins and drugs.
Toxins are known to interfere with immune function so kombucha could help to improve immune function in this way.
Kombucha is also a source of the vitamins B1, B2, B6, B12 and minerals manganese, iron, nickel, copper, and zinc. It also contains polyphenols from the tea.
The sugar content of a good Kombucha should be low because the fermentation process consumes it. Many commercial brands of Kombucha contain added sugar, artificial sweeteners, fruit juice and various flavorings to make the taste more pleasant so best to avoid those.
It takes 21 days for the fermentation process to take place and for the drink to become active and healthy to drink.  To be sure that you are buying a good brand check if the length of fermentation process is declared on the label.
Final thoughts
There are  more fermented foods that could help with boosting the immune system such as rejuvelac, kvass, amasake and miso but it's hard to find specific evidence that they do. They will contain probiotic bacteria if they have been fermented correctly so should be of benefit.
These fermented foods for boosting the immune system should be added to healthy or detox diet. Modern detoxing includes foods that supply the nutrients needed by the detox pathways for their optimum function. This helps eliminate toxins that lower immunity.
Have you tried any of these fermented foods for boosting the immune system?  If not will you try some now? Please leave your comments below.