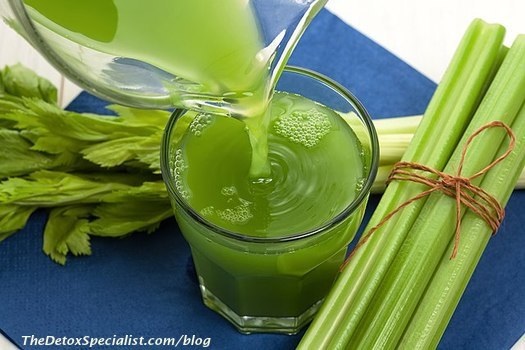 You probably know that fresh green juices have been used by Naturopathic Doctors for years to cleanse and detoxify the body and improve health but what about this latest craze for drinking celery juice solo? Is it the best way to cleanse your body?
If you have an Instagram account your feed has probably been flooded with people posting selfies drinking 16 oz of fresh celery juice. Pinterest boards are also full of images of glasses of celery juice so lets have a look at this latest trend.
Will Celery Juice Cleanse Your Body?
Writing on Goop, Gwyneth Paltrow's blog, Anthony William, aka The Medical Medium, states:
Celery juice is a miracle juice. It's one of the greatest healing tonics of all time. I've seen thousands of people who suffer from chronic and mystery illnesses restore their health by drinking sixteen ounces of celery juice daily on an empty stomach.
William, a #1 New York Times best-selling author, who has no medical or other health qualification, claims that a voice, now known as the "Spirit", provides him with extraordinarily accurate health information that's often far ahead of its time.
He was apparently told by the "Spirit", when he was about 8 years old to drink celery juice on its own, and since then he and the people he heals have had incredible health benefits.
Cleanse your body with juices
Strangely enough Dr Max Gerson, who used fresh vegetable juices to detox people as part of his cancer therapy, did not allow celery to be used in the juices as he said it was too high in sodium, albeit natural sodium.
Gerson maintained that the fresh vegetable juices, which were high in potassium, helped to eliminate excess sodium together with toxins from the tissues all over the body. He put forward the concept that elevating potassium in the body while restricting sodium acted against tumor formation.
Sodium cluster salts
According to William it's the undiscovered subgroup of sodium cluster salts which celery contains that attacks pathogens and rebuilds the hydrochloric acid in your stomach so that it can break down protein, preventing "gut rot and bloating." Interestingly, 8 ounces celery juice provides 670mg Potassium  and 215mg Sodium.
He says that juices containing blends of vegetables and fruit function differently than pure celery juice taken on an empty stomach, which he recommends as your greatest tool for recovering your health.
Organic sodium
In the Tao of Detox, Daniel Reid states:
Celery juice is an excellent source of organic sodium chloride which has strong cleansing and alkalizing properties and helps cool down the whole system. It is also a rich source of magnesium which is required to produce alkaline enzymes for detox purposes.
He further states that raw vegetables should not be used for detox purposes because the cell walls of vegetables high in cellulose such as carrots, lettuce and celery take a lot of time and enzyme power to break down. This, he says, delays the delivery of nutrients and other healing factors into the bloodstream slowing down detox. Therefore for detox purposes they should be used as juices.
At this point you might be curious as to what can be gained from adding such a strong tasting juice to your diet so let's take a look at the benefits of celery juice.
Full of Powerful Antioxidants
There's no doubt that celery contains a number of antioxidants. A scientific review of studies on the antioxidant activity of celery concluded that
Celery, because of compounds such as caffeic acid, p-coumaric acid, ferulic acid, apigenin, luteolin, tannin, saponin, and kaempferol, has powerful antioxidant characteristics, to remove free radicals. It is clear that celery, with different compounds and diverse concentration can have varied healing effects.
Antioxidants are needed for the detox system because the process of neutralizing chemical toxins so they can be eliminated from the body creates free radicals which have to be quelled by the action of antioxidants.
Anti-inflammatory Properties
Celery contains polyacetylene and luteolin, bioflavonoids which are a natural inflammation reduction agents,  and will help to quell inflammatory conditions in the body such as arthritis, gout, asthma and bronchitis
Possible Anti-cancer effects
Celery contains apigenin a powerful phytochemical which appears to be effective at causing apoptosis (cell suicide) in numerous types of cancer cells in the lab. Studies have not yet been done on humans.
Blood Detoxing
According to Dr David Porter celery juice contains a high concentration of nutrients, alkalizing and hydrating minerals and diuretic minerals which all help clean the blood, remove excess water from the body whilst at the same time flush out any unwanted toxins from the body.
As well as potassium and sodium celery is rich in vitamin K, folate, vitamin C, B6 and calcium. It contains small amounts of copper, magnesium, iron, and phosphorus. Most of these nutrients are essential for the efficient function of the detox system.  You can find out more about the power of magnesium here.
In their book The Nutrition Almanac the Kirchmanns state that celery contains 8 anticancer compounds that detoxify pollutants and cigarette smoke. In a research paper I found about the modulation of detoxification pathways using foods it states that apiaceous vegetables
(celery is one) induce the Cytochrome P450 1A2 enzyme.  This enzyme is involved in the detoxification of chemical toxins and drugs in the body.

Liver protective
According to William "celery juice increases and strengthens your bile". He does not say how it does this and I cannot find any research on it but one research paper that I found claimed that the PQQ (pyrroloquinoline quinone) antioxidants in celery may protect against liver disease.
This study proved that
PQQ-rich diets including celery has drastic anti-inflammatory properties that impact a high diet lifestyle and maintaining proper liver health.
Reduces Spasms of the Gut
It's pretty surprising that this attribute of celery seems to be the most neglected. Celery has been long been associated in herbal medicine as an antispasmodic. This means that you can use it to reduce muscles spasm especially those that are located around and in the gut.
On the other hand celery is on the list of high FODMAP foods to avoid if you if you have IBS, SIBO (small intestine bacterial overgrowth) or other gut problems.
Celery is also one of the 14 main allergens that have to be declared on food labels by law in Europe.
Celery Juice Recipe to Cleanse your Body
Take 1 large bunch of organic celery. Celery is one of the vegetables that gets sprayed with pesticides so it's important to use organic. If this is impossible then wash the celery really well with a good vegetable wash.
Cut into suitable lengths and run it through your juicer. Check out this guide for the best juicer for celery. Drink immediately for best results. Alternatively, you can chop the celery and blend it in a high-speed blender until smooth. Strain well and drink the juice immediately.
It's best to drink the 16 oz first thing in the morning on an empty stomach although Anthony William says you can drink your lemon juice first. Wait for 30 minutes after drinking the celery juice before eating.
If you find the taste of straight celery juice too strong, you can juice one cucumber and/or one apple with the celery. Green apples are best.
If you are going to do any sort of juicing it should of course be done as part of a healthy diet or detox diet.
Cleansing reactions
A word of warning. I've seen people in some of the health groups say that the juice has upset their bowels when they start drinking it. William says this is a normal cleansing reaction that some individuals who have a higher level of toxins may experience. It's best therefore to start off with a much smaller amount of celery juice and gradually increase it as you are able.
So, what do you think? Are you ready to cleanse your body with celery juice? Have you tried it already? If you have then do share your experiences with me and my readers in the comments below.