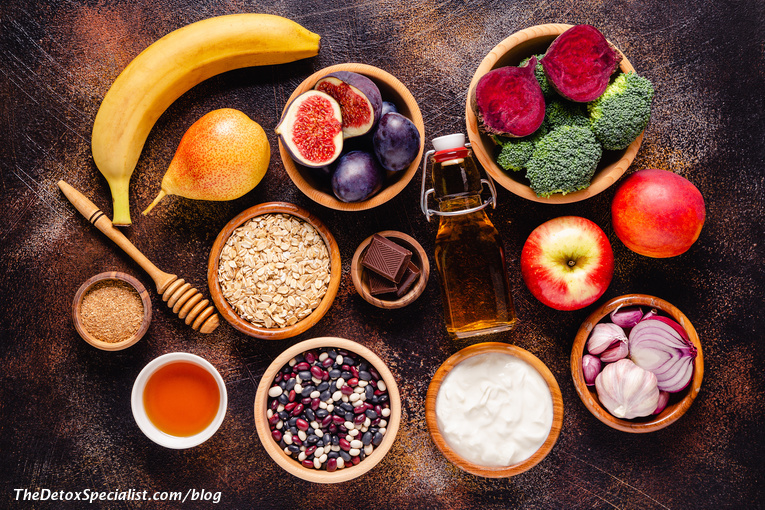 Gut health has been a topic of discussion in the health and wellness industry for years but it's been predicted that this year will be all about the microbiome and the microbiome diet. It's no secret that having a healthy gut contributes to your overall well-being, but what about your diet? A balanced diet is key to maintaining gut health, and it's something you should consider if you want to boost your overall health.
The microbiome diet, developed by Dr. Raphael Kellman, a functional medicine doctor, focuses on consuming foods that support the growth of good bacteria in the gut. The trillions of bacteria in your intestines can play a significant role in weight loss, detoxification, mood, and overall health. So, many people are now turning to the microbiome diet to achieve optimum health. The goal is to provide the body with enough fiber and micronutrients to keep the gut bacteria healthy and thriving.
The microbiome diet is still relatively new, but there is growing evidence that it offers several benefits for gut health. If you want to improve your digestion and overall health, consider giving this diet a try!
Related reading: Healthy Gut Bacteria: How to Restore them and Detoxify
Your Body And The Microbiome
The human body contains trillions of microorganisms, collectively known as the microbiome. The gut microbiota, which resides in the gastrointestinal tract, is one of the body's most diverse and vital ecosystems. It consists of bacteria, viruses, fungi, and archaea (micro-organisms that are similar to, but distinct from bacteria) is crucial in maintaining our health.
Though we are still learning about the microbiome, we already know it plays a critical role in our health. When the balance of microbes within your gut is upset, it can lead to problems such as obesity, IBS, inflammatory bowel diseases like Crohn's, diabetes, heart disease, and cancer.
The Role of the Microbiome:
The microbiome is responsible for many functions inside our bodies, including:
Digestion: The microbiome helps us digest food by breaking down complex carbohydrates into simple sugars. It also produces vitamins and minerals that are essential for good health.
Detoxification: The effect of bacteria on the detox processes varies with the strain and on the particular toxin. They can alter the half life of toxic chemicals affecting the length of time they remain in the body and how they affect your body. They also help with the metabolism of environmental chemicals and the excretion of toxins.
The downside is that while some bacteria reduce the toxicity of some compounds they may make some more toxic.  Nevertheless it's clear that a healthy and diverse gut microbiota is vital for detoxification and your overall health.
Immunity: The microbiome helps keep us healthy by fighting harmful bacteria and viruses. It also teaches the body's immune system how to respond to various pathogens.
Metabolism: The microbiome aids metabolism by helping us break down and absorb nutrients from food and excrete waste products.
Production of Neurotransmitters: Although they are called brain chemicals, neurotransmitters such as GABA, serotonin, dopamine, acetylcholine and norepinephrine are produced by various gut bacteria. 
Why Should You Follow A Microbiome Diet?

There are many reasons why you should follow a microbiome diet:
Gut Health: A balanced microbiome is essential for gut health. When the gut is healthy, it can better digest and absorb nutrients from food, which leads to improved overall health.
Weight Loss: Studies have shown that people who follow a microbiome diet lose weight more quickly than those who don't. If you experience a reduction in weight after starting this diet, it is likely because a healthy gut helps break down food properly, leading to fewer calories stored as fat.
Reduced Risk of Disease: A balanced microbiome also reduces your risk of developing diseases such as cancer, heart disease, and diabetes because a healthy gut promotes the optimal function of the immune system.
Improved Mental Health: Our mental health is linked closely with our gut health due, in part, to the neurotransmiters produced in the gut; when our guts are healthy, our overall mental health improves. A balanced microbiome can help improve mood swings, anxiety disorders, and depression symptoms.
The Basics | How To Improve Gut Microbiome
The fundamentals of the microbiome diet are simple: eat foods that promote healthy gut bacteria growth and avoid foods that don't. Some essential tips to follow include:
Eat plenty of fiber: Fiber is essential for promoting the growth of good gut bacteria. So make sure to eat plenty of fruits, vegetables, and whole gluten-free grains.
Fiber is a group of complex carbohydrates found in the cell walls of plants that you cannot digest. It passes unchanged through your digestive system until it reaches your colon where it provides fuel for the healthy bacteria in your gut.
The bacteria feed on this fiber and produce short-chain fatty acids (SCFAs) such as butyrate, which is your cells' primary source of energy. Eating more fiber-rich foods isn't always easy for those who are highly reactive to fermentable fibers such as those with irritable bowel syndrome (IBS) or small intestinal bacterial overgrowth (SIBO).
Eating large amounts of fiber when you are not used to it can result in excess gas, causing bloating, discomfort, and abdominal pain. In this case supplementation with a well-tolerated, shorter-chain prebiotic fiber may be better. (see below)
Related reading: Resistant Starch Foods: How they Help with Detoxing
Avoid processed foods: Processed foods are bad for your gut health because they contain chemicals and additives that can kill off beneficial bacteria. Consumption of processed foods is said to increase the risk of obesity and chronic diseases such as cardiovascular disease, cancer, and diabetes. It's best to stick with unprocessed, whole foods whenever possible.
Drink lots of clean water: Water helps flush toxins from your system, including those produced by unhealthy gut bacteria. Make sure to drink plenty of healthy fluids daily – at least eight glasses of clean water per day should do the trick.
Related reading: Detox Water Recipes for Everyday Drinking
Consume adequate amounts of prebiotics and probiotics: Prebiotics are carbohydrates that stimulate the growth or activity of beneficial bacteria in the gut microbiota. On the other hand, probiotics are live microorganisms (such as bacteria or yeast) that confer health benefits when consumed. Both are available in supplements or foods fortified with them. The evidence supporting using prebiotics and probiotics for gut health continues to grow.
Related reading: Probiotics Explained
Consider adding fermented foods to your diet: One way to help boost the growth of good gut bacteria is by eating fermented foods. Production of fermented foods involves exposure to microbes such as probiotics or yeast, which help them break down food and convert it into energy. Some common fermented foods include live yogurt, kombucha, raw sauerkraut, raw kimchi, and natto.
Related reading: Boosting the Immune System with Fermented Foods
Fermented foods offer many benefits for your health. One significant advantage is that they help boost the immune system. They also help improve digestion and absorption of nutrients and reduce inflammation throughout the body. Additionally, fermented foods contain high probiotics, which benefit gut health.
Again, if you suffer with any gut issues, you may find that you do not tolerate fermented foods well. In this case it's best to introduce them very slowly in tiny amounts.
Final thoughts on the Microbiome Diet
Though we are still learning about the microbiome, we already know it plays a vital role in our health. Researchers are now working on finding ways to manipulate the microbiome to treat different diseases more effectively. By understanding its role better, we can find ways to improve our overall well-being.
There are many benefits to following a microbiome diet. These include improved digestion, detoxification, reduced inflammation, weight loss, good mental health and better overall health. By restoring balance to your gut microbiota, you can experience all of these benefits and more!
So what are some of the best foods to eat on a microbiome diet? You should generally focus on eating plenty of fruits and vegetables, fiber-rich foods, probiotic-rich foods, and healthy fats. Additionally, avoid processed foods and sugar as much as possible.
If you need help figuring out where to start when it comes to following a microbiome diet, plenty of online resources can help or get Dr Kellman's book. And if you need personalized guidance, consider consulting with a nutritionist or other health professional.