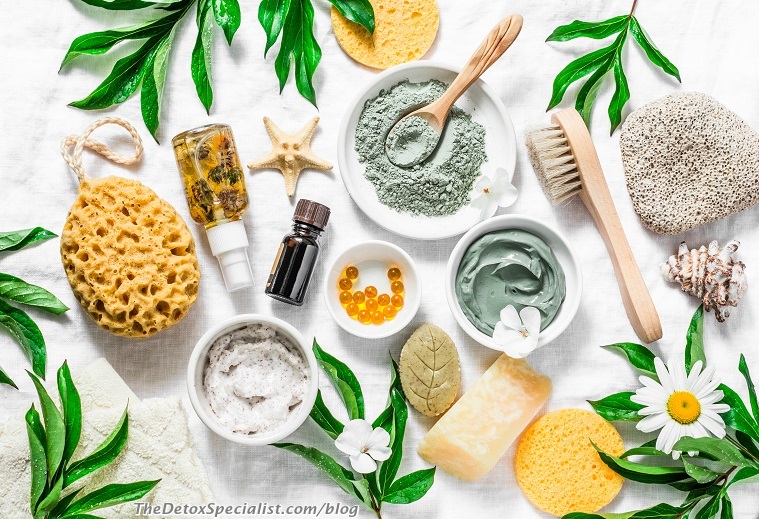 Your skin should look pleasing and welcoming on all your good and bad days. If not then this is a clear sign that your old formulas need to be swapped with fresh ones that can deliver what they claim to in the first place.  These skin detoxing with home remedies tips will help.
To get a clarified skin tone, many boxes need to be check-marked. The skin detoxing trend has been wooing beauty divas who are now swearing by domestic ingredients to enjoy a cleaner-looking appearance. But what exactly does skin detox mean?
Removing toxins from your body prevents skin damage and flushes out chemicals caused due to sugary foods, alcohol, smoking, etc. Apart from following these golden tips, you will also be protecting your skin from the dangers of pollution, and environmental damage, upon taking up this detox.
Related reading: The Health Effect of Toxins in the Body
Other essential pointers include avoiding touching your face too much for nothing. This is because your fingertips are brimming with nasty bacteria that can cause skin infections.
Skin Detoxing | Benefits
If your skin isn't how you want it to be, you have probably not yet incorporated the multifold goodness of a satisfying skin detox ritual. Let me tell you what things your skin is missing out on, as this cleansing process claims to fulfil all the things mentioned below.
Reduces acne and breakouts
Soothes inflammation,
Eliminates toxins from the skin's surface
Removes blemishes, blackheads, irritation, and pores
Tightens pores,
Revives, refreshes, and rejuvenates skin
Promotes youthful appearance
It makes skin soft and supple
Adds collagen and amps up elasticity
Fights stubborn aging signs like wrinkles, sagginess, fine lines, and dark circles
Remedies dark spots and hyperpigmentation
Boosts hydration and moisture levels
Keeps dryness at bay
Enhances complexion and boosts radiance
It gives you an even-toned skin
Stimulates better absorption of products
Improves overall health
How to Detox Skin From Inside Out?
Skin Detoxing With Home Remedies includes many easy-peezy steps that you can do at home to revive your true beauty. Let us delve in deep, and see what all you can do, without stepping outside your home to make your skin pretty again!
A well-balanced diet for skin detoxing
Beauty comes from within, and here we mean that literally! Whatever food you intake has a say when it comes to your appearance. So if you want to maintain youthful and glowing skin, you must follow some rules. Skin Detox Facials need not always come in the form of skincare products.
Sometimes you just end up changing your perspective. Your diet is supposed to reflect a healthy, nutritious, and wholesome chart of foods that avoids fried junk food, excessive sugar, processed or packaged food, etc. These compromise your health by giving rise to toxins that are not easy to flush out. One should fuel a good diet with fresh fruits, green veggies, and sufficient clean water!
Related reading: 8 Effective Ways to Detox Toxins for Better Health
Oily fish are rich in omega3 fatty acids, which make your canvas more clarified and shiny. Food items like bananas, broccoli, avocados, walnuts, and watermelon are rich in antioxidants and help induce an unmissable glow on your face.
Kale can also be included in this diet, as you must have heard many celebs say they drink celery and kale juice to maintain a replenished appearance. All these ingredients support skin health by cleansing the clogged stuff from within.
Related reading: How to use Kale for Detox 
Juicing
That ultimate glow comes from within. So it is crucial to take note of all the things that are happening inside rather than outside. And we like to believe that you are what you eat! Or drink! You might have all the leafy greens boxed up in your kitchen pantry, but what is the use if your skin can't have the best of it?
For this reason, you need to indulge yourself more in the kitchen! Good nutrients in your food will fight issues like wrinkling, dullness, dryness, and whatnot. For example, the Mediterranean diet asks you to include specific ingredients in your daily lives that will refill the deficiencies of vitamin E, probiotics, zinc, omega-3 fatty acids, and turmeric. These act as healing elixirs for the entire body and eliminate the waste sitting within.
Juicing aids your skin and makes it feel whole without increasing your blood sugar. To pamper your gut healthily, you can depend on apples, beets, carrots, celery, cilantro, cucumber, ginger, and oranges for juicing.
Related reading: Will Daily Celery Juice Cleanse Your Body?
Skin brushing
But first, what is dry brushing? This wellness practice is a kind of Ayurvedic medicine that dates back to the olden days when people were not yet introduced to skincare. Dry brushing is essential for maintaining skin health, detoxifying it from the grasp of dirt and dust, and is considered to be much more than just exfoliation therapy.
The Health benefits of dry skin brushing include many good things for your skin. These are strengthening of the Lymphatic system, drainage of toxins, exfoliation, which brushes off dead skin cells, stimulates relaxation, and above all, wards off the appearance of cellulite by massaging your body.
You should bother yourself with dry brushing to invigorate your nervous system, as it functions better and opens pathways from where the toxins can flush themselves out quickly. In skin care, this detoxing process also helps your skin in many ways by making it smoother, softer, and more radiant.
Just remember, you don't need to do it vigorously. Also, the critical point here is that this process may not be for everyone. If you have sensitive skin or a condition like psoriasis, consult your doctor before hopping onto this skin detox. Always use a brush with natural fiber bristles, and wash it after every use. Avoid brushing sensitive areas where the skin is broken, wounded, rashed, cut, or infected.
Detox baths
We know you straight away want to jump to a recipe that just works, but hear us out first! Nothing can be more relaxing in this world than a good and warm bathing sesh that melts away your worries for good.
Natural Detox Bath Recipes include the simplest ingredients that your body can have a good time with to feel cleansed. Epsom salt, magnesium sulfate, apple cider vinegar, baking soda, bentonite clay, mustard powder, ginger powder, and essential oils' can impsrt their magical and soothing touch.
How to Detox Skin At Home?
Bathe with Clay
Tale ½ cup of bentonite clay and ½ cup of Epsom salt
Add some water to the clay to make a paste
Rub the mixture all over your body
Wait for some 5 minutes
Add the Epsom salts to your bath to make your experience more satisfying
Directly soaking in the water will pull out toxins and impurities
Relax in the tub for 15-20 minutes
Feel replenished, magnesium-filled, and soothed when you come out of the tub!
Shower off the toxins finishing with cool water to close the pores.
Wrap yourself in a large clean towel and rest for at least 20 minutes while you may continue to sweat out toxins.
You can also add essential oils if you please, but don't do it for kids unless you are sure it suits them.
Self-care Salt Session
Take ½ cup of Epsom salt, ¼ cup of Himalayan salt, ¼ cup of baking soda, and ¼ cup of apple cider vinegar.
Fill the tub with warm water, and then add the apple cider vinegar
Then, add the other three ingredients
Get in!
Soak yourself in for 30 minutes
Shower off the toxins finishing with cool water to close the pores
Wrap yourself in a large clean towel and rest for at least 20 minutes while you may continue to sweat out toxins.
This meets the magnesium deficiencies in the body and acts as a fantastic toxin-remover.
Home facials
A midday matcha might be your mood booster for most of the week, but if you haven't incorporated this into your skincare regime, the loss is all yours! Everyone wants to fall in love with their skin by giving it a vacation from unhealthy lifestyles and the constant use of damaging chemicals.
This know-it-all ingredient is an expert in everything from acne to anti-aging. Homemade detox for clear skin also includes a powerhouse of other trusted industry ingredients like turmeric, milk, oatmeal, lemon, cucumber, yogurt, honey, apple cider vinegar, coffee, potatoes, tomatoes, coconut oil, and sea salt.
All these ingredients possess anti-fungal properties that safely treat and protect your skin. Together, they make some much-needed changes to your skin routine, which your skin desperately needs to look soothing, free of impurities, aging signs, inflammation, redness, or acne.
Skin Detox Facial
Green Tea face mask
Take one tsp of green tea powder in a bowl
Add clean water to your liking so that a mask-like blend is formed
Make sure you use a matcha green tea powder for added benefits, as it brings the goodness of a lot of antioxidants to your skin
With the help of a spoolie brush, apply the paste on your face, neck, and chest
Leave it undisturbed for 10 minutes
Rinse it off with lukewarm water
Hello, smooth skin!
Note:– Unless your skin has a known relationship with green tea causing hypersensitivity, you can use it on your face regularly because drinking is not enough!
Oatmeal Facial Cleanser
Take 1 tbsp of colloidal oatmeal and buttermilk
1 tsp organic or manuka honey
Put all ingredients into a bowl to make a concoction
Apply the mixture to your face and neck
Rub and scrub gently in a circular motion
Wash off with clean water
Welcome hydration like a pro!
FAQs | Skin Detoxing With Home Remedies
How can I naturally cleanse my face?
If you want to clean your face depending upon natural ways, your skin is in for a healthy surprise. Avoidance of chemicals is not only necessary for your delicate skin but also maintains its pH balance. Ingredients like buttermilk, colloidal oatmeal, honey, lemon, cucumber, coconut oil, sugar, and rose water are herbal elements inspired naturally from the earth and blend to offer your skin suppleness for a deep detoxifying session.
What is the best homemade facial cleanser?
You can mix oat and buttermilk to prepare a concoction. This mixture has a thick consistency and will act like a face mask your skin can't get enough of! The formula promotes a deep cleansing session, removing all the extra sebum, dirt, dust, and clogs within your cells without irritating your canvas. Buttermilk offers a hydrated appearance, and your skin looks less than nourished and polished.
How long does it take to detoxify your skin?
It usually takes between one month and three months to detoxify your skin. Users can only tell the difference if they follow their regimen strictly daily.
How can I clean my skin internally?
You can keep your skin clean and happy from within by focusing on what goes inside you! By that, we mean you need to focus on a good diet with plenty of fresh fruit and vegetables to keep your skin glowing. This diet infuses all healthy vitamins into your skin and fulfills its need for different deficiencies. Superfoods like berries, spinach, apricots, and tomatoes are also a must-have when you aim to achieve that golden glow.
Where do toxins leave the body?
Apart from just breathing out the carbon dioxide, other organs in the human body strive hard to clean your system. Impurities and harmful substances are flushed out of the body from the liver, skin, kidneys, lymph nodes, and blood vessels. We also eliminate toxic waste through urine, feces, sweating, or perspiration.
Final Thoughts
Detoxified skin is a mainstay in your routine, and skin detoxing guarantees that in healthier ways. Skincare is something that should come to you effortlessly. You need not break your bones and shed a lot of sweat to detox your skin, as it will only worsen things.
So, How To Remove Toxins From the Skin Naturally? I believe I have answered that in this definitive guide, from which you can take tips. That will help you reach all your skincare goals faster and exude a positive radiance from your skin wherever you go. This go-clean method for your skin promises to deliver a smooth, brightened, and new base!
Users have made peace with the fact that irregular sleep patterns and boyfriend or partner dramas are no excuse for dull-looking skin. At least, not anymore when you have important things to work upon! Healthcare enthusiasts and beauty divas have joined together for this economical method that brings innumerable health-infused properties. So, it's high time you stop focusing on your outer skin only and look beyond, between, and inside to maintain that secret, subtle glow you are flaunting!