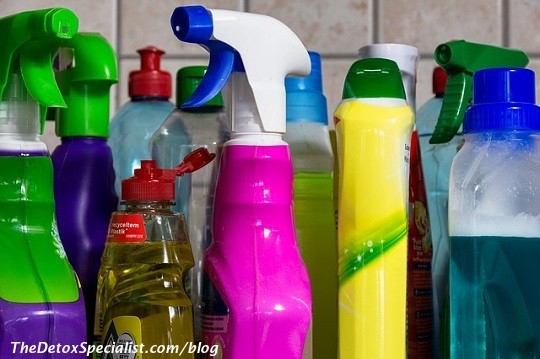 Much has been written about the use of disinfectants and sanitizers in our homes and places of work to kill the coronavirus during this Covid-19 pandemic but I don't see much being said about safe disinfectants.
Disinfectants were flying off the shelves of supermarkets and other stores as people stockpiled them when this pandemic first began. But, would people have been buying them if they realized that many contain toxic chemicals that could compromise their immune systems?
It's our immune systems that fight any invaders that get into our bodies so we want it to work as efficiently as it can don't we? I have already written a couple of articles about how to boost your immune system to help prevent or fight the virus:
Immune Boosting Foods That Fight off Infections   and Boosting the Immune System with Fermented Foods
How do chemicals in disinfectants compromise the immune system?
By their very nature all chemical disinfectants are potentially harmful or toxic to living organisms so it's hardly surprising that they can cause harm if they get into our bodies. Like other toxic substances, the chemicals can enter your body through several routes, including absorption through your skin, mucous membrane (such as your nose) or inhalation through your lungs.
Related reading: Is your Detox System Overloaded with Toxic Chemicals?
Skin Microbiome
The skin, like the gut, has a microbiome that is protective. It's estimated that our skin is inhabited by approximately one million bacteria. They influence the skin immunity and prevent invasion by pathogens.
This microbiome is affected by our lifestyle, environment, diet, age and sex. The germ phobia trend in the Western World has altered this protective skin microbiota.
Constantly using anti-bacterial soaps and wipes on your hands alters this protective microbiome. Natural soap is the gold standard for washing your hands to kill the virus should it get onto them. As you no doubt know you need to wash them thoroughly for at least 20 seconds for it to be effective.  Then rinse off the soap.
Related reading: Healthy Gut Bacteria : How to Restore them & Detoxify
Many disinfectants contain harsh chemicals that can irritate the eyes or throat, or get into our bodies and cause health problems that include cancer.
Also the have been concerns that the extensive use of disinfectants in the home can cause bacteria to become resistant.
If you don't want to compromise your immune system It is important to know about these toxic components, avoid them, and start to use safe disinfectants.
In this article, I will cover the toxic ingredients in disinfectants and what you should look for in one.
Disinfectants & Sanitizers 
Before going more deeply into the ingredients, do you know the differences between disinfectants and sanitizers? Both products are usually considered the same but each one has a different purpose:
Sanitizers work almost immediately and reduce the number of germs on a surface, but they are only certified to reduce bacteria but not kill them. Sanitizers contain alcohol but they don't all contain the same amount. They should contain isopropyl alcohol as this is the only type that will be effective.

The Centers for Disease Control and Prevention recommend that you use a sanitizer with at least 60% alcohol content for it to be effective against the coronavirus. You should use a sanitizer that contains 60% to 95% alcohol if you can't wash your hands.

Disinfectants work by destroying the cell structure of germs and are certified to destroy bacteria, mold, viruses, and fungi. This process doesn't always clean surfaces or remove the killed germs.Disinfectants usually need to be left on surfaces for 5 minutes to be effective but should tell you how long is needed to kill organisms on the label. After that you need to wipe them off so no residue is left.
In terms of protecting yourself from germs, disinfectants are a better choice, but they will only work if you know how to use them correctly:
You should always clean the surfaces to remove dirt, oil, and then proceed to disinfect to get rid of germs. Good old soap and water is good for removing germs from surfaces but does not necessarily kill them.
Apply the disinfectant with a microfiber cloth because natural-based fibers absorb the product.
Change the mop water after every 2 or 3 rooms because it can get contaminated.
Disinfect regularly those surfaces that are frequently touched like the elevator buttons, hand dryers, garbage cans, toilets, faucets, doorknobs, and light switches.
Disinfectants should have a list of which microorganisms they are able to kill. It is important that you check if it destroys the coronavirus.
Disinfectants need to remain wet for a certain time in order to be effective. You can check the ideal time in the label directions.
Never mix the disinfectant with cleaners, sanitizers or other chemicals. It will no longer be effective.
Toxic Ingredients In Disinfectants
Quaternary Ammonium Compounds
These chemical compounds are known as "quats" are classified as pesticides by the Environmental Protection Agency and you can usually find them in household cleaners, wipes, and disinfectant sprays. Quats are effective to kill all types of microbes but they are toxic and you don't really need them. Quats are recommended to sterilize hospitals but for your household, it would be too much.
These compounds are lung irritants so they can exacerbate asthma symptoms and increase the risk of suffering from other breathing problems. Another problem is that they will linger on a surface long after we cleaned it so every time you touch that surface you are getting exposed to the chemical and it could potentially contaminate your food if you apply it on cutting boards or plates.
Phenol
It is a chemical that is used in manufacturing plastics and disinfectant products. It is highly toxic, corrosive and can easily get absorbed through the skin which is why it is recommended to wear gloves when using it. It burns the skin, causes irritation and when it is absorbed through the lungs or skin it can cause serious health problems such as central nervous system damage, pneumonia, kidney damage, vomiting, numbness, and exacerbation of asthma symptoms.
Formaldehyde
It is a flammable substance that is known as a carcinogenic. It irritates the skin, eyes, nose, throat, and lungs causing breathing problems like asthma. nausea, laryngitis, dizziness, mental confusion. and joint pain. Formaldehyde damages the neuronal connectors in our body and it is even linked to fertility issues.
Safe Disinfectants
The Environmental Working Group (EWG) screened hundreds of disinfectants and sanitizers approved and recommended by the Environmental Protection Agency and the Centers for Disease Control and Prevention and came up with a list of 16 products with fewer concerns. Here are some of the main ones:
Clorox commercial solution disinfecting Bio stain and odor remover
This product contains safe and effective ingredients like hydrogen peroxide, isopropyl alcohol and there is no data that this product causes negative health effects.
Lysol Hydrogen Peroxide Bathroom Cleaner
The main ingredients are hydrogen peroxide, isopropyl alcohol, and sodium laurel sulfate. On people with sensitive skin, these ingredients may cause irritation but overall they are safe and effective to destroy germs.
Seventh Generation Disinfecting Bathroom Cleaner
It contains ingredients like sodium citrate, citric acid, and Cymbopogon schoenanthus oil neither of which are considered to cause serious health complications.
The novel coronavirus is thought to persist for 2 to 3 days on surfaces, plastic or stainless steel so it pays to regularly clean and disinfect surfaces you touch and where you have placed shopping or packages.
The best approach you can take to protect yourself against Covid-19 or any pathogen for that matter is to take steps to improve your immune system. That makes sense doesn't it?
It helps of course to avoid all toxins in personal care products, cosmetics, general household cleaning products and use safe disinfectants so your immune system will function efficiently. It pays to follow a detox program from time to time to help eliminate toxins that are already in your body and may be compromising your immune system. Stay well and safe!
Image by Willfried Wende