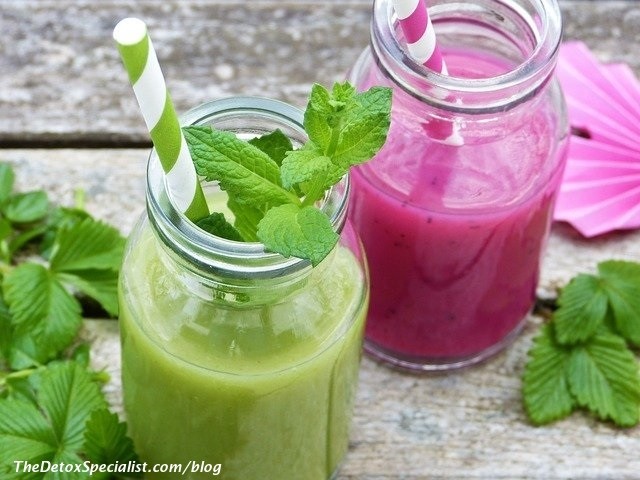 Are you tired of starving the whole day to get your dream body? Why not try some healthy juice recipes for weight loss that'll take you through the path in a more natural way?
For the health freaks out there, what's the first thing you crave for when you get up? A glass of healthy fruit juice or a smoothie, right? But wait! Not every drink can prove to have positive impacts on your body.
Trust me; I've seen many people around me, including a few of my friends; they are so conscious about what to eat and especially what to drink that they often end up having nothing.
If you are one of them as well, I've got some excellent news for you. You are going to cross the road to a slimmer body and slender stomach with a delicious yet more effective road trip.
We have included all the necessary and scientifically proven information that will guide you to a better lifestyle just what you've wished for ages! And also, some great recipes have been mentioned that will let you fit even in your old prom gown in a matter of months. Let's have a look. Shall we?
Healthy Juice Recipes
1. The Ultimate Beet Mix
What is the recipe, and how does it help the body?
First, let me ask you something; why do we prefer juices and shakes over meals mostly? Well, this is because juicing is a healthier, more accessible, and tastier alternative to healthy meals. You can quickly introduce some highly benefiting vitamins, minerals, and other nutrients into your body without the hassle!
If you are in a rush, no worries, 5 minutes of juicing some healthy ingredients together, will not just relieve your hunger and thirst but also give you a fit physique.
Being a 'superfood,' it not only comprises tons of right nutrients and fibers, but it is also impressively low on calories. Yet, it keeps you full for a long time. It has excellent effects on clearing out the toxicity from the liver and blood as well. And with a better liver, higher metabolism, staying healthy, and reducing fat is no big deal!
Related reading: Boost Liver Detox with Tasty Beet Recipes
It is scientifically proven that beetroot keeps you going for a longer time by providing more energy for work and physical activities. Hence, even a glass of this treat before your workout session can highly improvise your workout experience!
So, let's see what you'll need-
1 whole beet (chopped)
2 large carrots (chopped)
Juice of half a lemon
1 whole orange
A handful of spinach
1 cup of finely chopped pineapple
When you have all the ingredients ready, just insert them in your blender. The kitchen gadget will blend your treat. Hence, pour it in the glass, stir, and your health shake is ready to be served!
2. Celery With Green Treats 
We are all aware of the health benefits that celeries avail us with. Aren't we? Yet, let me briefly discuss the advantages of celery juice.
The flavonoids and phthalides in celery assist in helping fight against cell disorders, including severe conditions like cancer development.
Celery comprises dietary fibers that boost your digestion system, which leads to a faster metabolism as well. And again, since it is very low on calories, celery juice can keep you satiated for more extended periods. Preventing dehydration it also reduces any type of bloating condition.
If you want to improve your cardiovascular health at home naturally, then there can't be a better alternative to celery or celery juice.
It also keeps a check on your cholesterol and blood pressure levels. Allover, this green has magical benefits for your body and health.
Now, apart from celery, this drink also has apples, that are great for improving bowel movements reducing chances of constipation and bloating. This will ultimately lead to a flat stomach as you've wanted!
So, what items will you need to make this treat?
4 stalks of finely chopped celery
2 large apples
2 cups of kale
3 cups of spinach
1 whole lemon juice
For making this healthy treat, chop the celery, kale, apples, and spinach into small chunks. Throw the ingredients into your kitchen juicer; add the lemon juice.
Mix, blend, and blitz the whole mixture until it reaches the desired consistency and texture. After you are done, shake up the juice, pour it into the glass, add a few ice cubes and serve with a lemon slice!
And the best part is, you can have this at any time of the day to burn away your extra body fat and to keep you active!
3. The All Green Blitz
If you are looking for a refreshing treat to kick-start your mornings, then I must suggest this green treat to you. The best thing about this drink is literally everything- starting from the zesty lemon, the healthy looks, the taste bomb, the punch of refreshment, and easy making!
Lemon is known for having functional fat-burning abilities, whereas cucumber makes your skin glow, and other included ingredients have considerable effects on boosting your metabolism.  Hence, this is a full package for the glow, radiance, and healthy physique for your youth!
Let's have a look at all the ingredients you'll be needing-
1 whole lemon juice
A few kale leaves
1 whole chopped cucumber
2 cups of spinach
1 large apple (finely chopped)
After you have chopped and processed the items, simply put them in your mixer along with the lemon juice and a little bit of water if necessary. Let your blender do the magic, and when it's done, serve these refreshing drinks with a few cubes of ice. Yum!
4. The Easy Tangy Morning Drink
To kick-start your days, you may need an energetic morning routine, including a kick of absolute refreshment. And for such boost up, this subtly tangy beverage is a must.
This doesn't just resemble a wholesome juice to give a head start to your days, but it is surprisingly effortless to make as well.
How do you feel when you get up early in the morning for work? You're still half asleep, and your body feels like it's still in the resting period, right? Well, if all you want is a drink to refresh your palate, your body, and mind, then you are looking at the right recipe!
It has beet that will cut you on calories as well as faster your metabolism, the carrots, and the Vitamin C in oranges will cut down those extra fats and prevent serious issues like ulcers or stomach cancers. It will also solve your dehydration issues if you have any.
It is scientifically established that Vitamin C can oxidize more than 25-30% fats, whereas carrots of about seven ounces help reduction of cholesterol by 11% or so! Hence, from this simple drink, you are benefiting so much!
Let's get into the easy recipe. You will need-
2 cups of carrot
1 whole beetroot
2 whole oranges
You need to chop or process the ingredients as necessary. Then add them into your blender. Wait for a while until the drink is all smooth and lump-free. Voila! Your glass is ready. Now serve it with some orange zest and a few ice cubes.
5. The Red Hot Juice
Alert, alert, alert! If you are among the faint-hearted or heat-sensitive, then this surely isn't your glass of juice. However, not everyone enjoys the typical juice types. Some people also like some spiced up morning beverage. What do you say?
With the mixture of the finest tangy ingredients and yummy vegetables, this heated beverage will surely give a unique kick to your mornings.
If you are not already aware of the fact, then let me surprise you a bit with the clinically proven information that spices and spiced up food are impressively useful at catalyzing the weight loss. With the spiciness of jalapenos and healthy acridity of ginger roots, you are going to get some accelerated weight reduction right here.
Apart from that, the ginger heat also allows prevention in excessive gas build up in the stomach, elimination of unwanted bloating, and boost digestion. The spinach, carrots, and beetroot also have significant health benefits, as you all know.
Hence, now don't you think it's jam-packed with goodness? So, are you ready to take on the heat?
What ingredients will you need?
1/2 a lemon juice
2 stalks of celery
1 whole jalapeno
1 whole beetroot
2 cups of spinach
2 cups of carrots
Ginger root (add to taste)
Take all the ingredients, as mentioned. Now, chop and process the celery, carrots, spinach, and beetroot. Throw the items into the blender along with the ginger root and jalapeno.
Wait till your juicer mixes the mixture evenly. While it is done, enjoy the heat and spice with a bit of ice. If you think the spice is a bit too much for you, you can cut on the heat by de-seeding the jalapeno. A perfect morning drink for heat lovers!
A few useful tips
For better results, smooth consistency, and intact flavors, do not forget to chop or process the elements entirely. If the chunks are way too big, then you might be left with a runny or lumpy drink, which is undoubtedly not what you desire in the early morning.
Remember to wash the fruits and vegetables before the processing.
These recipes will taste the best when served cold or with a tint of ice.
Usually, you will not need to add extra sugar to the recipe. And I don't suggest added sugar either. The recipes are arranged in a way to balance the sweet and savory flavors.
Store the juice and shakes in a tightly sealed container for keeping the flavors intact.
You can preserve the juice for about 5-7 days in your refrigerator.
Do not forget to give a good shake or stirring the drinks before you drink them!
Finally
Cleanse away all the toxicity and fat your body has gained over the past years from junk food with these healthy juice recipes for weight loss. All of these ingredients mentioned in all the recipes have scientifically proven health benefits, especially regarding fat loss.
With these natural items, improve your health easily. And with these easy to make recipes, you are getting a quicker and better solution for those extra pounds. Hence, the wait is over. I'm sure you'll love the delicacy, taste, and effect of each of these recipes. Try them out today!
Author Bio: Ashton Max is a fitness freak and has high knowledge about nutritional value of different foodstuff. He is highly observant about how individual edible elements of nature effect the human body. And as a health conscious man, his findings about the benefits of natural foodstuff has not only benefited him to maintain a fit physique, but the people who have followed him have observed great positive changes in their health as well. And now as the secrets are revealed, it's your turn to receive the boon!
Image by Silviarita