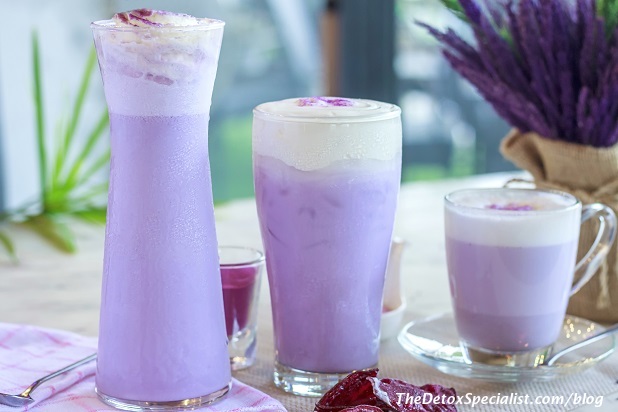 The Purple Sweet Potato Latte is a popular drink in Korea during winter. It has a velvety smooth texture that's slightly sweet and has a bit of a savory taste to it as well.
Due to the health benefits of purple sweet potatoes, the drink has become very popular among health and fitness enthusiasts. In fact, it has gone viral on TikTok recently. So, let's get to know more about this drink and see if it's good for detoxing, as some people claim.
What is a Sweet Potato Latte?
The original sweet potato latte is a drink made from steamed or roasted purple sweet potatoes, milk, and sugar. Although it's only recently that it has become popular, Koreans have already been enjoying this drink for a long time, especially during winter.
In fact, Starbucks launched a Violet Roasted Sweet Potato Latte in South Korea in 2021 but it was only available for a few months. They offered it as a hot coffee latte or a cold blended Frappuccino.
In Japan sweet potato is considered an Autumn treat and Starbucks also launched a sweet potato latte there for a few weeks which was available in convenience stores.
In Korea, purple sweet potatoes are a valuable crop used for various recipes. One of these is the sweet potato latte. The sweet potatoes grown there are not as sweet and slightly more nutty than sweet potatoes you will find in your supermarket elsewhere.
It's worth noting that although the drink is called a "latte," it does not usually have any caffeine in it. Therefore, it's safe for kids to consume. Of course, you can always add some espresso coffee if that's what you prefer.
If you want to try one as part of a detox diet then it's best to make it with a plant milk instead of dairy milk and of course you would not use regular sugar in it. It is just as good with almond or coconut milk and a little good quality maple syrup, liquid stevia, lucuma or a zero-carb sweetener.
Related reading: Is Sugar Toxic and Why Avoid it on a Detox Diets
Benefits of Purple Sweet Potatoes
Purple sweet potatoes are loaded with nutrients that are beneficial for your health. They contain antioxidants that are good for digestion, cognitive function, liver, and heart. Because of these, the purple sweet potatoes may be good for people with diabetes.
Antioxidants are needed for the detox system too. Free radicals are created during the detox process which is normal so antioxidants are needed to counteract them. While your body has its own antioxidant system it relies on sufficient zinc, copper, selenium and manganese to be effective.If you are deficient in any of these minerals then your antioxidant system won't be so effective. It therefore pays to eat plenty of foods that contain antioxidants as backup.
Related reading: The Anti-Aging Secrets of Detox Diet Foods
The potatoes get their distinct purple color from the compounds known as anthocyanins. These colorful flavonoids are why sweet potatoes have powerful anti-inflammatory and antioxidant properties. As such, purple sweet potatoes are great for adding to a detox diet plan. They have twice the antioxidants than other sweet potatoes.
In addition, research has shown that the anthocyanins from sweet potatoes are good for diabetes, hypertension and improving cardiovascular health.
Sweet potatoes are rich in fiber which is good for the health of the digestive system. 10-15% of the fiber in a sweet potato consists of soluble fibers such as pectin, which are effective in reducing food consumption and spikes in blood sugar.
Related reading: Detox Diet: Eat a Rainbow of Foods for Optimum Health
Is the Sweet Potato Latte Good For Detoxing?
As I have explained above sweet potatoes and purple sweet potatoes contain a number of essential nutrients and antioxidants that are needed for the optimum function of the detox system. As such you can drink these lattes as part of a good detox diet but they are not going to detox you on their own. 

Sweet Potato Latte Recipe
You will find many versions of the sweet potato latte recipe online, but here's a healthy recipe you can try. This recipe uses coconut milk and is sweetened with maple syrup. Feel free to customize the recipe using any milk or sweetener that you prefer.
Ingredients
150 grams sweet potato
⅙ tsp cinnamon or pumpkin spices
2 cups unsweetened coconut milk
1 tbsp good quality maple syrup
1 shot espresso (optional)
Directions
First, roast the sweet potatoes. Preheat oven to 200°C/400°F. Use a fork to prick holes in the potatoes, then roast for 20 to 25 minutes. Allow to cool a little and when cool enough to handle cut in half and remove the flesh.
Next, place the roasted sweet potatoes in a blender. Add the rest of the ingredients and blend well.
Transfer the sweet potato latte to a saucepan to warm.
Pour into your serving mug and enjoy!
So, have you had a purple sweet potato latte? What about a regular sweet potato one? How did you like it? If not would you try one? Leave your answer in the comment box below and share any tips you might have with my readers.