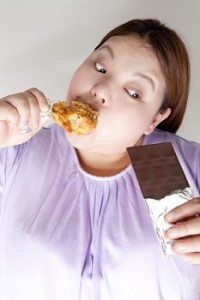 If you've arrived here with the hopes of me talking about a pre-Christmas detox so you can pig out on Christmas day and get away with it you'll be sorely disappointed.
Not long ago I wrote about the nonsensical idea of detoxing to retox before Thanksgiving that some so called "health experts" were suggesting.
With well known names like Kate Moss who frequently visits a Detox Spa in Turkey and is then seen knocking back alcohol before she's on the flight home and singer Ed Sheeran who says he's going to Portugal for a detox after piling on the pounds again after a year of hitting the booze you might be forgiven for thinking that this behaviour which I call yo-yo detoxing is the way to go.
I've even seen it suggested that you can "prepare your body for the excessive amounts of alcohol and food that it must process over the festive period" by doing a pre-Christmas detox. Must process? They make it sound as though you are being forced into it.
I've said it before and I'll say it again – that's not the idea of a detox at all. It's that sort of approach that gives detox a bad name. The main aim of a detox diet is to supply the nutrients that support the detox system so it can be more efficient at eliminating chemical and other toxins from the body that can damage cells and interfere with their normal function.
Although detox is often used by people to lose weight and if done properly it can help you eliminate chemicals that interfere with the weight control hormones.
Yo-Yo detoxing is just as bad as yo-yo dieting. It will confuse and damage your body.
The Christmas holidays is often seen as a time for over indulgence with many apparently gaining 8lbs in weight over the month of December.
In the past some experts have suggested that the average calorie intake on Christmas day is in the region of 8000 calories but newer research is quoting the figure of approx 3290 for the USA and the UK.
Perhaps people are beginning to take notice of all the advice about healthy eating but with what I am reading about the looming obesity crisis in both countries I doubt it.

There are ways to eat more healthily over the Christmas period and although there is not much time left before the big day you can pick up many tips to avoid sabotaging your health and piling on the pounds in these previous posts of mine:
Healthy Living Tips For The Holiday Season
Healthy Christmas Recipes That Won't Ruin The Detox
Healthy Eating Tips for Christmas Dinner
If your digestive system is already feeling the stress of too much rich food and drink then you may want to take a look at
5 Simple Digestive System Detox Tips For The Festive Season
Don't forget that many toxins come from your environment. Pollution inside your home is often greater than the pollution outside. Christmas can be a particularly toxic time so take a look at Simple Ways To Detox Your Home Over The Festive Season.
And if in spite of all good intentions you end up drinking more alcohol than you intended try the Detox Hangover Smoothie.
Christmas is the perfect opportunity to avoid "Tech Stress" by turning off your computer and smart phone. Follow my 5 Tips For A Digital Detox.
Enjoy Christmas, of course, but many people go from being relatively healthy to completely binging on food and drink which leaves them feeling sluggish and bad about themselves. Then, guess what? It's back to the yo-yo detoxing and dieting. Completely ridiculous!
Do you have any plans for eating healthily at Christmas? I would love to know. Let me know in the comments below.
If you want to know how to detox chemicals from your body and lose weight then get my latest detox guide Recharge and Energize Detox