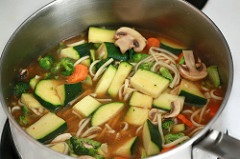 The headline that grabbed me on Monday told me that if I followed the Soup Cleanse Detox Plan I could drop a dress size by Saturday.
That was followed by subheadlines that claimed that by following the soup & smoothie cleanse for three days you would lose 3 lb and if you stick with it for five days and you could be 5 lb lighter.
Really?
Most diets that exclude solid food for a few days will cause you to lose water weight and not fat so as soon as you start to eat solid food again you put the weight back on.
However, there may just be something in this new book ( to be published Dec 29)  The Soup Cleanse, by Angela Blatteis and Vivienne Vella. They are the friends who started the "souping is the new juicing" craze at the beginning of the year. I wrote about it here.
How does it work?
Scientists have used scans of people's stomachs to see what happens when they ate solid food plus water meals compared with the same food made into a soup.
It turns out that when you eat the same meal as a soup your stomach stays fuller for longer, staving off those hunger pangs.
Ghrelin, the Hunger Hormone
One reason for this revolves around Ghrelin, a hormone produced in the stomach but works via the hypothalamus, an area in the brain.
It is known as the 'hunger hormone' because it stimulates appetite increasing food intake and promotes the storage of fat. Many weight loss plans aim to reduce the Ghrelin level.
Ghrelin levels should increase before meals and decrease after meals if it's functioning correctly. But, toxins can interfere with how the hormone works. Endotoxins, from bacteria in the digestive system, make you hungry by elevating ghrelin.
Unfortunately overweight and obese people are more likely to have higher levels of this toxin in their bodies leading to unhealthy food cravings.
A junk food diet high in processed vegetable oils and sugar promotes the growth of the unhealthy endotoxin producing bacteria.
It's all a viscious cycle isn't it?
A wholefood diet high in fibre and nutrients help on all these counts.
The Soup Cleanse, they say, offers all the benefits of whole fruit and vegetables, but with more fibre and less sugar, making it a healthier way of eating. Does it?
Bone Broth: Is it really so healthy?
Besides water, one of the liquids included in the plan is bone broth. Even though traditional cultures have been making and using bone broth for years it seems to be the latest health fad with with bone broth bars and shops opening in major cities, and health enthusiasts proclaiming it a cure for just about everything, but is it as good as everyone says it is?
Bone broth has a dark side.
Lead & Mercury
While the long simmering causes the bones and ligaments to release healing substances like collagen, proline, glycine, and glutamine that have the power to transform your health it can also release toxic metals like mercury and lead which are not good for your health.
Don't think that organic bones won't contain toxic metals because they can do. I know a doctor who did an experiment in her kitchen making chicken broth three different ways:
using organic chicken bones
using cooked organic chicken meat without the bones
using organic chicken skin and cartilage without the bones after the whole chicken had been cooked.
The broth made from the chicken with bones contained the highest amount of lead.
Now I know that some health practitoners have said that this is not a problem as the lead levels in the chicken broth tested in the study  were below the safe upper limit for drinking water as established by the EPA.  My concern is that any amount of lead is toxic to the nervous system and can accumulate in the body if you are not a good detoxifier of heavy metals and many people aren't.
Glutamate
Another problem for some is the high levels high amounts of glutamine bone broth can contain. It can be converted to glutamate in the brain and if you are prone to seizures it may trigger them. It can also trigger other neurological symptoms if you are sensitive to it including brain fog, migraine headaches,  mood swings and nervous tics .
Histamine
Bone broth that is cooked long and slow, will have much higher levels of histamine. This can be a problem for people who lack the ability to break down histamine which is an increasing problem.
Mucopolysaccharides
Bone broth also contains mucopolysaccharides which will feed bacteria in the small intestine if you have SIBO (small intestine bacterial overgrowth).
So now you have the facts the choice is yours. If you prefer to make broth without the bones then you can make meat broth or a vegetable broth instead.
Here's a recipe for a mineral rich, alkalizing, Roasted Vegetable Broth.
Recipe from Health & Fitness Magazine.
4 large carrots, halved lengthwise                                                                                                                                   

2 celery stalks (ribs)
1 fennel bulb, sliced
3 large onions, cut into thick slices
8 garlic cloves
2 zucchini (courgettes), halved
4 shiitake mushrooms, halved
1 large parsnip, halved legthwise
1 -2 tbsp avocado oil
1 tsp celtic or himalayan salt
1/2 tsp black peppercorns
1/2 tsp red peppercorns or red pepper flakes
2 bay leaves
1 sheet of Kombu or dried kelp
Flat leaf parsley, oregano and thyme
Directions
Pre-heat oven to 175C/350F
Combine veg in a large bowl. Add oil and toss to coat evenly.
Arrange in a single layer on a baking tray and roast for 60 – 70 minutes turning half way through until beginning to caramelize. Do not allow to go black.
Transfer veg and any liquid to a large pan.
Cover with about 3 litres of pure water and add salt, peppercorns and bay leaves.
Bring water to boil and reduce to a simmer.
Add kombu or kelp and herbs to taste. Simmer for 1 hour uncovered.
Strain the liquid and discard the veg.
Allow to cool and refrigerate for up to 5 days or freeze in suitable containers for up to 3 months.
More recipes here in my article Detox Soups for Winter Cleansing.
This is not the first time we have heard of soup diets for weight loss of course. In the 80's there was a craze for the cabbage soup diet. Most people found it very monotonous as you ate cabbage soup for every meal, every day for 7 days. I wrote about it here but included some more varied recipes.
To give them their due Blatteis and Vella have designed the cleanse around soups and smoothies that they say nourish and purify your body.
Healthy soups and smoothies are loaded with such a wide array of vitamins, minerals and antioxidants that help support the detox system that they also cleanse your body of toxic chemicals that interfere with the weight control hormone system. (I'll be writing more about this in the near future).
The Soup Cleanse Detox Plan
The cleanse involves exchanging your normal food for six soups and smoothies spread throughout the day in a specific order.
You must avoid all caffeine, alcohol, dairy products, red meat, refined sugar, bread, artificial chemicals or processed foods and try to keep your lunch and dinner soups as varied as possible to maximise the variety of your nutritional intake.
Note: My advice on this is not to go cold turkey. By cutting out all these things suddenly and jump straight into the cleanse you are likely to suffer from withdrawal symptoms that many people attribute to detox reactions. Be kind to your body and reduce sugar and caffeine gradually. If you want to learn more about how to detox sugar read my article here.
The nutrients are absorbed better into your body from smoothies and soups where they can help to support the detox system. Making the meals liquid and easy to digest frees up your energy to concentrate on more important tasks like detoxing your cells.
You needn't be worried about going hungry because you can add all sorts of tasty things to the soups like chicken, cooked quinoa, gluten-free noodles, cubed and roasted sweet potatoes, pumpkin, beetroot or parsnips, cooked lentils or beans, diced avocado, walnuts or pine nuts. You can add flavor with organic tomato paste, red chilli paste, chilli oil and fresh herbs.
Souping, I'm sure will appeal to people living in cold climates. Doing a juice cleanse in the middle of winter when you are craving comfort food doesn't always cut it. This is a much more nourishing and comforting way to detox.
Don't forget though that after following the 3 or 5 day soup cleanse detox plan you will put all the weight you have lost back on if you then revert to your former diet. The aim of a short detox diet or cleanse is to kick-start a healthy eating plan.
To find out more about a clean eating detox to kick-start weight loss why not sign up for my free guide here?