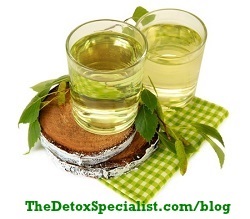 A spiralizer may be the gadget of year and souping may be the new juicing but if journalists are to be believed then Birch sap is the detox juice of the year.
Birch water or sap is predicted to knock coconut water off it's perch as the latest detox juice drink.
The juice is harvested from the silver birch or North American sweet birch tree in Spring before it sprouts leaves. It contains a range of vitamins, minerals and phytochemicals very similar to coconut water.
The one advantage that Birch water has over coconut water is the saponins it contains. Saponins are phytochemicals found in beans, legumes, most vegetables and herbs, that researchers say can help to reduce "bad", LDL cholesterol, stimulate of the immune system and help to prevent cancer.
Birch sap straight from the tree tastes slightly sweet because of the natural fructose it contains and has a thin, watery syrupy texture. Ideal for adding to a detox juice or smoothie .
Some companies add other flavors like elderflower, raspberry, blueberry, ginger and lime to it to tempt your taste buds. And some of course inevitably add sweeteners too. Best to avoid those!
Birch sap only contains naturally ocurring 1% – 2% sugar (fructose and xylitol) compared with maple which has 8% sugar (mainly sucrose) content.
Although birch water may have only been taken up by the health crowd recently it's been known as a health elixir in Europe, Japan and Korea for many years.
Birch sap supports Liver and Kidney Detox
Claims that the Birch sap can support both liver detox and kidney detox, have not been backed up by any research that I can find although I did come across one 2012 study that reviewed the use of tree saps in northern and eastern Europe and found birch tree sap is used as supplementary nutrition to help the liver.
It has been used traditionally for flushing out toxins from the liver and kidneys. For this reason it's reputed to help with weight loss, reducing cellulite and destroyimg uric acid stones.
Just because there is no scientific research on it does not mean it does not live up to the claims. It is usually down to the fact that it costs a lot of money to do good scientific research and there is usually no funding for this sort of research unless it results in a drug that can be patented and make a lot of money for the company that manufacuters it.
It certainly contains many nutrients that are used in the body by the detox system and one company recommends drinking 100 – 150 ml each morning before breakfast for 4 – 6 weeks for the most effective detox treatment.
You can simply add Birch water to your favorite detox juice or smoothie in place of water or coconut water. make sure you look for Birch water that has no added sugar and is preferably organic.
Here's a couple of detox juice recipes for you to try.
Birch & Berry Smoothie                                                                                                                                                                                                    
1 cup (140g) fresh/frozen berries
150 ml Birch Water
2 tbs coconut kefir or  natural Greek yogurt
½ banana
1 tbsp flax or other seeds
Handful of ice
Put all ingredients into a high powered blender and blend until very smooth. Pour into your serving glass and enjoy!
If you want a green smoothie try this recipe.
Green Birch Water Smoothie
2 Cups of Birch Juice
2 Organic apples, cored
3 Large Romaine lettuce leaves, well washed
6 Small radishes
1 handful green salad cress or watercress
Blend as usual
These detox smoothies will work best as part of a healthy diet or detox diet plan.
Have you tried Birch water yet? What did you think of it? Let me know in the comments below.