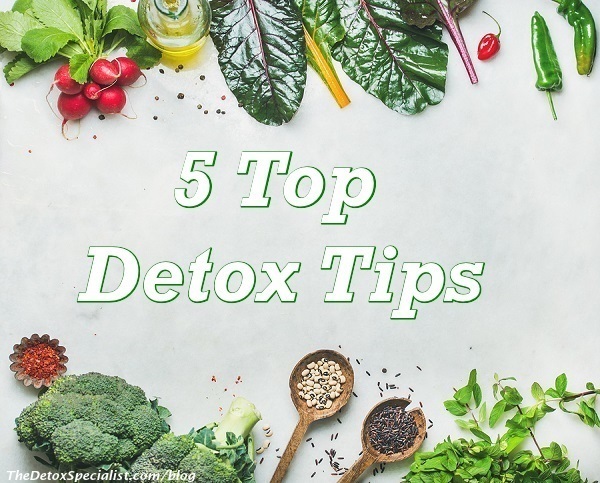 The body is exposed to toxins everyday through food, air pollution, medication and even stress. Processed, chemically enhanced and ready to eat food contain substances that are toxic to the body. These toxic agents weaken your immunity, stress the mind and cause fatigue so let's look at some important detox tips.
Detox or detoxification is a cleansing process from within that gets rid of toxins, body waste and excess fats. It nourishes and renews the body from the inside to give an outside glow. There are different ways to detoxify your body. Here are 5 detox tips to get you started.

1. Start detox from where toxins start
Eliminate toxic substances that are found in sodas, processed foods, junk foods and pre- packed foods and vices like smoking and drinking alcohol. Food colors, food enhancers and preservatives found from these foods are removed from the body through the liver, kidneys and large intestines.
One of the most important detox tips is to avoid toxins that are in products you apply to your skin. Your skin is highly absorbent and will absorb a range of toxic chemicals from your personal care products. Look for natural products.
Use only chemical free cleaning agents in your home and and avoid using air fresheners unless truly natural. Your liver turns these substances into water soluble for excretion through urine and feces.
Too many toxic substances make the liver and kidneys to work double time. This stresses the liver and kidneys and if this continues for a long period, it could lead to kidney and liver malfunction.
2. Add fiber to your diet
Eat plenty of fiber rich food and maintain a healthy diet. Fiber helps to absorb and flush out fats, cholesterol, processed toxins from the liver and the waste products that remain in the gut after digestion and absorption takes place.
Whole, gluten free grains such as buckwheat, red and brown rice are great sources of fiber. They are also rich in slow releasing carbohydrate that fuel the body with energy without turning energy into body fats.
Vegetables like broccoli, cauliflower, Brussels sprouts, green peas, potato with skin, sweet potatoes, carrots and  leafy greens are fiber rich vegetables. They contain nutrients that nourish and repair damaged cells.
Fruits like raspberries, strawberries, blackberries, cherries, plums, apples, kiwi fruit, guavas and bananas are immune boosting fiber rich fruits. They are rich vitamin C that strengthens the immunity and provides fast recovery from sickness and stress.
Almonds, Brazil nuts, pistachios and walnuts contain high level of fiber. They also contain essential fatty acids that fight and eliminate bad cholesterol that can cause hypertension and cardiovascular diseases.
3. Spice up your food
Anti- oxidants are detoxifying agents that fight free radicals and promote cell regeneration. Herbs like fennel, oregano, thyme, cinnamon, garlic and spices like cayenne pepper, dried chili pepper, ginger and turmeric are rich in anti- oxidants. They add flavor, color and aroma to the food while promoting healthy cells.
4. Drink plenty of water and freshly squeezed fruit and vegetable juices
Water dilutes toxins and helps to flush them out through urine and sweat. Drink at least 1 liter of pure water a day. Freshly squeezed juices are healthier and more natural than concentrated or powdered juice.
Related reading: Detox Water Recipes For Everyday Drinking
5. Exercise for good health
Perspiration produced through exercise detoxifies the skin and removes toxins from the superficial layers.  It tones, firms and keeps the muscle look younger. Sweat pushes out excess oil, dirt and dead skin cells to keep the skin smooth and radiant.
Related reading: 4 Best Exercises For Detoxification
Exercise improves blood circulation for better distribution of oxygen and nutrients to the body. Meditation and yoga are perfect for mind detoxification and relaxation. The deep breathing soothes the mind, promotes better sleep, supplies more oxygen and helps to clear out air pollutants from the lungs.
By following these detox tips on a daily basis you cannot but help to improvement your health. For more specific information on detox see my Recharge and Energizing Detox Guide .