Don't you sometimes feel that you would like to spend a weekend relaxing and indulging yourself  at a health spa? In these busy days of trying to balance work, family and social commitments it's often hard to find time for ourselves. Some "me time" is important to counteract the stresses of today's hectic lifestyle.  But the high cost of a health spa can often make it impossible. So let's look at how you can have a 2 day home spa detox.
Set aside a weekend or 2 days when you have no commitments. If you have children try to get a grandparent or friend to have them for the weekend. The most important thing about the weekend is that you feel relaxed and not guilty about spending time on yourself.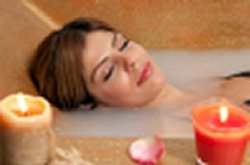 Get yourself organized before the weekend with everything you will need for the 2 day home spa detox. If your diet is full of processed or junk food you should try to cut down on them during the 2 weeks before you start the weekend detox. Reduce regular tea, coffee, soft drinks and alcohol. Try to find ways of getting more fruit and vegetables into your diet. Eat more fruit instead of high fat and sugar snacks. Drink more pure water.
If you have never done Yoga before you can get a free 5 day e-course here. Yoga Tutor
Your home spa detox is going to consist of:
Water & herb or green tea
Moor Mud bath and detox drink.
Relaxation (get out your favorite relaxation tapes or CD's)
Stretching exercises or Yoga
Massage (either book one or get a partner or friend to give you a relaxing massage)
Swimming, if you can find a non-chemical pool
You will start the 2 day detox on Friday evening and have a one day juice fast on Saturday and eat raw fruit, raw and cooked vegetables and vegetable soup on Sunday. The detox includes 1 or 2 Moor Mud baths with a Moor Mud detox drink.
Moor Mud Bath & Mud Detox Drink
Mud treatments have been used for thousands of years for healing many different ailments. They are popular through out Europe and are making a big comeback in various parts of the world. One of the most famous muds comes from Neydharting Moor in Austria. The Moor Mud  known for it's healing powers was analyzed and found to contain many valuable organic minerals, vitamins, amino acids, plant hormones and fatty acids.
A mud detox drink does not sound very nice but I can assure you that it does not taste or smell bad. You  just mix 1 teaspoonful into a glass of water or juice if you prefer. Drink it about 30 minutes before the bath.
Before the bath get your bathroom warm and have several large warm towels ready.  Run a warm to hot (but not too hot) bath and mix in the mud well, following the instructions on the container.
Relax in the bath for 20 minutes. When you get out pat yourself dry leaving as much of the mud on as possible.  The effect of the hot bath, increased circulation and mud will help you sweat out toxins. Relax for another 30 – 60 minutes  before showering off. Have an early night.
Do not have a hot bath if you have high blood pressure, diabetes, heart problems or serious circulatory disorders or are prone to fainting unless you have consulted your doctor.
Here is your 2 day detox plan:
Friday evening meal:
6.30 – 7 pm Make a large salad. You can include cooked vegetables as well as raw. Eat it slowly and chew it well. Drink filtered or good bottled water or herb teas during the evening.
8.30 – 9 pm
Moor Mud Detox Drink & Bath.
Saturday
8 am 8 oz glass of warm water with the juice of 1/2 a lemon.
8.30 am Skin Brushing followed by contrast shower
9 am 8 oz Fresh fruit juice
10 am Stretching exercises or Yoga
10.30 am Water or herb or green tea
11 am 8 oz Fresh vegetable juice
12 pm Water or herb or green tea.
1 pm 8 oz Fresh vegetable juice
2 pm Water or herb tea or green tea
2.30 pm Massage time or go for a brisk walk/ swimming
3 pm 8 oz Fresh fruit juice
3.30 pm Relaxation with CD or tapes.
4 pm Water or herb tea .
5 pm 8 oz Fresh fruit juice
6 pm Water or herb tea
7 pm 8 oz Fresh vegetable juice
9 pm Moor Mud Detox Drink & bath.
10 pm Get an early night.
Sunday
8 am 8 oz water with the juice of 1/2 lemon
8.30 am Skin brushing followed by contrast shower
9 am Fresh fruit breakfast
9.30 am Water or herb or green tea
10 am Stretching exercises or Yoga
10.30 am Snack of fresh fruit and a few almonds
11 am Go for a brisk walk or swimming
11.30 am Water or herb or green tea
12.30 or 1 pm Lunch – large raw and cooked vegetable salad or vegetable soup
3 pm Relaxation exercises and deep breathing.
4 pm Snack of fresh fruit and a few almonds
4.30 pm Water or herb tea
5 pm Cup of fresh vegetable soup
7 pm Meal of vegetables and rice
10 pm Get an early night
Juice recipes
Melon Juice makes a great start to the day.
Water Melon Juice
Watermelon juice is an excellent cleansing drink .  Include some of the green part just under the rind as well as some seeds together with the pink flesh. You can also juice a small (2 inch or 3 cm square)  piece of the rind.  Only include seeds and rind if the fruit is organic.
Here is a green juice recipe for you to try:
Ingredients:
1 whole cucumber
4 sticks of celery
2-4 handfuls of spinach
8 lettuce leaves
Any other green leaves
Wash everything well and put through juicer. Add half an apple or a carrot if you find the taste too strong.
Detox Plan
Alter the times of the plan to suit yourself and change the times you go for walks and do the relaxation. If you want to reduce the costs or can't get Moor Mud you can have an Epsom Salt bath instead.
Try to switch off from the outside world and concentrate on yourself for a change.  Ask a friend to join you. By the end of the weekend you should be feeling much more relaxed and ready to tackle the week ahead. Try to make this home spa detox a regular part of your life.