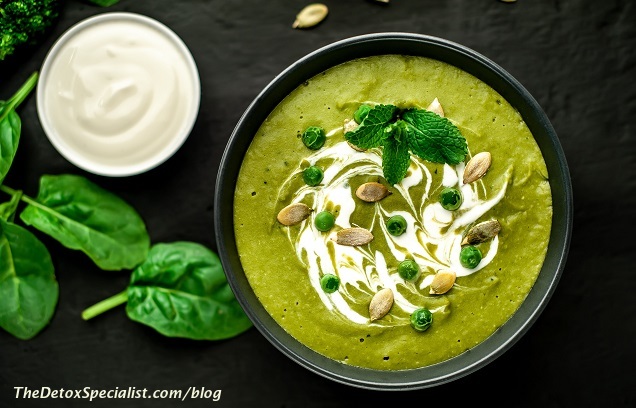 Who would have thought it? An orthodox doctor recommending detoxing for weight loss with green smoothies and green soups!
You no doubt know that overweight and obese people are more at risk of ending up in intensive care and dying if they succumb to Covid-19. This is due to the fact that having excess body fat can make your immune system less efficient. Fat cells produce inflammatory chemicals that weaken the immune response to an infection.
Being overweight is also a risk factor for diseases such as cancer, Type 2 diabetes, heart disease and stroke. It's also thought that a vaccine is less likely to work as well if you are overweight.
Many people have piled on pounds during the coronavirus quarantine as they turn to comfort foods. Now there's a drive in the UK to get people to lose weight and Dr Michael Mosley is leading the way with his FAST 800 calorie diet based on the original Mediterranean diet principles.  It's the Mediterranean diet that I recommend following once you've completed a detox diet.
Related reading: Mediterranean Diet Benefits after Detoxing
The UK is not the only country where obesity is a growing problem. According to a projections study in 2020, 83 percent of American men and 72 percent of American women will be overweight or obese. 

Detoxing for Weight Loss with Green Smoothies and Soups
I've seen some of Dr Mosley's recipes in an  popular online daily newspaper and I was surprised to see that he is recommending smoothies and vegetable soups. They are suitable for his weight loss diet because they are relatively low in calories and carbohydrates.
He does not go so far as to say that the recipes are leaning towards a ketogenic diet but they are high in protein and healthy fats and low in carbohydrates. The keto diet consists of moderate protein with high healthy fats and low carbohydrates. The protein and fat help to banish cravings and the low carb content keeps the blood glucose level even.
He does however state:
It is when you really reduce your calories, particularly if on a low-carb diet, that your body switches into major fat-burning mode – starting with the fat stored around your abdominal area. This is great news if you want to shrink your belly, and excellent news for your long-term health
Calorie Restriction
Researchers have shown that restricting your calorie intake to about 800 calories a day is enough to give you all the nutrients you need for good health and to stop you feeling hungry yet low enough for rapid but safe weight loss.
Mosley is of the opinion too that switching to a Mediterranean way of eating after the weight loss will help sustain it.
You can intensify the fat-burning and health benefits of Fast 800 by incorporating time-restricted eating (TRE).  This involves eating meals in a 12-hour period.  For example you eat between 9 am and 9 pm only but it's better for your digestion to leave 3 hours after a meal before you go to bed. There is a lot of evidence that TRE is good for your health as well as weight-loss success.
As soon as I saw the recipes it struck me that a lot of them are the sort of recipes that are usually recommended for detoxing for weight loss or simply to improve your health.
Recipe notes
I've included some of Dr Mosley's recipes below but I have tweaked them to make them even healthier. For example , where he uses dairy milk I've substituted almond milk. You can, of course, use cow's milk if you want but make it organic. Organic kefir would be good too.
Cheese is included in some of the recipes. Dairy products are excluded on a detox diet but are allowed on a ketogenic diet. A keto diet is a form of detox diet because toxins are stored in fat cells and as the fat is broken down to convert into energy instead of glucose which is restricted, toxins are released and hopefully eliminated.
Oils
I've substituted avocado oil for olive oil which was in the original recipes. Even though olive oil is used a lot in Mediterranean cooking there is now some controversy over heating the oil. Some health experts say it reduces the health benefits of the oil. Avocado oil has a higher smoke point so is relatively safer to use for cooking.
I also recommend using organic produce where possible. It's going to be healthier and contain more nutrients.
Related reading: Organic Foods vs Non Organic Foods For Detox 
If you want more recipes for green smoothies then check out these Tasty Recipes For Detox Green Smoothies.
For more detox soups then check out my article on Detox Soups for Winter Cleansing.
Green Breakfast Smoothie
Serves 1 –  347 Calories
Ingredients
1 tbsp organic extra-virgin olive oil or flax oil
50g organic blueberries
75g organic baby spinach leaves
120ml organic almond milk (unsweetened)
50g plain full-fat Greek yogurt (organic if possible)
1 organic banana, chopped
Directions
Place all the ingredients in your blender with enough liquid to allow the blades to turn freely. Whizz up adding more liquid until you get the consistency you prefer and the mixture is very smooth.
Pour the smoothie into a serving glass. Sip slowly and enjoy!
Quinoa and Berry Breakfast   
Serves 1  325 calories
Ingredients
25g organic quinoa, well rinsed and drained
250ml filtered water
½tsp ground cinnamon
15g plain full-fat Greek yogurt
50g organic blueberries (or other berries)
10 organic almonds, chopped
Mint leaves, to garnish
Directions
Place the thoroughly washed and drained quinoa into a saucepan and add 250ml filtered water and the cinnamon. Bring to the boil over a moderate heat stirring with a wooden spoon.
Reduce the heat to a gentle simmer. Cook for 15 minutes or until the water is completely absorbed. Make sure the quinoa doesn't catch on the bottom of the pan.
Take off the heat and cover the pan with a lid and allow to rest for 5 minutes when it should become nice and fluffy.
Serve in a bowl, topped with yogurt, berries, almonds and mint leaves.
Green Vegetable Detox Soup 
Makes 2 servings – 133 calories per serving
½ tbsp avocado oil
½ an organic onion, chopped
1 head of organic broccoli (approx. 255g), chopped
1 organic leek, chopped
1 fennel bulb, chopped
1 organic zucchini (courgette) approx. 150g, chopped
500ml organic vegetable stock
1 bay leaf
Fresh parsley, chopped, to taste
Fresh chives, chopped, to taste
Himalayan or Real Salt
Freshly ground black pepper
Herbs, for garnish (optional)
Directions
Heat the oil in a large saucepan over medium heat. Add the onion and cook until softened. Add the rest of the vegetables and cover with the stock. Increase the heat and bring to the boil.
Once boiling turn down to a simmer and add the bay leaf and herbs. Simmer for about 20 minutes, or until vegetables are tender. Remove from the heat and remove the bay leaf . Set the soup aside to cool a little
Blend soup until smooth using a stick blender or food processor. Thin down with filtered water or more stock to adjust the consistency if needed.
Season to taste with salt and pepper. Garnish with finely chopped herbs if you like.  You can refrigerate half the soup (before garnishing with herbs) in a covered container for another meal.
Warm through over a medium heat for a few minutes until heated through.
Spinach and Broccoli Soup
Serves 2 302 Calories per serving
Ingredients
1 tbsp avocado olive oil
½ onion, finely chopped
1 garlic clove, peeled and crushed
500ml organic vegetable stock
1 head organic broccoli, cut into florets
100g organic spinach leaves
Handful of fresh basil
40g Parmesan, grated
40g sour cream or yogurt
Freshly ground black pepper
Himalayan or Real Salt to taste if needed
Directions
Heat the oil in a saucepan over a medium heat, add the onion and sauté for 5 minutes until soft stirring. Add the garlic and stir for 1 minute.
Add the stock and bring to the boil. Reduce the heat, cover and simmer for 5 minutes . Add the broccoli and until tender (about 7 minutes).
Add the spinach and simmer for another minute or until the leaves have wilted. Take off the heat.
Allow to cool a little and add some basil leaves and the Parmesan. Using a stick blender or food processor, blitz until the soup is nice and  smooth.
Divide the soup between two serving bowls and top with the sour cream, Taste and season with black pepper. The stock may be salty enough so only add more salt if really needed. Enjoy!
Butternut and Lentil Soup
Serves 2 – 333 Calories per serving
Ingredients
1 tbsp avocado oil
½ onion, finely diced
2 cloves garlic, peeled and crushed
400ml organic vegetable stock
200g butternut squash, peeled, deseeded and cubed
1 x 400g tin organic chopped tomatoes
½ x 400g tin organic lentils, rinsed well and drained
½ head organic broccoli, cut into florets
30g organic Parmesan, shaved
Fresh organic parsley, chopped
Directions

Heat a saucepan over medium heat. Add the oil, onion and garlic. Cook until the onion starts to soften, about 5 minutes.
Add the stock, butternut squash, tomatoes and lentils and bring to the boil. Reduce the heat and simmer for 15 minutes, or until the squash is tender, stirring occasionally.
Now add the broccoli and simmer for an additional 5 minutes.
You may prefer to blitz the soup with a hand blender until smooth or leave it chunky.
Serve in two warmed bowls, season well and sprinkle over the parsley and Parmesan.
Vegetable and Black Bean Chili
Makes 4 Servings – 336 calories per serving
Ingredients
2tbsp extra-virgin avocado oil
2 onions, diced
2 garlic cloves, peeled and minced
4 organic celery sticks, thinly sliced
2 zucchini (courgettes) approx. 300g, chopped
2 organic red peppers, chopped into small pieces
2tsp dried chili flakes
2tsp ground cumin
2 x 400g tins of organic black beans, drained and rinsed
2 x 400g tins of organic chopped tomatoes
200g plain full-fat Greek yogurt
1tsp ground sweet paprika
Himalayan salt
Fresh parsley, to taste, finely chopped
Directions
Warm oil in a large pan and over medium heat. Add the onions and garlic and sauté for 5 minutes, stirring occasionally, until softened.
Add the celery, zucchini (courgettes) and red peppers. Cook until the vegetables are soft (approx 5 minutes). Add the black beans, tomatoes and the juice, chili flakes and cumin.
Bring the mixture to a boil then turn the heat to low, cover, and simmer for 30 minutes, stirring occasionally. Add some filtered water if the mixture becomes too thick.
Meanwhile, place the Greek yogurt, paprika and a pinch of salt in a small bowl and mix together. Keep half this yogurt for later if you're keeping half the chili for another meal.
Spoon the chili into serving bowls and sprinkle with fresh parsley. Top with the Greek yogurt and serve.
Any leftover chili can be stored in a lidded container in the fridge before being garnished with parsley.
Simply re-heat gently on the stove until piping hot, and serve topped with the remaining yogurt and parsley. Enjoy!
So, you can see that detoxing for weight loss can be very tasty and effective. Volunteers who tried out the diet had other health benefits besides weight loss. They reduced their "bad cholesterol" levels and blood fats, improved insulin resistance, lost dangerous visceral fat,  improved their energy levels, and more. You can get more of Dr Mosley's recipes in his Fast 800 recipes