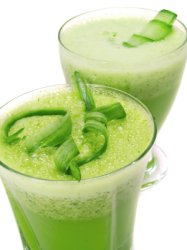 A juicer is your secret weapon not only for detox but for good health and longevity. By juicing a selection of fresh vegetables every day you can dramatically increase your intake of natural enzymes and antioxidants. Both can help delay the aging process and prevent disease. Health isn't something that can turned on or off over night. It's what you consume every day that counts.
You have probably heard that you should eat 5 portions of fruit and vegetables a day but do you? If you do you are in the minority because most people don't. Shocking statistics reveal that in the USA the average adult manages to eat just one and a half portions of fruit and vegetables a day!
In the UK  65% eat only one portion. They eat too much of the wrong food and too little of the right foods.
What's so special about fresh vegetable juices?
Drinking vegetable juices every day is a wonderfully healthy habit. They are great for alkalizing the body have a great health building effect. Organic vegetables are loaded with chlorophyll, iron, calcium, numerous other minerals, vitamins and amino acids. While fresh juicing organic vegetables is no  substitute for the whole food it's a great way to pack nutrient dense structures into your body that are free of pesticides, preservatives, nitrites and other junk.
Fresh vegetable juices just flood your body with nutrients. Many people have limited ability to absorb all the nutrients from whole vegetables. As a result of poor food choices over the years the digestion becomes compromised. Juicing is great way of  getting more nutrition into your body. They need very little digestion in the stomach are are rapidly taken up by the blood which carries the nutrients around the body nourishing revitalizing your cells.
Fresh vegetable juicing forms the basis of many healing regimes. Dr Max Gerson found that his patients recovered from all manner of diseases when they were put on a diet that consisted largely of fresh juices.
What's wrong with carton or bottled juice?
But why go the bother of juicing when the supermarket shelves are brimming with all sorts of combinations of fruit and vegetable juices? Although ready made juices are probably better than no juices at all vegetable juice is best drunk fresh to get the benefits of all the nutrients and enzymes.
Unless fresh juices are consumed within a couple of hours of making they start to lose vitality and nutrients. Enzyme activity starts to reduce the longer the juice is left to stand. Many commercially made juices are pasteurized or sterilized to give them a longer shelf life. They are "dead" food.
Fresh food contains a life force or vitality that is not easily measured. Kirlian photography has demonstrated how fresh organic produce is surrounded by an energy field that is quite different from cooked food.
Some manufacturers import cheap produce from countries that are using many pesticides. They penetrate the body and are made from cheap. Some contain a whole host of additives, colorings and flavorings. It's a case of reading the labels and choosing the most natural, untreated and freshest juice if you have to buy it off the shelf.
Green Vegetable Juices
Chlorophyll is the magic substance in green vegetables. It is known as the blood of plants as its chemical structure is very similar to the "heme" of hemoglobin in human blood. It carries oxygen which rapidly improves blood oxygenation and helps cleanse the body.
Experiments with chlorophyll have shown that it increases tissue cell activity and normal regrowth. It can help neutralize the toxic effects of some mutagens (things that change your genes and can cause cancer) which are ever present in our food and water.
Chlorophyll helps to strengthen cells and removes toxic, synthetic chemicals and heavy metals. The adhesive cellulose in its cell wall sticks to the metal atoms so they're carried out as waste.
Get started with Green Vegetable Juices
If you have never tasted green juices before you might find them a bit earthy in flavor but you can soon remedy that. Try adding an organic apple or a few organic seedless grapes. Start off by using the milder tasting green leaves like Red leaf lettuce, Green Leaf lettuce, Romaine lettuce, Lamb's quarters or Escarole. You can use celery and cucumber too. Try adding watercress or
arugula (rocket) to give it a bit of pep.
Then experiment with green cabbage leaves, Chinese cabbage, Bok choy, spinach, parsley or cilantro (fresh coriander). Add bitter leaves like Collard greens, Kale, Mustard and turnip greens when you get used to the taste. Pep the vegetable juices up even more with freshly grated root ginger, garlic and radish. Add a teaspoon of your favorite green food.
Children love green juices made with enough strawberries or raspberries to make the drink red. Add some Stevia, a natural sweetener, if absolutely necessary.
Warning about carrot and beet juice
Carrot juice is a favorite vegetable to juice or to add to juices but there is some concern that sweet vegetables like carrot and beet can raise blood sugar levels and trigger insulin. Over time this can cause metabolic syndrome. This can be avoided to a certain extent by adding a tablespoon of a cold pressed oil to an 8oz carrot or beet juice juice as it slows down absorption from the stomach.
If you are diabetic you should start with 4 oz of these sweet juices diluted with 4 ox pure water. Ideally add only a little carrot or beet juice to a green juice. Green juices can help the pancreas in repairing itself.
Metabolic types and juicing
Vegetable juicing is particularly good if you are a carbohydrate type but it's better to avoid fruit juices as they are high in sugar. You can make fruit smoothies instead.
If you are a protein type you will do best if you only juice the vegetables for your type such as celery, spinach, asparagus, string beans and cauliflower and only have a small amount.  Adding some fat to the juice such as avocado, coconut butter or ground flax seed would help. Try adding a scoop of a good protein powder too.
Juicing is fun and with a little imagination you can make up hundreds of recipes. Leave your favorite recipe in the comments box.
Here's a couple of recipes to get you started:
Vitality Juice
* 2 green apples
* 4 stalks celery
* 8 Bok Choy leaves
* ¼ pound spinach
* 1 bunch parsley
Wash everything, core the apples and cut everything into small enough pieces to fit your juicer feeder. Juice everything . Stir, drink immediately and enjoy.
Green Saviour
3 apples
2 spinach leaves
2 celery sticks
1 handful of parsley
Half a cucumber
1 slice of ginger
Wash all ingredients, core the apples and cut everything into small pieces. Grate the ginger. Put everything through the juicer. Stir and enjoy.
Vegetable juicing every day will do wonders for your health. Try it!