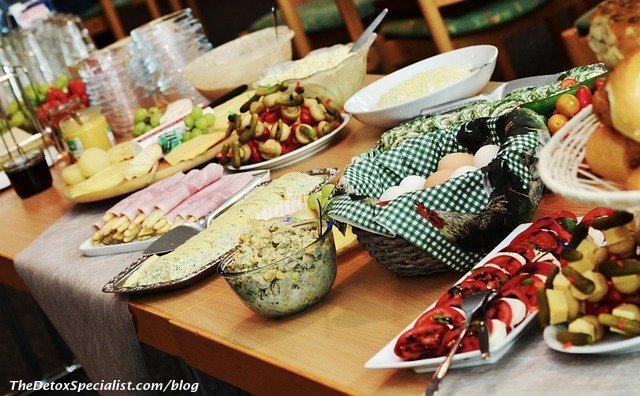 Will eating and drinking over this Holiday Season ruin your waistline?
From what I hear even these hard economic times are not stopping the office parties or meals out although more people seem to be entertaining at home than eating out.
Whether it's the office party, meals out or home dinner parties it's easy to let all good intentions go and pile on the pounds during this festive season then spend January regretting it.  Did you know that on average people gain 5 lbs in the four week Christmas period?
It takes and extra 3,500 calories to put on 1 pound of body fat. Just an extra 500 calories a day over the month will do it – A mince pie (a typical British Christmas tradition) and a couple of glasses of wine for example.
While most people know what they should be eating my nutrition clients used to say that they still needed someone to spell it out for them.
So here are a few healthy eating tips for surviving parties and nights out.
Avoid going out hungry. You will eat faster and eat more if you are hungry.  Make sure you have a good breakfast and lunch on the day you are going out. Start your day with a green smoothie!
Don't drink alcohol on an empty stomach as it gets absorbed into the blood stream much more quickly lowering your will power . It can make your blood sugar drop making you feel more hungry. Try tomato or fruit juice instead .
Alternate alcoholic drinks with a glass of water. Put a slice of lemon in a glass of sparkling (fizzy) water and people won't know the difference.
You can get a whole meals worth of calories in canapés if you are not careful. Avoid the ones with creamy toppings and pastry bases. Choose olives over crisps (potato chips) and salted nuts.
Visit the buffet once and choose the simplest foods – vegetable or salad dishes with some lean meat. Avoid processed meats such as salami, sausages and pies. Avoid creamy and other unhealthy dressings and rich sauces.
In a restaurant choose a non creamy soup or salad as a starter. Avoid fried food and creamy sauces. Choose grilled food and order plenty of vegetables.
If the portions are large ask for a smaller portion and order more vegetables or a side salad.
When going to a dinner party ask if you can help out and  take a healthy vegetable dish.
If you can serve your self at a dinner party take a small portion of the main dish and add plenty of vegetables and/or salad. Avoid creamy rich sauces, unhealthy dressings and mayonnaise.
Take a breather between the main course and dessert before you decide if you want to eat more.  It can take up to 20 minutes for the brain to register the satisfying effects of the meal you have just eaten. Have a hot herbal or green tea instead. I always take my own and ask for hot water in case the restaurant can't provide them. They get to learn this way!
Avoid eating 3 courses. Stick to a starter and main course or eat the main course and a fruit based dessert or ask for a fresh fruit platter.
At a dinner party skip the sugar laden dessert and have a thin slice of cheese and cracker.
If you simply have to have an after dinner chocolate look for the dark chocolate instead of the milk variety. It is likely to be healthier but not much!
Keep some raw vegetables sticks ready in the fridge with a healthy hummus or raw tomato salsa dip to snack on if you get the  post party munchies.
Keep fruit and a selection of green leaves ready to whizz up a Green smoothie as a reviver.  They really work.
Special tip
For indigestion, acidity, feeling bloated or uncomfortable after a meal. Put 1 chamomile and 2 peppermint teabags  in a mug, add boiling water and leave to infuse for 10 mins. Add honey or lemon to flavor (optional). Sip slowly.
Cravings & Addictions
The problem with holiday eating and drinking is that people often feel they need to treat themselves. The trouble is that it can get out of control and soon you are on the dangerous roller coaster of eating those foods you just know are bad for you.  You can then get cravings for these foods and they almost become an addiction. Sound familiar?
Well the way to get back on track is to do a mini detox. Detox is an amazing way to loose weight although that is not its main purpose. Fat is just a storage depot for all those toxic chemicals. Once you cleanse your body of these chemicals and acidity your body let's go of excess weight.
Put an end to this vicious cycle with a New Year Detox. My new Recharge and Energize Detox Plan shows you how with a no starvation diet that fits in with your life. Get it now!