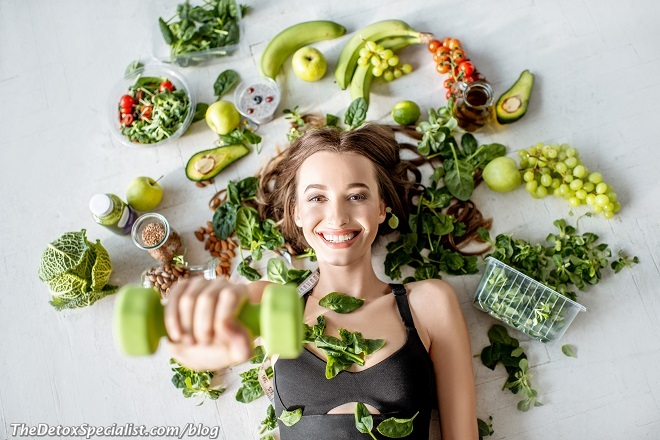 I had to laugh the other day when I read that Donald Trump said he didn't exercise because it depleted his energy. I am not surprised if what I've heard about his diet is right because you need certain nutrients from foods to boost energy for, during and after exercise and his diet probably does not contain them.
The three main nutrients needed for energy are carbohydrates, protein, and fats, with carbohydrates usually being the most important source.
I say usually because your body can also use protein and fats for energy when carbs have been depleted. This is the principle behind the ketogenic diet where carbs are so restricted that the body burns fats for energy.
When carbohydrates are eaten they are broken down during digestion to glucose which is then converted to ATP (adenosine triphosphate), the source of energy in cells. Certain vitamins and minerals such as B1, B2, B3, B5, co enzyme Q10, Vitamin C, iron, copper, manganese, and magnesium are involved in the production of ATP.
Toxins
Heavy metals and toxic chemicals that get into the body can interfere with the production of energy so it's important to be aware of this if you are eating a good diet but lack energy especially when exercising.
Glycogen storage 
When excess ATP and glucose are present they get converted to glycogen which is stored in the muscles ready for use when needed. Glucose is used up quite quickly when exercising so glycogen in muscles is converted back to glucose to provide you with energy.
Muscles can only store so much glycogen and once the stores are full excess glucose is turned into fat and stored in fat cells. If you eat more than you use for energy you end up putting on weight.
When you eat the right types of food with all the necessary nutrients, this will give you energy before , during and after your workout.
Exercise boosts energy
Trump's logic for concluding that exercise depletes his energy is misguided because firstly, if he ate correctly for his exercise he would not feel like that. Secondly, exercise boosts cardiovascular health, which allows for greater endurance throughout the day. When you have finished your work you should have energy left over to do other things and not feel tired.
Thirdly, a good workout helps to make you feel more energized and ready to tackle the world because endorphins released during exercise boost your physical energy levels.
Foods to Boost Energy
When talking about exercising, consuming foods to boost energy before and after is just as important as the exercise itself. That is to say, you'll need enough energy to prepare you for your workout session on the one hand, while on the other hand you need to consume foods that can help you regain the energy you spent after your exercise.
During your exercising session, you'll be burning off a lot of that energy that you gained due to eating correctly and that's precisely why you need to eat correctly after (and sometimes even during) exercising! Only then will your muscles and energy levels start to recover again.
Now, if you don't know which specific types of energy boosting foods are helpful in this department, keep reading to find out!
What To Eat Before Exercising?
It's best to eat something easily digestible about 2 – 3 hours before exercising and to make sure you are well hydrated. Some people like to have a healthy protein smoothie to drink instead of eating solid food. It's best to avoid too much fat as this slows down digestion before working out.
It's a mistake to eat simple fast releasing sugars before exercise as it will zap your energy rather than boost it. It may boost it for a very short time but it triggers insulin which brings it down and you could feel faint or lacking in energy.
Feeling Jittery or Weak During Exercise 
A friend of mine who felt jittery when she was exercising at the gym was told by a trainer that she needed to eat sugar! Since then she's eaten a lot of sugar because she thinks she needs it and now has a lot of health problems. Why am I not surprised?
There are are number of reasons for feeling jittery or weak during a workout. If your muscles feel shaky it could be due to lack of hydration or simply because they are working too hard or not used to it.
If  you start to feel weak or lightheaded it could be due to low blood sugar. This can occur if you have not eaten the right food before the workout or you've eaten something sugary just beforehand which ends up lowering blood sugar. If this happens it's best to stop exercising, sit down and rest until you recover. You should also drink some water to rehydrate and eat a piece of fruit.
1. Bananas
First and foremost, most types of fruit are generally able to really boost your energy levels before exercising. Fruit contains a lot of fructose. Your body takes that fructose and turns it into glucose, which your body uses for energy.
More specifically, bananas are really effective when it comes to boosting your energy levels because they are a great source of carbs, both simple and complex! Besides carbs, bananas are also extremely rich in magnesium and potassium, which are both very important minerals.
It's that specific combo that's responsible for giving your body the energy it needs to exercise properly. Even more so, when eating bananas, you'll not only gain energy quickly, but this energy is also very durable, which is always something to strive for!
2. Gluten Free Whole Grain Products
Exercising usually causes a lot of stress on your muscles. Because of this, your muscles particularly need plenty of energy in order to exercise properly. One specific group of products that's especially useful in this aspect are high complex carbohydrate products such as gluten free oats, brown rice or even quinoa.
While quinoa is a pseudo-grain and really a seed I include it here because it's particularly high in essential minerals you need, which includes magnesium, phosphorus, folate, copper, and iron.
So, why gluten free? A lot of athletes avoid gluten in their diets and find they preform better although it's anecdotal.  Some people are gluten sensitive and many are intolerant to FODMAPs. Wheat, rye and barley contain an oligosaccharide, on of the FODMAPs which can cause digestive upset in some people.
All in all I believe it's better to avoid gluten products. It makes more room in the diet for quality protein and vegetables.
3. Blueberries
Blueberries generally have the reputation of being a superfood and there's definitely some truth to that statement. When it comes to exercising in particular, blueberries are positively one of the best foods to boost energy and are recommended to consume before your sports session!
Just as is the case with the above-mentioned types of food, blueberries are rich in complex carbs. Consequently, blueberries are a great type of energy-boosting food. Your body will take a rather long time to digest these complex carbs and that's precisely why blueberries will absolutely boost your energy levels for a long period of time.
Besides carbs, blueberries also contain a lot of water. Hence, blueberries can help significantly with hydrating your body, which is exactly what you need before a serious work-out session!
5. Greek Yoghurt
Finally, Greek yogurt also really has the ability to provide you with energy before you go exercising, especially when it comes to power training. Greek yogurt is rich in protein, which gives your muscles the strength they need to train intensely. Of course, keep in mind that you need to pick a yoghurt that doesn't contain added refined sugars which would cause your blood sugar to spike and then come crashing down causing lack of energy.
Some ideas using the above foods before exercising are:
Oatmeal with banana or berries. Use a good quality stevia to sweeten if you really have to.
Greek yogurt with blueberries.
Quinoa porridge made with quinoa flakes and almond milk with fruit. Sweeten with stevia.
Brown rice with vegetables.
Foods To Boost Energy After Exercising?
Although you may not feel like eating after a workout it's a good idea to eat a snack soon after your workout, then a light but healthy meal a few hours later. Your meal should consist of some healthy protein with complex carbohydrates that break down slowly.
1. Protein
Grilled good quality chicken or wild salmon are good with some steamed vegetables. The protein helps with muscle recovery and the vegetables replenish minerals.
If you can't face a meal after working out you could use a good quality protein powder to make an energy replenishing smoothie. Here's a tasty recipe for one:
Post-Workout Green Protein  Smoothie 
Ingredients
2 tbsp Your Super Skinny Protein Mix
1 organic banana
1/4 organic cucumber
1 cup filtered water
1/2 teaspoon cinnamon
Directions
Place all the ingredients in a high-speed blender and whizz up until smooth. Pour into a glass, sip slowly and enjoy!
2. Garbanzos (chickpeas)
Eating high fiber foods before a workout can cause digestive distress, but afterwards, these foods can help to replenish blood sugar levels. Garbanzos make a post-workout superfood, containing good complex carbs and plant-based protein in one. Try them in a sauce with a salad or some steamed vegetables.
3. Sweet Potato
Even though sweet potatoes are helpful to eat before you exercise, they're especially great after your session has finished! That is to say, not only do sweet potatoes contain a lot of complex carbs, which really will durably boost your energy levels, but they are also rich in copper and vitamin C.
While copper will help repair your muscle tissue quicker after your work-out session, the vitamin C is really beneficial to your muscles in general.
4. Almond Butter
For a quick snack after exercising almond butter is another type of food that can help you regain your energy. Natural almond butter contains a lot of proteins and carbs. It's that exact mix that has the power to keep your energy levels up to the mark after you've been exercising. Even more so, that mix also truly has the ability to speed up your muscle recovery! Try eating it with some slices of apple.
5. Dark Chocolate
Last, but certainly not least, if you're looking for foods to boost energy, you should seriously consider consuming some dark chocolate after your exercising session. Best to get a sugar free variety!
Chocolate is not only remarkably delicious, but cacao also contains caffeine and theobromines. These two substances function as natural energy-boosters and can give your body energy with long-lasting effects. It's especially beneficial to eat dark chocolate after your workout since it has an anti-inflammatory function, causing your muscles to recover from your work-out faster!
Final Thoughts
All in all, it's extremely essential to consume the right types of food when it comes to exercising. Only then will you have the required amount of energy to get you through your workout and to recover afterwards. So, keep the above-mentioned foods to boost energy in mind and you'll find that you'll already be off to a great start!