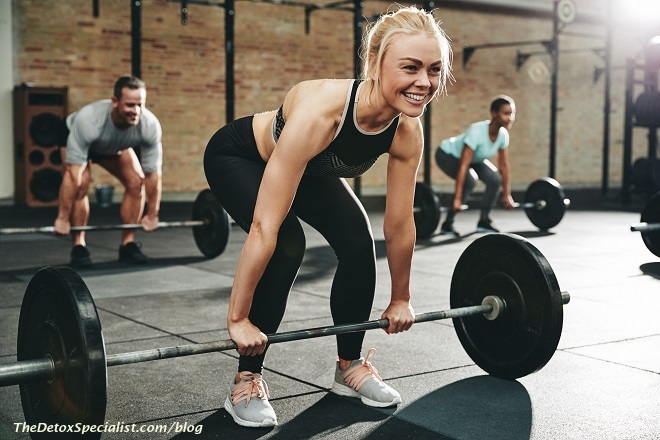 If you are embarking on a detox journey, there may be several reasons why you have chosen to do so. Whether looking to improve your overall health or lose weight, detoxing can be highly beneficial. If weight loss is your primary objective, detox is most effective when paired with exercise. However, due to the way in which detoxing affects the body, it's important to achieve the right balance.
In this article, we will look at how you can combine a weight training routine with your detox routine. We will look at whether it's possible to exercise while detoxing, why weightlifting is important, and the types of equipment and exercises that you can utilise.
Can You Exercise During a Detox?
First and foremost, can you exercise during a detox and is it recommended? A detox itself is essentially the process in which toxins are removed from your body. Eliminating toxins and unhealthy substances from your body has several benefits, such as bolstering general health, improving circulation, increasing nutrients, and giving organs a break. Ultimately, there is evidence that a detox will make you feel better, enhance your diet and improve your fitness.
Detoxing can occur from special diets or products, or natural processes such as exercising, which helps cleanse the skin. When done right, detoxes can help you with weight loss, but it is most beneficial when combined with productive workouts such as weightlifting. However, it's essential to find the right balance so that you exercise safely and effectively. Detoxing can reduce the intake of calories and other essential nutrients we need to raise our energy levels. Therefore, you should take it easier when exercising or find ways to increase energy. Generally speaking, you should stick to shorter workouts with lower intensity and impact. Plus, don't forget to warm up and down before and after exercises – stretching can be highly advantageous!
The Importance of Weightlifting
Weightlifting is one of the best exercises you can do as there are so many benefits to it. As well as the apparent advantage of bulking up and building more muscles in the arms and chests, weight training can also improve posture, help you sleep better, increase bone density, and prevent chronic disease. Above all else, it's fantastic for weight loss and a great alternative to cardio workouts. With weight training, you build muscle, lose fat and benefit from a greater resting metabolic rate.
Ultimately, the benefits of weightlifting are clear to see. It doesn't matter whether you are looking to improve strength, lose weight or boost confidence; using weights can be effective regardless of your goal. It's recommended that people add weightlifting to their routine at some for an all-round workout routine. Weight training is also straightforward to get started and suitable for people of all skill levels, from beginners to athletes who've been going to the gym regularly for several years.
Weight Equipment That You Can Use
With so many types of weightlifting equipment available, it can be overwhelming when you're first starting out. If you haven't already, we highly recommend appointing a personal trainer. A PT can offer you advice based on your individual goals and help push you towards the types of equipment that will prove most effective. However, in this section, we will do our best to provide a starting point by summarising the most common types of weight equipment.
One of the best pieces of equipment that you can buy to begin your strength training journey is a pair of dumbbells. Dumbbells are compact, flexible and portable, making them the perfect kit to use at home and in the gym. You can either choose a fixed dumbbell, providing a consistent weight, or an adjustable dumbbell that allows you to change the weight on the fly. Similar to dumbbells are kettlebells. These weights have a unique cannonball shape with a handle at the top and offer a different workout experience compared to dumbbells.
Next up are the tried and trusted barbells. Bars are the best option when you want to hold much more weight at one time or are aiming to perform deadlifts. Barbells usually come in standard or Olympic sizes, with Olympic bars often the preferred choice for serious weightlifters. While bars can be used on their own, they are even better when paired with a weight plate. Weight plates come in different sizes, shapes, colours, types, and so on. For example, bumper weight plates are durable, quieter and less likely to damage the floor if dropped.
Other weightlifting products that you may wish to consider include a power rack cage and a weight bench. Power racks provide a safe environment where you can lift heavier weights and create room for loads more versatile workouts. As for weight benches, these are great for targeting multiple muscle groups throughout the body. A weight bench will offer greater support and increased upper body thrusts.
Examples of Weight Training Exercises
Now that we've talked about the different types of weightlifting equipment, it's time to focus on some of the weight training exercises to do alongside your detox! Again, we would recommend that you turn to a personal trainer if you are new to weightlifting. They will be able to suggest suitable workouts and help you get the most out of new exercises without injuring yourself.
One of the best workouts that you can try is the hugely popular squat exercise. Squats can be performed without weights, but when you do add a type of weight such as an Olympic bar, you will reap huge benefits. The squat simply involves holding a bar behind your shoulders while pushing yourself to the ground in a squatting motion. There is also the bench press which makes use of the weight bench product we mentioned earlier. The bench press allows you to build strength in the upper chest muscles by lying down and pushing the weight upwards. Popular bench presses include the flat, decline and incline variations, each of which work different muscle groups.
The deadlift is one of the most advanced and most productive workouts that you can do to build muscle mass. Using a bar with bumper weight plates, the deadlift involves lifting the bar off the ground towards your hips. It can be a really intense workout, so we recommend taking extra care while detoxing. You must maintain proper technique when performing a deadlift to prevent unnecessary strain and reduce injury risk. Finally, there is the weighted sit-up. This workout takes the tried and tested sit-up exercise that anyone can do while adding a weight into the mix. The exercise is generally the same as you know it, but you will be holding a weight in front of you while moving upwards.
Author Byline: Mark Boyle is a content editor for PowerGym Fitness, a provider of commercial gym equipment. PowerGym provides professional gyms across the world with a range of high-end fitness products as well as installation services.