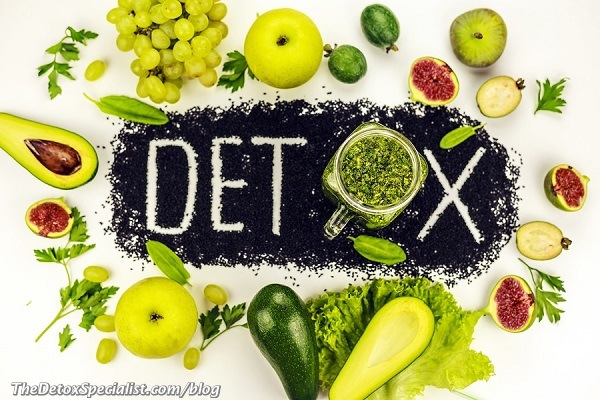 It's not often that I come across healthy recipes in newspapers and magazines that are suitable for a detox diet but just recently I have seen a few recipes that make ideal detox food. This is food that is easily digested and that contains a range of nutrients which are essential for the optimum function of the detox system.
Detox food is not food that leaves you starving and it does not have to be raw or bland. It can be very delicious and a pleasure to eat. Here are some recipes that you can give to the whole family.
Detox Food
Healthy Cashew Gazpacho
This first recipe for a healthy cashew Gazpacho uses cashews in place of bread that is usually used in it to give it a thick texture. Bread is usually omitted on a detox diet because it's hard to digest and is now often contamianted with glyphosate, a toxic herbicide, which damages the gut microbiome.  The cashews make an ideal healthier replacement.
Gazpacho originated in Andalucia, Spain and is served cold. Just the thing to cool you down in the hot sunny days that they get a lot of there.  It's traditionally made with tomatoes, onion, cucumber and peppers but you will find a number of different versions elsewhere.
The soup is rich in minerals, antioxidants and fiber and contains Vitamins C, B5, E and beta-carotene. All these nutrients are needed for the detox system to function so you can enjoy the soup and know that it's doing you good. Radishes are a member of the brassica family of vegetables which contain substances that boost phase 2 detox pathway so you can add more of those if you want.
Related reading: Detox your Body with a 3 Day Soup Cleanse
Ingredients 
Serves 4
50g cashews
6 tbsp extra virgin olive oil
1-2 tbsp sherry vinegar
1⁄2 tsp Redmond Real salt
500g ripe organic tomatoes, roughly chopped
200g cucumber (about half a cucumber), roughly chopped
1 sweet red pepper, deseeded and roughly chopped
2 spring onions (scallions), roughly chopped
1 small garlic clove, finely grated
Garnishes
Extra virgin olive oil
3-4 radishes, finely sliced
Salad cress, micro herbs
Instructions
1. Soak the cashews in cold water while you prepare all the other ingredients.
2. Put the oil, vinegar and salt in a high-speed blender. Add the tomatoes, cucumber, pepper, spring onions and garlic. Drain the cashews and add to the blender adding 200ml-250ml cold filtered water and blend until very smooth.
3. Chill in the fridge for a couple of hours before serving.  When ready to serve pour the mixture into serving bowls and garnish with thinly sliced radishes and salad cress or some micro herbs. Enjoy!
Red Rice Pea & Broad Bean Risotto
Next we have a delicious red rice dish. This recipe was in a free magazine that's delivered to us monthly telling us what's going on in our town. Red rice has a wonderful nutty flavor and is said to be a healthier option than either brown or white rice. It's rich in antioxidants and fiber both of which are needed for detox.
Camargue red rice comes from the marshy areas of Camargue region in South Eastern France. It was apparently a surprise that the rice turned out to be red which is due to its high level of anthocyanin, a powerful antioxidant. Red rice is grown in other areas of the world so you don't have to specially seek out Carmargue red rice although it is prized for it's nutty taste. It's better to use organic red rice if you can.
The fiber helps keep the bowels regular so that toxins can be eliminated. Antioxidants are needed to mop up free radicals created during the detox process.
Related reading: The Return of Fiber Trend is Good for Bowel Cleansing
The lemon juice and zest provides d-limonene which boosts phase 2 detoxification.
Ingredients 
Serves 2
1 tbsp avocado or coconut oil
2 garlic cloves, finely chopped
1 red onion, finely chopped
125g Camargue organic red rice
500ml hot vegetable stock
Zest of 1 organic lemon
1 tbsp organic lemon juice
100g frozen organic peas
100g shelled broad beans (fresh or frozen)
4 asparagus spears cut into 2cm pieces
Fresh parsley, chopped to garnish
Instructions
1 Heat the oil in a large shallow pan and gently sauté the garlic and onion for about 5 minutes until softened. Add the rice and stir well.
2 Add the vegetable stock. Bring to the boil then turn down heat to a simmer.  Cover the pan and cook for about 40 minutes, Stiring occasionally to prevent sticking or getting too dry.
3  Add the lemon zest and juice, peas, broad beans and asparagus and cook for a further 4 minutes until the vegetables are tender
4  Spoon into bowls, garnish with parsley and serve.
Minty Cannellini Bean, Olive and Almond Salad
I found this recipe in the Food & Drink pages of the Saturday section of the UK's Saturday Telegraph. The topic was luxurious alfesco food so I was surprised to see this salad in there.  I don't suppose for a moment that they thought of it as detox food but it just goes to show that detox food can be luxurious!
Cannellini beans are in fact white kidney beans. They contain a good range of nutrients including antioxidants, B vitamins, iron, potassium, zinc, potassium, phosphorus, magnesium, copper and manganese. All these are needed for optimum detoxification.
They are of course full of fiber which is good for keeping the bowels moving, so essential when you are detoxing. The lemon juice, especially if pulpy, contains d-limonene which has the effect of increasing the liver detox enzymes.
Olives are surprising high in fiber which again is good for the gut.  They are very high in the antioxidant vitamin E and phytonutrients. They of course contain good fats as well which is pressed out for olive oil.
Ingredients
Serves 6
1 x 400g can organic cannellini beans
125g slivered almonds
2 organic English cucumbers, chopped
1 large handful radishes, quartered
125g good quality pitted green olives, halved
For the mint dressing
1 handful mint leaves, plus extra to serve
2 tbsp capers, rinsed
4 anchovy fillets, finely chopped
1 clove garlic, finely chopped
250 ml organic extra virgin olive oil
Juice of 1 organic lemon
Instructions
1. Combine all the ingredients for the salad in a large bowl.
2. Place all the dressing ingredients in another bowl or large jug and whisk until well blended.
3. Pour the dressing over the bean mixture and mix gently.
4. Cover and chill but remove from fridge about 30 minutes before serving to allow to come up to room temperature.}
5. Garnish with mint leaves before serving.
For more detox food try these gluten and sugar free recipes for detoxing. Love asparagus? Here's some fresh asparagus recipes for detox.
When you eat a range of detox food you will feel feel healthier, cleansed and lighter.