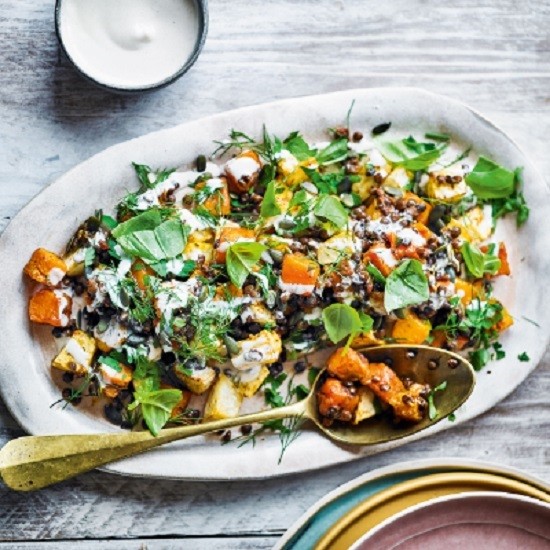 Every now and again I come across some recipes in a weekly food magazine put out by a UK supermarket that I think would make delicious recipes for detoxing.
This week I came across two such recipes. I noticed that this week's issue had more vegan recipes than usual. Perhaps they are catering for people doing Veganuary.
It would be nice if they catered more for people who want to avoid sugar and gluten and make healthy low carb recipes. Perhaps that will come in the future if the current popularity for the very low carb Keto diet continues.
Related reading: Is Sugar Toxic? Why Avoid it on a Detox Diet 
The recipes below are based on ones from Elly Pear. I couldn't believe that could be her real name and I discovered it isn't. She is known by that name because she is the owner of Pear Cafe in Bristol, England.
The first recipe came about, she says, because she likes to create recipes using ingredients that people have told her they don't know what to do with.
More recipes for detoxing by Elly Pear:  Detox Recipes | Vegan, Gluten & Dairy Free
Celeriac (Celery Root) 
Celeriac is the ingredient in question. It's called celery root in America. It's a round knobbly root vegetable, related to celery,  that can be used sliced on the top of casseroles or hot pots in place of potatoes.
Raw celeriac has a crunchy texture so it's perfect for adding to detox salads and coleslaw recipes. I love it!
Nutritionally celeriac is high in fiber which is good if you are detoxing. Toxins which are processed by the liver leave via the bile which gets mixed with the waste in the intestines.
Fiber helps to move this waste quickly through the digestive system. A once or twice daily bowel movement is what you are aiming for.
Celeriac also contains vitamins B6, C and K. It's also a good source of antioxidants and minerals, such as phosphorus, potassium, iron, copper and manganese. Some of these nutrients and antioxidants are needed by the detox system for optimal function.
Kefir, used in the dressing, is very beneficial for digestion and gut health. It's a fermented drink traditionally made using goat's milk but can be made with cow's milk or coconut milk.
Kefir is actually a more potent source of probiotics than yogurt.
Related reading: Is Milk Kefir a good Detox Food? 
Broccoli, used in the second recipe below, is a cruciferous vegetable which are important detox vegetables. Broccoli, as well as the other cruciferous veggies, contains natural chemical constituents that stimulate both Phase 1 and II detoxification systems.
The recipe also includes Miso, another fermented food which provides the gut with beneficial bacteria. It's a good source of various B vitamins, vitamins E, K and folate as well as essential minerals needed for detoxing.
Recipes for Detoxing
Rosemary & Honey Roasted Celeriac, Squash and Sweet Potato 
Serves: 4
Ingredients
½ x 500g pack frozen diced celeriac
350g pack diced butternut & sweet potato
1 tsp clear honey
1 tbsp avocado oil
2 sprigs rosemary, leaves only
250g pack French Puy & Green Lentils (or Green du puy lentils)
Himalayan salt
Freshly ground black pepper
For the dressing
50g Kefir
10g tahini
To garnish
Dill, a few fronds
2 tbsp basil leaves picked
2 tbsp flat leaf parsley, roughly chopped
2 tbsp pumpkin seeds
Directions
1. Preheat the oven to 374°F (190°C). Line a baking tray with non toxic parchment paper. Spread the diced vegetables on the tray and drizzle with the honey, oil and season well. Scatter the rosemary over and roast for about 40 minutes, turning after 20 minutes.
2. Whisk together the kefir, tahini and seasoning for the dressing.
3. Test the vegetables to make sure they are cooked by piercing the thickest part with a sharp pointed knife to see if soft. They will propbably have browned a little around the edges.
4. Remove from oven and add the lentils to the vegetables and combine well. They can be heated first according to pack instructions.
5. Place the vegetables on a serving platter, drizzle with the dressing and scatter with the herbs. Sprinkle over the pumpkin seeds.
Here's the second of the recipes for detoxing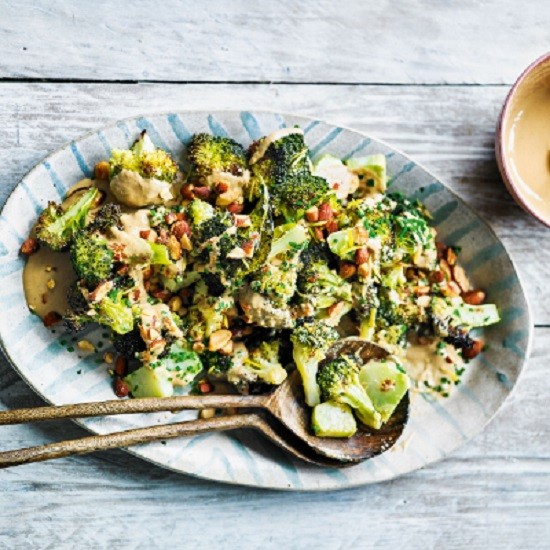 Roasted Broccoli salad with Miso Dressing and Almonds
Serves: 4 as a side ( or 4 as a main served with brown rice or quinoa)
Ingredients
2 heads organic broccoli
1 tbsp extra virgin olive oil
Dressing
1 tsp garlic paste
2 cm piece ginger, peeled and roughly chopped
2 tbsp Red Miso Paste
2 tbsp tahini
2 tbsp extra virgin olive oil
1 tbsp toasted sesame oil
2 tbsp red wine vinegar
Freshly ground black pepper
Finely grated zest of 1 organic or unwaxed lemon
50g raw almonds, roughly chopped
1 heaped tbsp chives, finely chopped
Directions
1. Preheat the oven to 425F (220°C). Cut the broccoli into florets and then cut off the toughest outer layer of the stalk and cut it into 1/4 inch (5mm approx)thick slices.
2. Toss the broccoli and stalks with 1 tbsp of the oil. Place in a single layer on a baking tray and roast for about 18-20 minutes, until tender. Do not allow to blacken.
3. Make the dressing by combining the garlic, ginger, miso, tahini, the remaining olive oil and sesame oil, vinegar, 2 tbsp cold filtered water and some black pepper in a blender. Blend for about 30 seconds or until smooth. Pour the dressing into a container and set aside.
4. Place half the broccoli on a serving dish and drizzle with 3 tbsp of the dressing. Add the remaining broccoli and 3 tbsp more of the dressing. Top with lemon zest, almonds and chopped chives. Serve the remaining dressing on the side.
Both the above recipes for detoxing can be served with brown rice or quinoa if you want something more substantial. Modern detoxing is not about starving on a restricted diet. It's about eating foods which contain nutrients that are involved in the function of the detox system. Adding these recipes to your diet will help you do that whether you are following a detox diet or not.