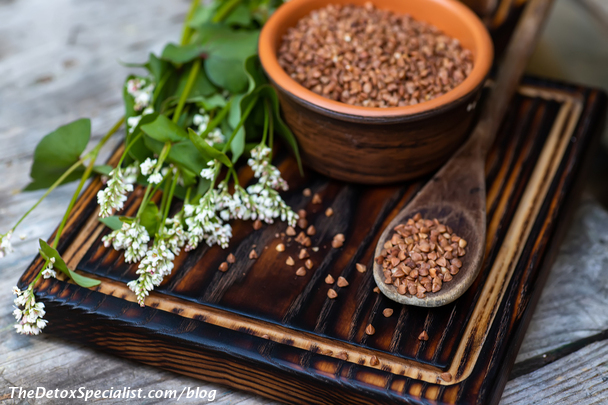 Himalayan Tartary Buckwheat is the new detox superfood kid on the block. Have you heard of it? It's an ancient gluten free food consumed in many parts of the Northern Hemisphere, specifically in the northern regions of Nepal, Bhutan, India, Kazakhstan, and China. Tartary was the historical name given to a large area which covered Eastern Europe and Asia.
Scientifically known as Fagopyrum Tataricum, Tartary buckwheat is considered to be a superfood, due to its rich content of immune-supportive nutrients and antioxidant properties. It contains over 100 phytochemicals not found in in common buckwheat. No wonder people are excited by it!
Related reading: Detoxify With Some Simple Superfood Recipes
I first heard about Tartary buckwheat recently from my hero Jeff Bland. He is a brilliant researcher, nutritional biochemist, and is known as the Father of Functional Medicine. I attended many of his weekend seminars when he came to London to teach and it was through Jeff that I first became interested in detox for improving many health conditions. I also subscribed to his monthly Functional Medicine Updates, which he issued on audio discs, for many years until he stopped doing them.
In the regions where Tartary buckwheat naturally grows, it is mainly consumed as a tea and as an ingredient added to food staples, such as noodles and bread. It has recently become known in the US due to its high mineral and antioxidant content, as well as being gluten-free, making it a healthy substitute for wheat and other grains.
Jeff Bland thinks so highly of it that he is promoting products made from Tartary buckwheat for rejuvenating the immune system through his company Big Bold Health.
What Makes Himalayan Tartary Buckwheat a Superfood?
The seed, often incorrectly referred to as a grain, is also called a pseudo-grain or pseudo-cereal. It is rich in proteins, vitamins, minerals, fats, rutin, quercetin, and other flavonoids. It is considerably richer in flavonoids than common buckwheat and that is what has made it so exciting.
Also known as phapar in India, tite phapar in Nepal, bjo in Bhutan, and bitter buckwheat in China, the seed's health benefits are far superior to common buckwheat and other grains. It does however have a bitter taste due to the high level of phytochemicals it contains.
Related reading: Buckwheat: That Miracle Detox Food Goes Mainstream
It has considerable values of nutritional and medicinal benefits, ranging from anti-inflammatory properties to antioxidant mechanisms, to improving the immune system. It also modulates the detoxification enzymes.
Jeff Bland makes the point that we should rejuvenate our immune system not just boost it.
With a natural composition that's rich in essential dietary components, Tartary Buckwheat is value-dense. This means that for a tiny seed, it is a rich source of dietary fiber, fat, starch, proteins, and compounds that bring about a wide variety of health benefits to the human body.
It is also rich in polyphenols, flavonoids, a good source of Vitamin B complex, Vitamin C, E, protein, as well as D-chiro-inositol, which is involved in insulin signaling.
When consumed as a tea, it helps in detoxifying the body of free radicals that damage cells and tissues. Studies have also shown that the seed may be able to help people lose weight due to its high protein content and satiety ability.
Indeed, Himalayan Tartary Buckwheat is one of the world's superfoods, packed with so much nutrient content in a small package.
Related reading: Quinoa : Another Detox Diet Superfood 
The Health Benefits of Himalayan Tartary Buckwheat
The grain's unique composition of bioactive carbohydrates, protein, vitamins, minerals, carotenoids, polyphenols, and phytosterols contribute to its various health benefits. Among these include anti-hypertension, anti-cancer, anti-diabetic, anti-oxidative, cognition improving, and cholesterol-controlling benefits.
With higher amounts of bioactive compounds, it is known to be more efficient in preventing or treating various disorders compared to regular buckwheat.
Here is a rundown on some of its most potent health benefits:
1. Anti-Obesity Properties
Tartary buckwheat is known to reduce adipogenesis, a process where fat cells are created from stem cells, as well as other chronic systemic inflammation that has been associated with obesity. Drinking Tartary buckwheat tea every day could help in promoting weight loss and management.
Buckwheat groats have been used for a mono diet lasting 10 -14 days. Mono diets are reputed to be cleansing and result in weight loss. It's not for the faint hearted though. Buckwheat contains fiber which acts as a prebiotic as well as slow releasing carbohydrate which keeps blood sugar levels stable and hunger at bay.
2. Antidiabetic Properties
One of the most highlighted benefits of this pseudo-grain is its anti-diabetic property. Its polyphenol content is known to inhibit two enzymes that cause a spike in blood sugar levels after eating. These enzymes are Alpha-Amylase and Alpha-Glucosidase. By inhibiting these enzymes, the grain can help to control post-meal glucose spike and support overall diabetic management.
Another component of Tartary Buckwheat is fagopyritol B1, which is known to improve insulin sensitivity and reduce blood glucose levels.
3. Lowers Cholesterol Levels
The seed also reduces cholesterol levels and balanced triglycerides. High levels of cholesterol and triglycerides have been associated with several disorders, such as cardiovascular diseases and non-alcoholic fatty liver disease.
4. Alleviates Hypertension
With gamma-aminobutyric acid, polyphenols, and peptides, Tartary buckwheat naturally reduces blood pressure, helping to support anti-hypertension benefits. It has also been shown to increase nitric oxide and bradykinin which promote dilation of the blood vessels.
5. Anti-Acne Properties
Himalayan Tartary Buckwheat can also be consumed for those who are suffering from acne. This is because the grain contains phenols that act as powerful antibacterial properties that fight against Staphylococcus epidermis and Propionibacterium acne.
6. Cognitive Benefits
Rutin and N-trans-feruloyltyramise feature neuroprotective functions that promote cognitive health. These compounds prevent oxidative damage to neurons, helping to prevent dementia and Alzheimer's disease.
7. Anti-Inflammatory Properties
Many chronic diseases have inflammation as their underlying cause. With this seed's potent anti-inflammatory properties, it helps to inhibit or reduce tumor growth, leading to its anti-cancer properties; reduces cardiovascular health risk, promotes diabetes management, and many other ailments caused by inflammation.
It does this by inhibiting potent inflammatory molecules, such as tumor necrosis factor-alpha, and interleukin-6 production.
8. Detoxification Properties
Tartary buckwheat is consumed as a tea beverage in many of the places where it grows, such as in Nepal, Bhutan, and China. When taken as a beverage known also as soba tea, it helps to rid the body of damaging free radicals and peroxides that are known to cause chronic diseases and ailments.
The numerous nutrients that it contains help to supply the vitamins and minerals needed for the efficient function of the detox system. The buckwheat mono diet mentioned above helps to cleanse the bowels which helps with detoxification.
Other known health benefits of this grain include anti-cancer properties, energy-boosting properties, as well as anti-genotoxic benefits.
Final thoughts
Himalayan Tartary Buckwheat is a detox superfood that has been consumed since ancient times in the Northern regions of Kazakhstan, China, Nepal, and Bhutan. It contains rich contents of nutrients, minerals, vitamins, polyphenols, and flavonoids that work together to bring about a host of health benefits such as detox system support, anti-inflammation, cognitive health, anti-obesity, anti-diabetes, and anti-oxidant properties.
Taking it as a tea, using the groats in dishes, sprouted buckwheat in salads or for smoothie bowls and the flour for pancakes or bread can help to support improved immune health as well as a supplement to the treatment and prevention of certain diseases.
Have you tried Himalayan Tartary buckwheat yet? If so please share your experiences with my readers by leaving a comment. .